Weekend
Saturday is looking hot and humid towards the eastern side of England where it will be dry and sunny too, as high pressure sinks into Germany to allow a south or southeasterly flow off a very hot near continent, where temperatures will be in the thirties centigrade. So we could see 30-31C reached across the London area and parts of eastern England in the sunshine. Cooler the further north and west one goes, more in the way of cloud across the west too, as a cold front moves in here bringing some showery, perhaps thundery, rain, but still reaching 25-27C across central areas of England, 21-25C across inland northern and western areas, cooler and fresher towards western coasts to the west of the cold front.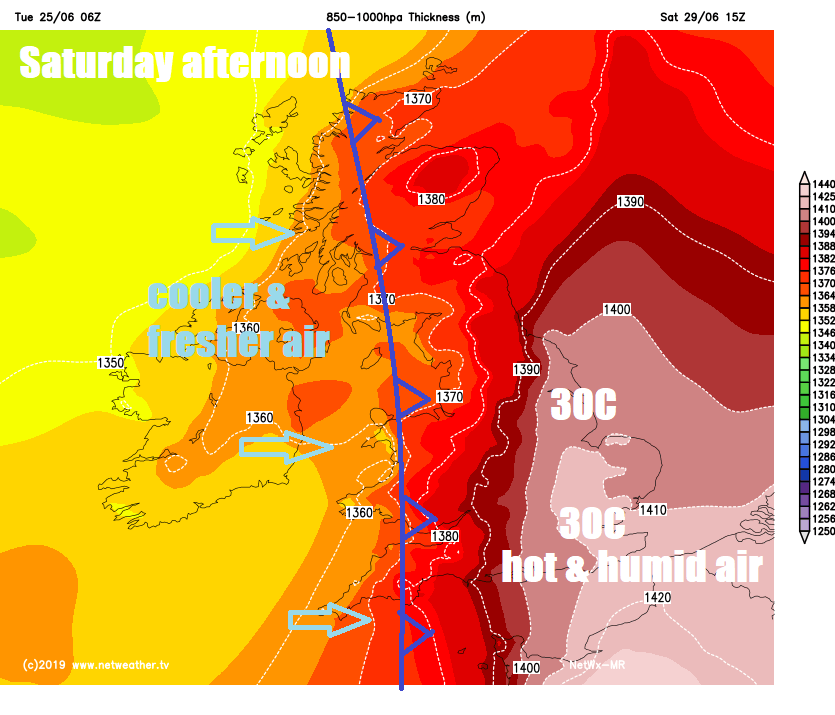 Cold front across the west Saturday tending to weaken as it clears eastwards, though could bring some sharp thundery showers to the north and northeast before it clears and introduces cooler and fresher conditions from the west overnight across all parts for Sunday. A brisk westerly breeze on Sunday for all, meaning a fresher feel, staying mostly dry across much of England and Wales, but Scotland, Northern Ireland and NW England likely seeing some showers with sunny spells in between. Temperatures reaching the mid-to-high teens in the west, warmer across eastern Scotland and eastern England – where we could see temperatures into the low twenties.
Next week
Next week, for now, is looking mostly dry for England and Wales, no heat thanks to the flow off the Atlantic, a northwesterly flow early in the week at least, more in the way of cloud and some showers possible for Scotland and N. Ireland initially. High pressure builds in from the west for second half of week, bringing dry and fine weather for most.