There have already been showers today, they are feeding up from the SW. This risk fades through the evening and under clearing skies it will become cool tonight. Saturday starts off dry and bright but there is a band of cloud and showers heading across the Midlands. Through the middle part of the day, it will be more cloudy with showery outbreaks and it will feel cool as these come through with more of a breeze. However, as always with showers, some will miss Donington Park and hopefully, there will be longer dry gaps. Later in the day, the cloudy shower band moves off and it will be a fair evening. Top temperature 14C.
Sunday has an okay start but there is the chance of showers again at lunchtime. If it is dry, get your tent away while you can. Taking home a wet tent to dry is a pain. but remember, leave no trace. Donington Park forecast
Safety: if it is wet or cold, never take a portable barbecue – or lit charcoal – into an enclosed space like a tent or caravan. Carbon Monoxide poisoning kills. Put suncream on, even if it looks cloudy. The sun will come and go but we still get moderate to high UV levels at this time of year.
Glastonbury
The signal at the minute is for showers from the northwest and high pressure trying to settle the UK weather down from the SE. It's too early for specific forecasts but the theme depends on the balance between these two areas. If the high builds more, then Somerset will be drier. If it fades a bit then more showers will arrive from the west and Pilton Farm gets rain. There are signs that it will be warmer than this week. Considering the recent rubbish weather that shouldn't be hard, but there is hope for the end of June. More chat and Glastonbury thoughts in the Netweather forum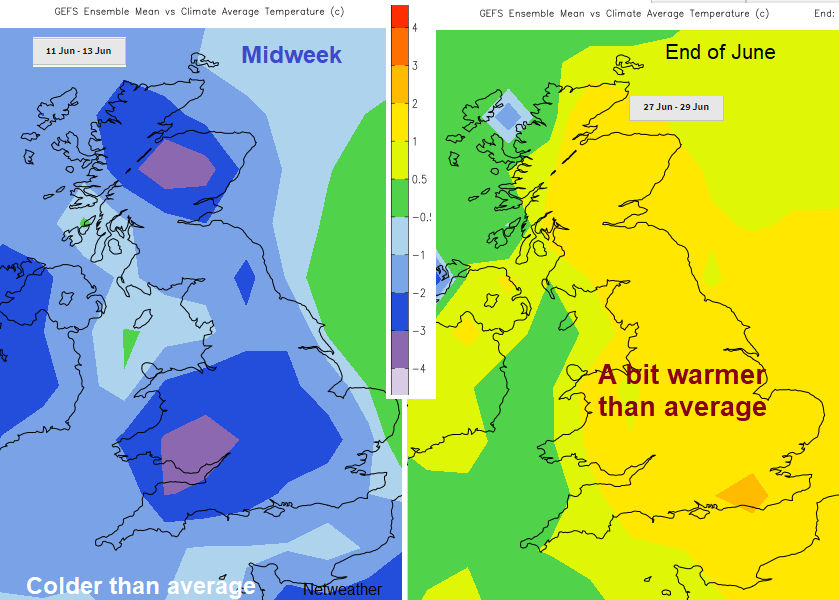 If you are off to a festival this weekend, stay warm, just keep your wellies on the whole time and enjoy!