Your response to all this could depend on a lot of things - Have you been flooded before or know someone who has, your location, is it near a river, the coast, a stream that can become a raging torrent. The type of person you are; enquiring or oblivious, prepared, a worrier or just fingers crossed/ too much else to do. If you own your home, then your response may be different to a tenant's, finances play a part also. It may be as simple as changing where you park your car on a particular day or altering plans for a day trip or hike or campaigning for longer-term infrastructure changes by local government.
One easy way to prepare is to sign up for local flood alerts. You input your postcode, and the Agency site will tell you if there is a high enough risk of certain types of flooding * and you input your details.
Is flooding likely?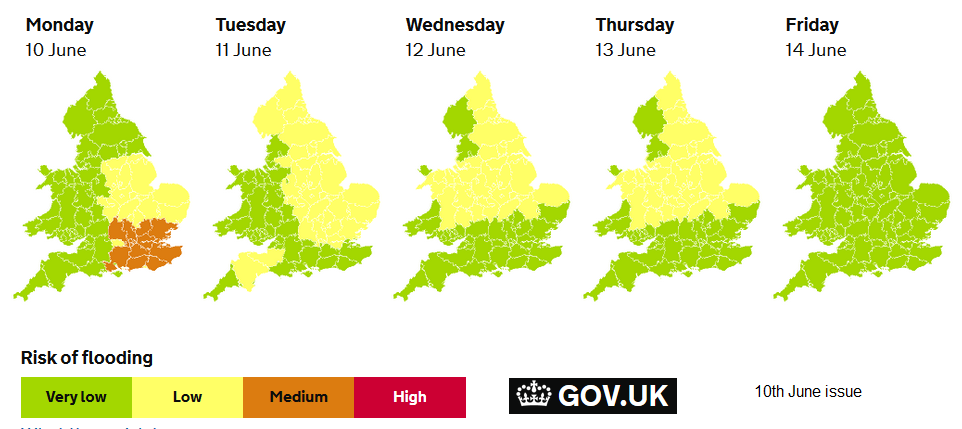 First stop can be the 5-day forecast for England and Wales. A quick look ahead at overall risk. It is a combination of the Environment Agency, Natural Resources Wales and Met Office data. It is a bit sluggish to update, especially on Monday morning and it's quite a general, broad picture, for example, the actual area in SW England on the example above which had a flood risk was just Exmoor that day. So it's to be used as an early heads up. Currently, there isn't a five day ahead outlook for Scotland or Northern Ireland.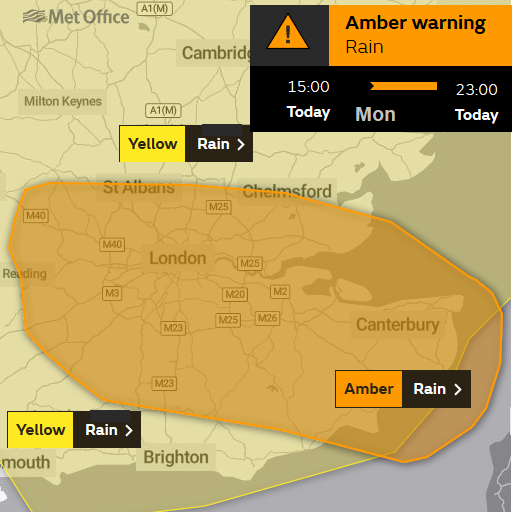 Met Office weather warnings - As the national weather service, the Met Office provide severe weather warnings to the public. The main update for weather warnings is around 11am. The new model run is in, the forecasters in Exeter have had a conference and a chat to the environment agencies about the ground and river conditions ready to issue complementary warnings. However, they can appear at any time of the day. Social media is a good way to keep up or through the Met Office app alerts. Again, sign up with an email address and chose a local area, then complete by confirming the email notification you receive.
The warnings are weighted for impacts, so they don't just reflect areas that will receive the highest rainfall totals. Southeast England during evening rush hour is likely to be more affected by heavy, persistent rainfall than the same amount falling over the Welsh mountains after dark. A yellow warning is still highlighting severe weather so shouldn't be dismissed, and for a red, really you don't want to be going out at all.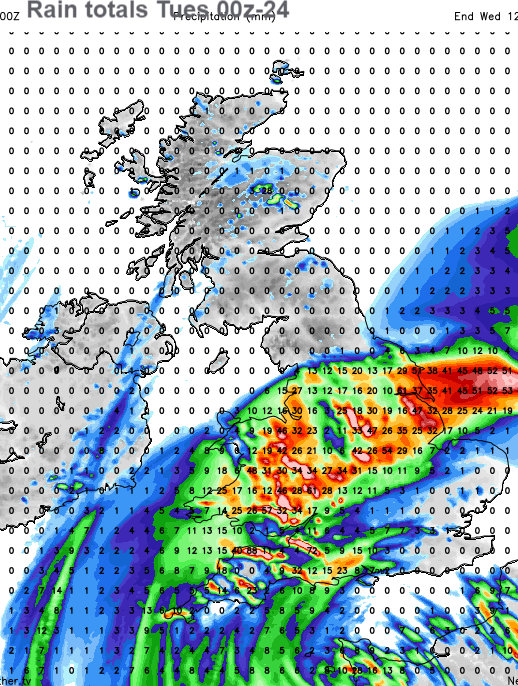 However, just because you don't have a warning in your area doesn't mean it won't rain, be windy, or snow, it is just considered that the weather won't have enough impact on people's lives for a severe weather warning. Above is the forecast rainfall totals chart for Tuesday. Warnings were issued for eastern England, the Midlands and the northern half of Wales even though other parts did see some heavy rain.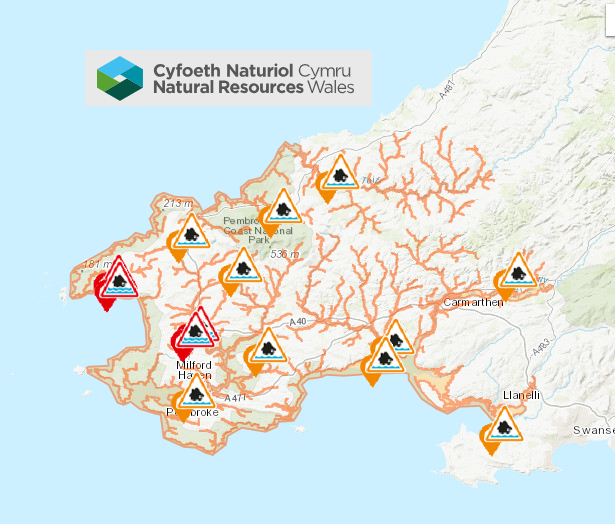 These weather warnings can be issued several days in advance. If you check out the Further Details for each warning, there is a Weather Impact Matrix with Unlikely to Very likely on one axis and Very low impact to High impact on the other. Likelihood should increase as lead time decreases. It is worth reading the text and searching out the matrix, along with the coloured area image.

What to do when there is a risk of flooding
Find out the locations of risk areas and timings. That's not looking at the hourly symbols on a weather app output but the time frame and rivers or regions mentioned in Flood alerts/warnings or weather warnings text.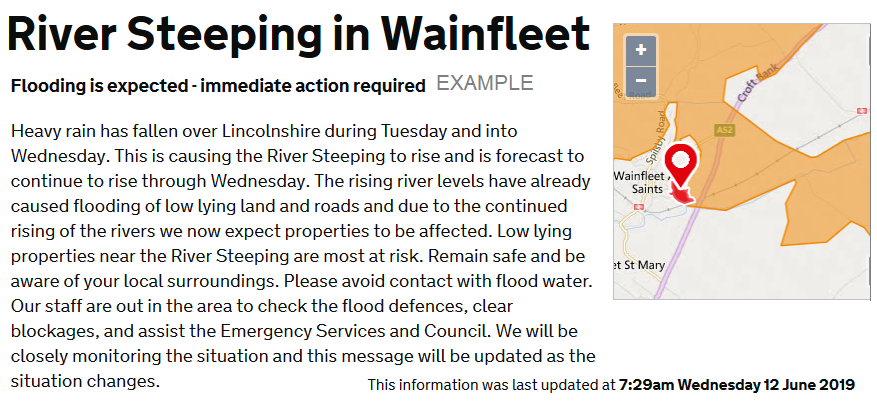 This warning followed a spell of very wet weather for Lincolnshire with 100mm of rain in 2 days, double the monthly average with more rain forecast. Roads and schools were closed, there was disruption to transport, and more rain was expected. Coastal flooding events will include the tide times.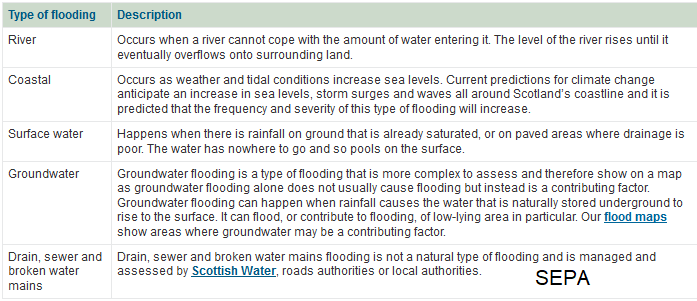 *Types of flooding
There is river/fluvial flooding, coastal flooding, surface water/pluvial flooding and groundwater flooding.
The forecasting for coastal flooding and groundwater has a longer lead time, and there has been much work done on sea defences. The Thames Barrier closure times are already set to deal with certain high Spring tides, and it will also close, reacting to forecast data, before surge tides. The Thames Barrier is one of the largest movable flood barriers in the world.
Some towns and cities live with the threat of river floods; it generally happens at least once a year, York, Cumbria and Hawick in the Scottish Borders all are prone.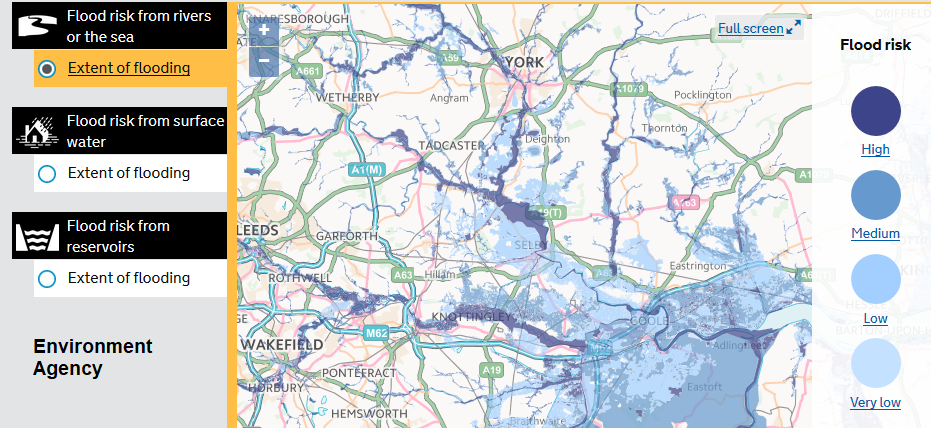 "High risk means that each year this area has a chance of flooding of greater than 3.3%. This takes into account the effect of any flood defences in the area. These defences reduce but do not completely stop the chance of flooding as they can be overtopped, or fail."
You can check your local flooding risks, worth doing if you are considering moving to a new house, check out the new location.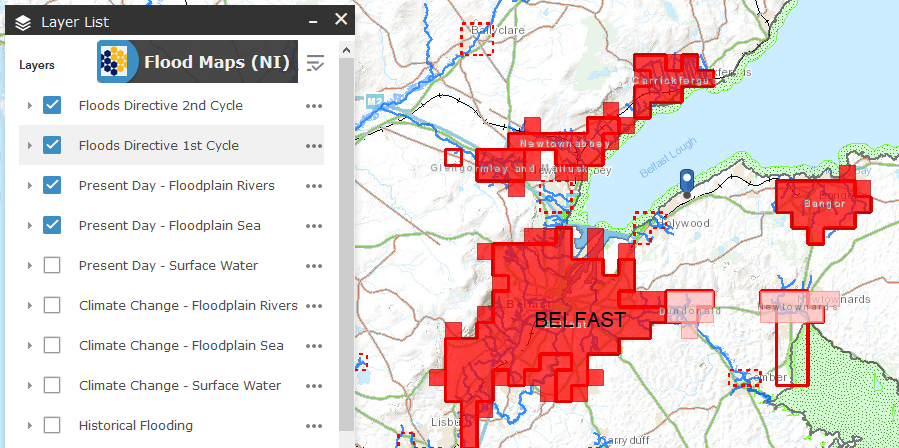 "DFI Rivers flood maps only give information on areas that are prone to flooding in Northern Ireland." NI Direct
In early 2014 the Somerset Levels and Moors experienced widespread flooding, particularly within the Parrett and Tone river catchments. It is the largest flood event ever known.
Winter and autumn are the usual times for this kind of flooding. Summertime brings different issues. River levels can still rise, but often the ground has become hard from lengthy dry spells. Persistent rainwater stays on top, running off or standing and causes flooding. Thunderstorms can cause flash flooding with slow-moving hefty downpours, as happened in Coverack 2018 and Boscastle 2004. The local topography channelling the flow of the torrential rain in sudden dramatic events. The risk of these kinds of river, surface water and flash flooding will be highlighted by weather warnings from the Met Office, but within a larger warning area, the actual flood event could affect quite a small area. Yet still, bring loss of life and these are the ones that surprise people, especially if it is a lovely sunny day and thunderstorms develop later.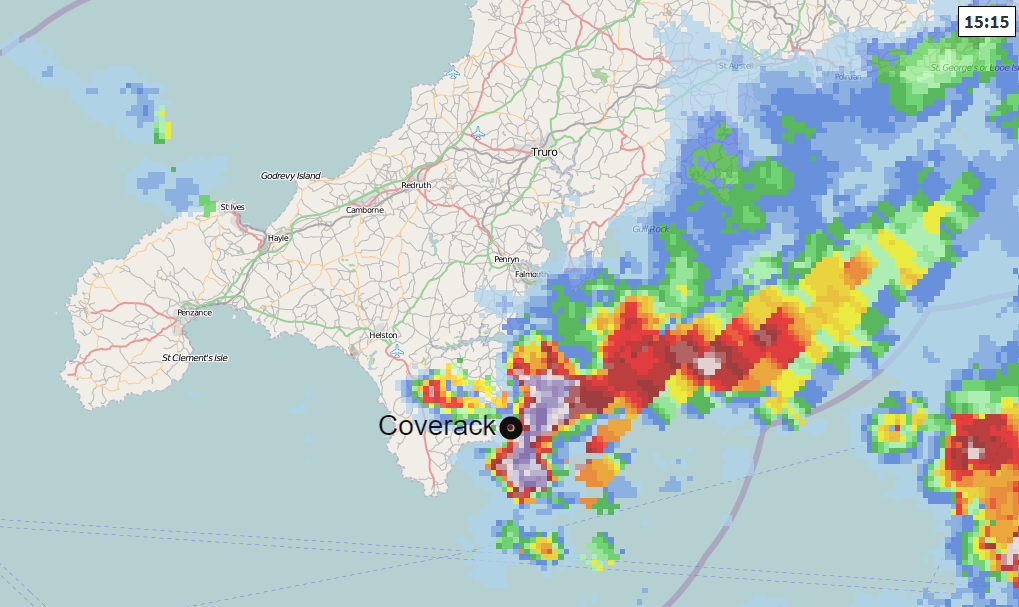 Coverack flood event 2017 - Netweather Radar
How we receive our data and warnings has changed over recent decades. It used to be an update in the few main news bulletins dotted throughout the day, or the weather forecast afterwards. You would see a whole UK picture, but television and newspaper audiences are falling. Now you can sign up for specific area flood or weather warnings but need to adjust that if you travel or go on holiday. Tourists can easily be caught out. And with more extensive areas having warnings in convective shower setups, many parts miss the rain or thunderstorms, and people become immune to the messages. Also, it's like receiving too many emails, people have to actually read and ingest the flood message and understand what it means and the risk.

Note that surface water flooding, which depends on the amount of rainfall but also very local ground conditions is not covered by the alerts. Nor is flash flooding, which again is very localised. There is a lot of information available about current river levels,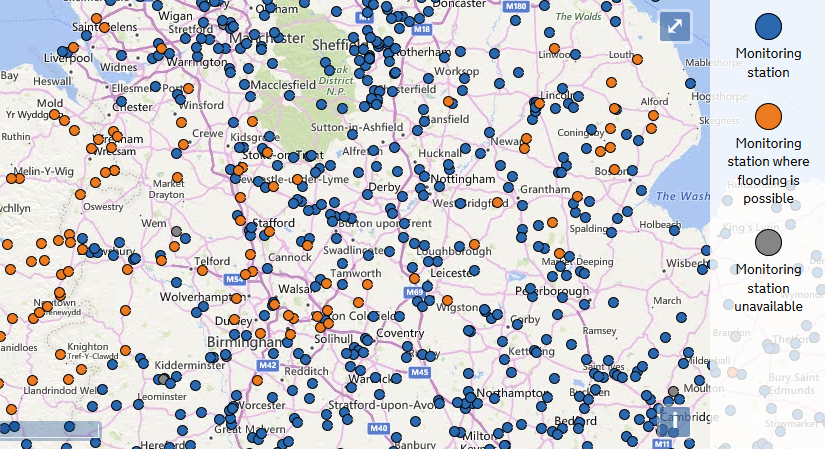 You can click on the dots and retrieve river level monitoring from the Environment Agency and Natural Resources Wales. It includes recent high and low levels, record levels too and some nice graphics.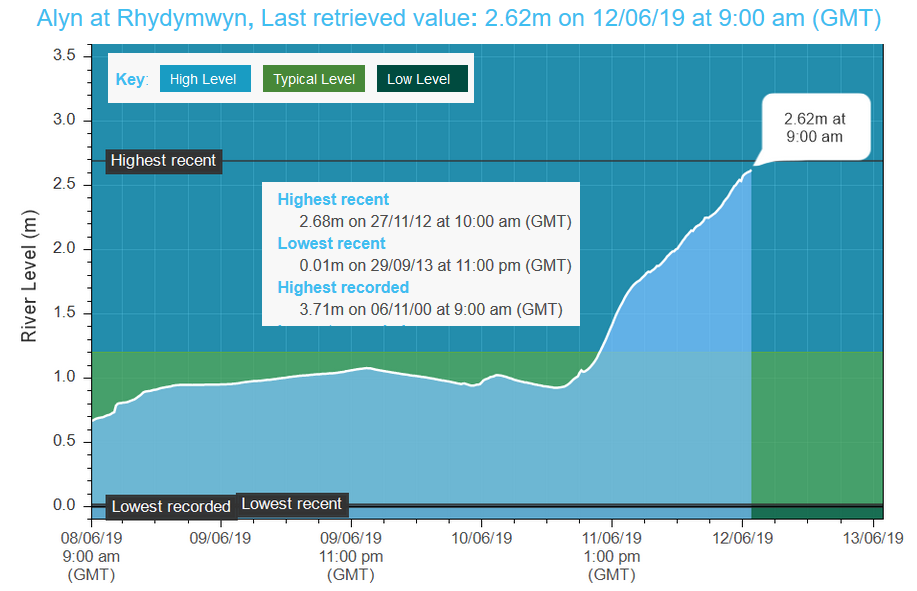 More information to help you stay informed about what is going on with waterways near you. The Environment Agencies also issue wider maps with explanations of what is expected with a similar warning matrix. This one from SEPA in 2018. They are found on their social media sites.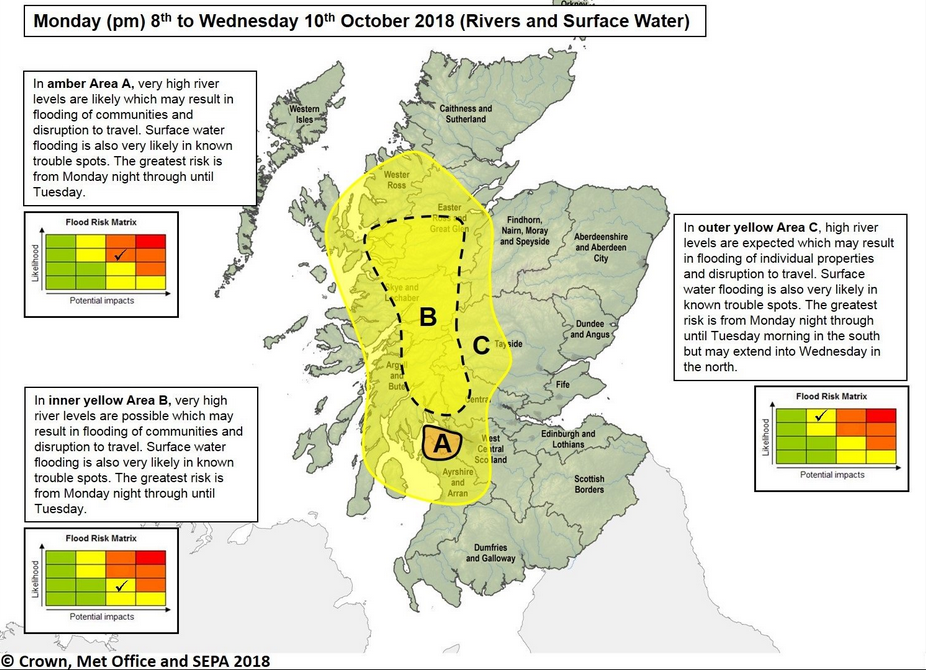 Rainfall Totals. There is a network of rain gauges, some looked after by the UK Met Office, most by the Environment Agency and SEPA. However, there are gaps, and torrential downpours can occur in between, so a true top figure is challenging to define. Good data helps check the forecasts and flood predictions, also to see how an amount of rain affected the land and population centres nearby.
The data from the automatic tipping rain gauges across England is now available to see, in near real time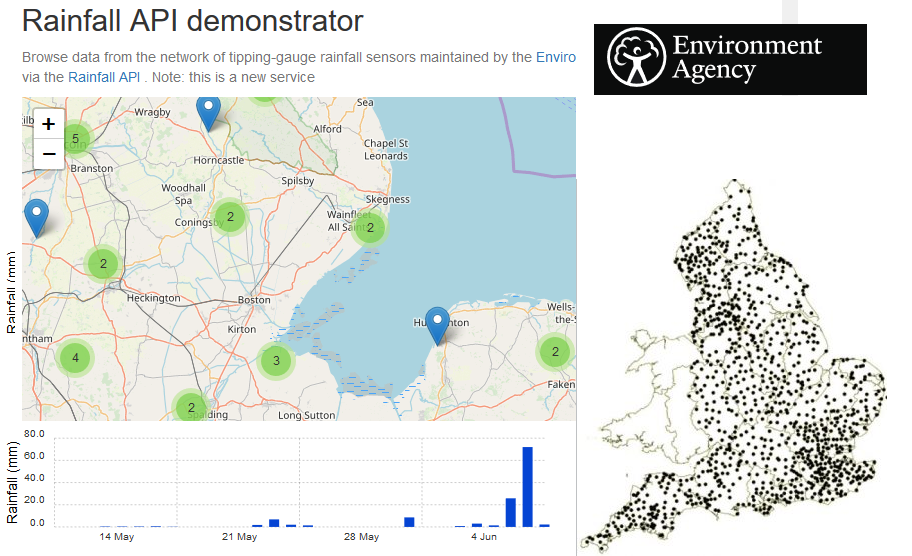 If you have your own rain gauge, on a farm or golf course, this can be used for comparison of local sites.
So, start with the 5-day forecast if available and the UK weather warnings. Sign up for the flood alerts if they are available but bear in mind any area is at risk of flash flooding from torrential downpours and thunderstorms or surface water flooding. Become familiar with the structure of weather warnings and the flood warnings and stay insured. If your property is at risk, there should be plenty of advice and local help. If heavy rain or torrential downpours/thunderstorms are forecast, keep an eye on the Netweather Radar to see where they are and how they are moving. You can set an alert on the radar app to warn you when rain or lightning is in the vicinity.
As climate change brings more extreme weather around the world, we will be subjected to times of heat and drought but also heavy, prolonged rain and more flooding. Climate adaptation and flood prevention are becoming a more significant part of town and agricultural planning, flood awareness and preparation is down to communities and individuals. What to do during and AFTER a flood event.
Environment Agency Flood warnings
Natural Resources Wales Flooding
SEPA Scottish Environmental Protection Agency Flooding