A low pressure is set to bring rain and blustery winds to the UK for the end of this week. This low has been named Storm Miguel by the Spanish Met Service AEMet as it will affect NW Spain on Thursday before heading northwards through France to the UK on Friday.
Although it won't be a storm for us, it will bring some notable June weather, with more widespread proper rain for southern Britain and fresh winds lasting into Saturday as the rain keeps moving northwards.
For some parts of the UK, this week has already brought plenty of rain with Northern Ireland having Yellow rain warnings from the UK Met Office. Friday's evening might affect eastern counties but overall looks to miss Northern Ireland with Wales and SW Scotland seeing the highest rainfall totals. There is still some uncertainty about where the heaviest rain will fall over southern Britain. These charts give an idea but the totals are from a moving low heading north so not to be taken too literally at this time if the low is slightly to the west with a shift in the totals too. Still the potential for eastern England's totals to be disappointing for farmers and growers.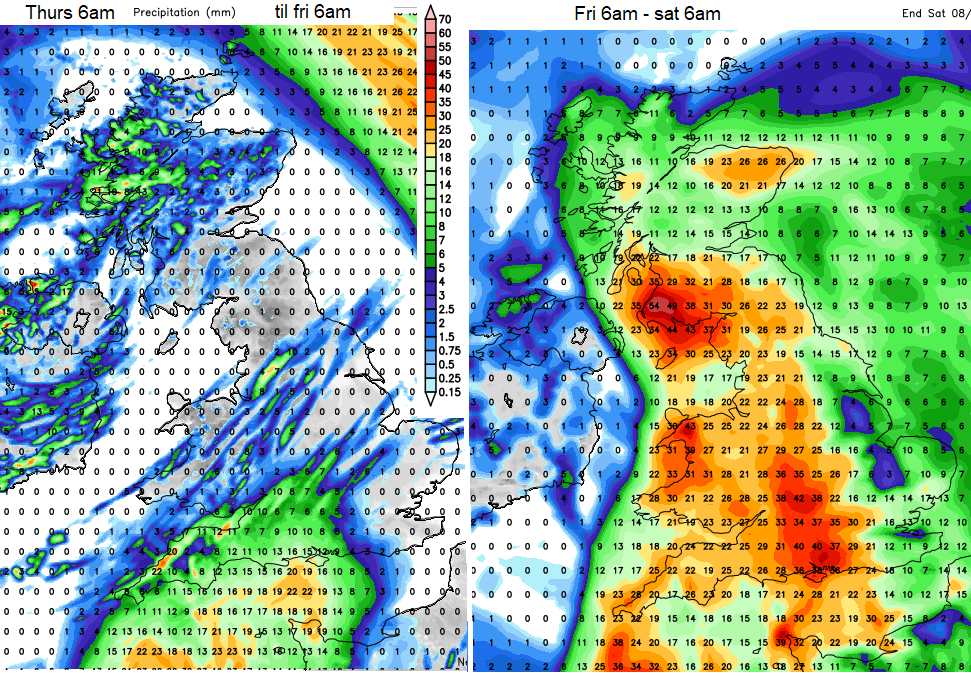 Ahead of this low there will be some warm air for eastern England on Friday morning, but once the rain and brisk winds arrive it will fee cool and stay that way for the weekend. Overall it is a breezy picture but around the main rain, it will be windy with gales for coasts. Strong northerly winds are showing for Cornwall Friday lunchtime, for the English Channel Friday evening and overnight, including Kent and Dover crossings. Windy on Saturday for the Pennines, Lake District and Cheviots with much lighter winds on Sunday.