Those showers are going to become quite widespread on Bank Holiday Monday with just about all parts of the country in with a shot of catching at least one. Not all will of course, and between them there'll be some warm sunshine to be had, but should you see one, it's liable to be heavy and thundery. So, if you're off to a carnival or event, it's worth taking a waterproof. Southern England will be the region with the highest likelihood of avoiding the majority of the showers.
Temperatures on Monday will be quite similar to today, warm enough in the sunnier spells, but quickly dipping as and when showers pass through. Winds will be lighter across the northern half of the country than today (Sunday), but breezier further south.
What's to follow after the bank holiday?
Beyond the long weekend, the mixed conditions are set to continue, but high pressure will never be too far away. And by next weekend it could start to back ridge north over the country, settling the weather right down again.
Tuesday will stick with the showery theme we saw on Monday, with a good number of them breaking out during the day. They are likely to fade from the west during the afternoon, bringing a sunnier end to the day.
Into Wednesday, the showers are likely to be fewer and further between. But we will need to keep an eye on the threat of some persistent rain moving into southern areas. That patchy, showers but sometimes heavy rain is likely to spread northeast across England, Wales and perhaps southern Scotland by Thursday. To the north of it (and its northern extent is a little uncertain), it will stay mostly dry and bright.
Improving next weekend?
The latter part of the week should see the rain and showers start to clear. And with high pressure then likely to come our way, the weekend could be a much more settled affair.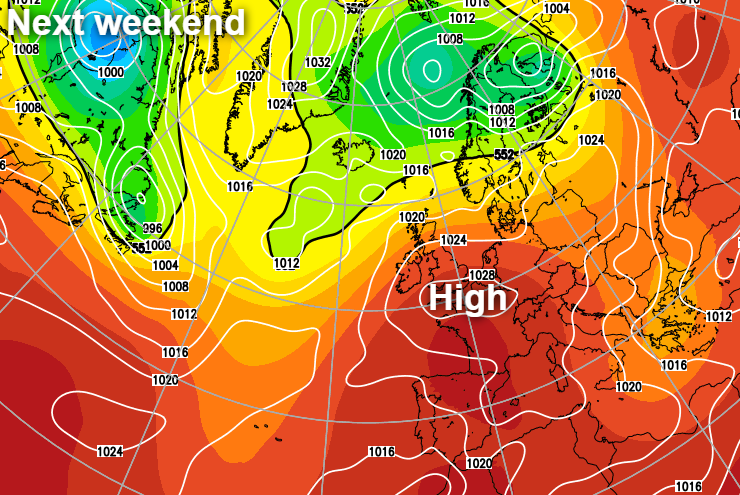 It's still a little way off though, so we'll keep you updated as the week goes on.