March "In like a lion out like a lamb". A big tick for that proverb in 2019. The start of March saw a stormy weekend as two low pressures, including Storm Freya, arrived. For this last week of March, we have high pressure over the UK, blocking out any low pressures and so the strong winds and heavy rain, leaving a dry settled picture. This lasts into the start of April, but we will have some frosty nights.
Temperatures will rise a bit this week, especially in the south. We could again see into the high teens although for many 11 to 14C will be the usual daytime temperatures
The jet stream is away to the north and as the high pressure stays steady it will only be the far north of Scotland seeing rain from weak weather fronts that brush past with blustery winds. On Friday a cold front manages to move in from the NW as the high slips eastwards over Europe. This will bring more cloud and a band of fading rain but also introduce cooler air. It will feel colder next weekend, like it did during this one, in a more northerly flow. Then the high pressure builds back in ready for the start of April.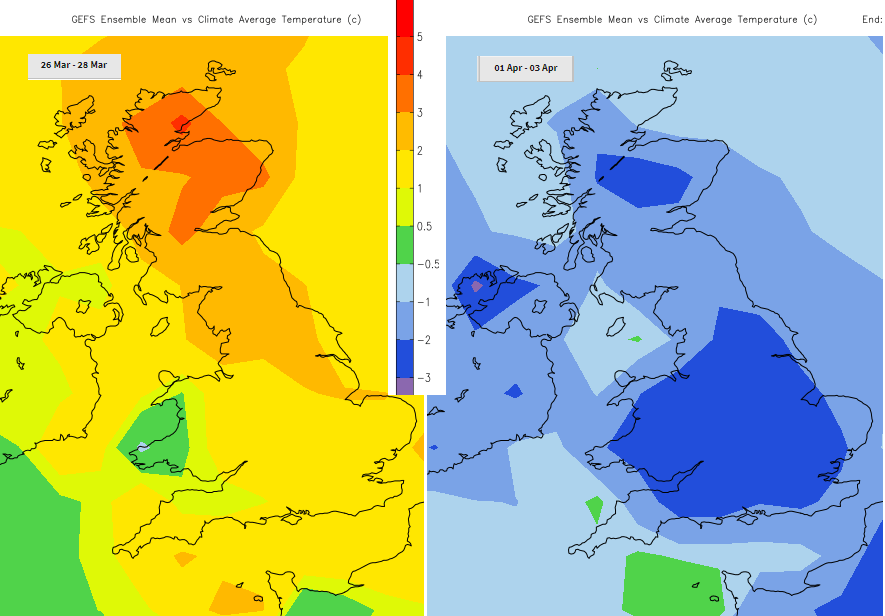 Three day mean of temperatures showing warmer trend midweek and a chillier weekend again.
The top temperature yesterday was +15.1C in London and overnight Scotland, Northern Ireland and Yorkshire have dipped down just below freezing. There is plenty of sunshine about today, just a few lingering showers over Aberdeenshire, but these will clear this morning. The Northern Isles and far NW of mainland Scotland keep the risk of rain this week but for the rest of the UK, it is a dry picture. Today in the sunshine temperatures will be 10 to 12, with a few places in southern England up to 13 or 14C. The brisk NW wind eases quickly for Northern Ireland and this afternoon for western and SW Britain. The moderate north wind will make it feel chilly along North Sea coasts today.