Cyclone Idai has hit Mozambique, Malawi and Zimbabwe in the past week, after heavy rains and flooding throughout March in this part of southern Africa. There has been widespread flooding and devastation. Save the Children reported on the 18th March that the torrential rain is continuing, "Families are clinging to rooftops desperate to be rescued. The town of Buzi, Mozambique could be completely underwater in 24 hours."
Communications and travel have been difficult with a lack of electricity and mobile phone systems wrecked. Houses have been flattened, pylons fallen and a tidal surge metres high in places affecting the coastal towns with Beira, a large city in Mozambique being hard hit by the cyclone
UNICEF has launched a fundraising campaign. "Tropical Cyclone Idai has battered Mozambique, Malawi and Zimbabwe, devastating already-vulnerable populations with severe damage and flooding. Please help now. "
… water expected to rise above alert levels and a continued high risk of urban floods in Beira and Dondo. Meanwhile, thousands of people remain in need of assistance following floods that began in early March. People have died, been injured or displaced. Thousands of acres of crops have been affected.

However, significant response challenges remain. The scale of the flooding has made multiple key roads impassable, meaning that road convoys are not able to reach Beira at this time. Many trucks are therefore stuck on the road and unable to reach their intended destinations.
Tropical Cyclone Idai made landfall during the night of 14 to 15 March 2019 near Beira City, in central Mozambique. This event occurred after weeks of wet weather in March in the region. The cyclone brought torrential rains and winds with significant damage to housing in Beria. Hospitals and schools have been damaged, there is no power and massive destruction of livestock and planted crops has been reported. As this damage is occurring just before the main harvest season, it could exacerbate food insecurity in the region. UN reports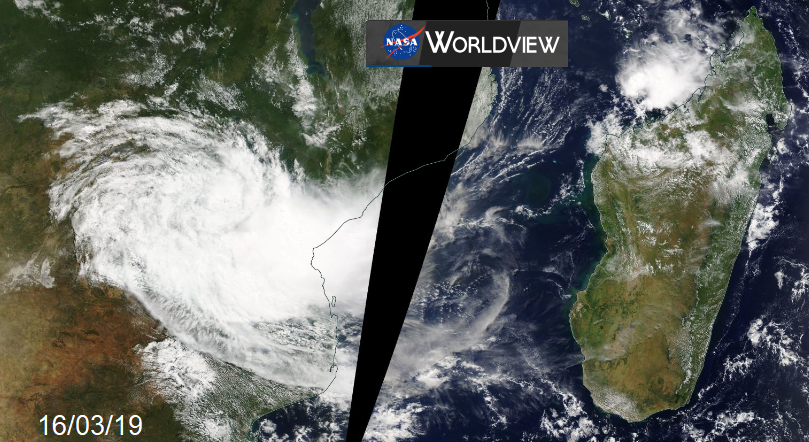 As the tropical cyclone hit eastern Zimbabwe with heavy rains and strong winds, there was flash flooding and subsequent deaths, destruction of livelihoods and properties. Some areas remain inaccessible due to damaged roads and bridges that have been washed away. Hundreds of people are missing.
The satellite picture shows a mass of cloud over the area, which is still bringing rain as the remnants of the cyclone all too slowly diminish.