Tonight
It stays breezy across many areas tonight, windy with gales across the northwest, showers will continue across western Scotland and N. Ireland, these spreading in across northern England and Wales too overnight. Central, southern and eastern England mostly dry with clear spells, though remnants of today's front will linger across the far southeast of England, bringing cloudier skies and patchy light rain. A mild and mostly frost-free night, temperatures falling no lower than 5-9C.
Monday
Southeast England and East Anglia will hang on to cloud and patchy rain through Monday. Elsewhere will be sunnier, but with showers towards the west, these heavy and frequent across Scotland, N. Ireland and far north of England, locally accompanied by hail and thunder. Not as mild as recent days, particularly in the north, but still well above average, temperatures reaching 8-10C across Scotland and N. Ireland, 11-12C across England and Wales.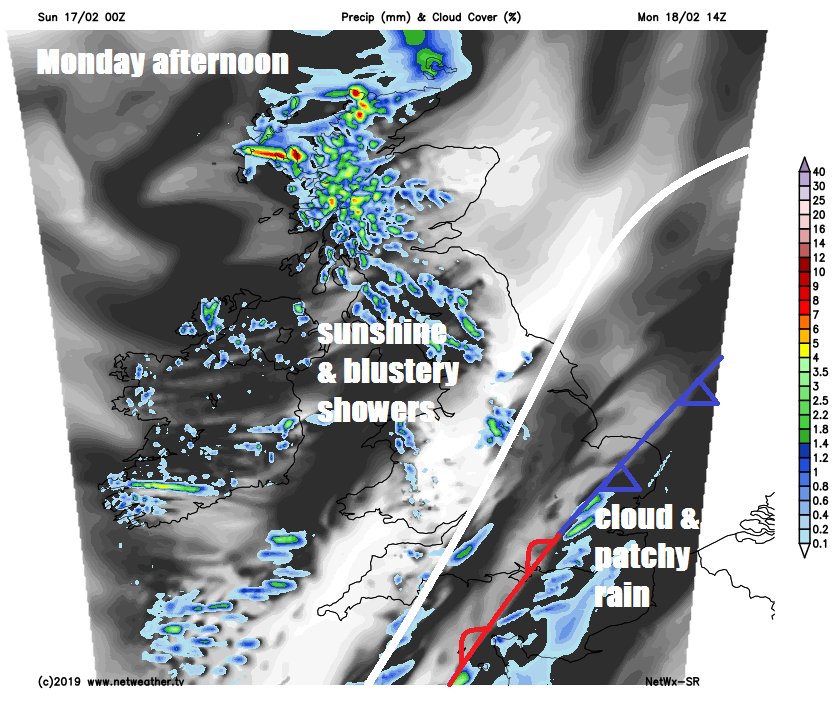 Tuesday & Wednesday
Southern, central and eastern areas will be dry, bright or sunny for much of the day on Tuesday, however, in the north and west after a few morning showers cloud will thicken to bring outbreaks of rain across Ireland and N. Ireland in the morning, before spreading northeast across Scotland and NW England in the afternoon. Temperatures ranging from 9-10C in the north to 11-12C in the south.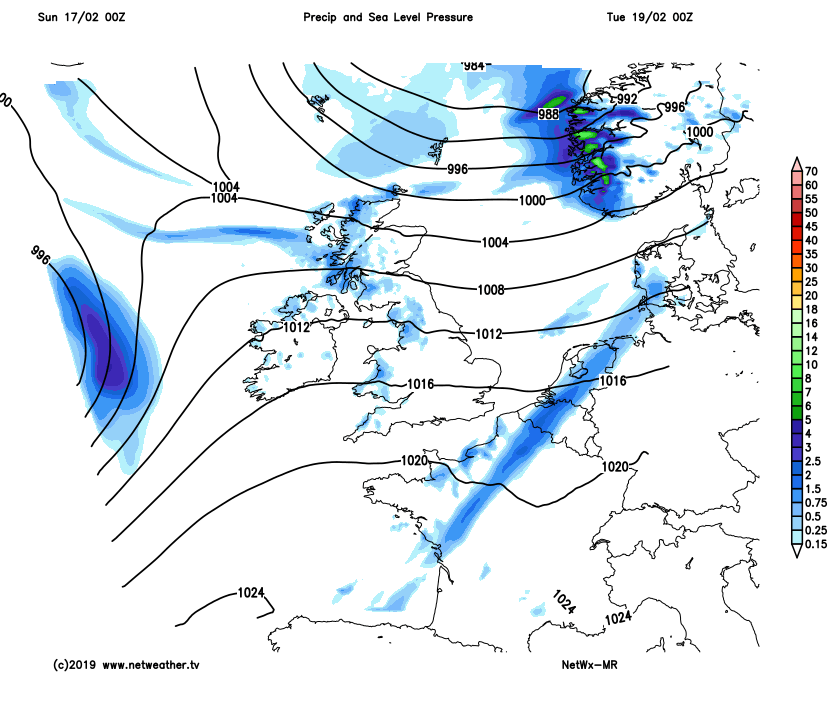 Wet and windy across northern and western areas on Wednesday, drier and brighter towards southern and eastern England, a brisk southwesterly wind will mean a mild day, with temperatures reaching low to mid-teens.
Thursday & Friday
Turning drier and more settled across all parts on Thursday and Friday, as high pressure builds back in. As the wind turns southerly with the flow sourced from way south, it looks to become exceptionally mild, with temperatures perhaps reaching the high teens on Friday or next weekend.