Because it will be unsettled with low pressure systems passing close by and wedges of cold polar air between systems, there will be a risk of snow at times. Frontal systems moving southeast will often have 'mild sectors' ahead of them, so rain most likely for many along these fronts, but cold polar undercutting the rear of the fronts bringing snow but mainly confined to higher ground and perhaps temporarily lower levels in the north. However, once in the cold polar flows, there is potential for wintry showers to bring snow almost anywhere in the UK, settling most likely over high ground at all times or temporarily at lower levels at night time. Widespread frosts are likely in clear spells in the cold polar northwesterly, sometimes veering northerly flows, leading to a risk of ice where showers are falling.
A summary of weather over the coming days – including risk of snow and ice.
Tuesday to Wednesday – COLD
Active occluding cold front will sweep southeast across the UK tonight, mainly a band of rain but some back edge hill snow possible for northern and western areas and sleet for lower levels. Risk of ice developing on wet surfaces as colder polar air and clearer skies follow rain/hill snow band.
Tuesday a cold day with a brisk cold northwesterly wind which will blow in wintry showers, around western coastal areas in the north, but a trough moving east across England and Wales could bring a more organised area of wintry showers across many areas, with snow falling in places, but unlikely to settle away from high ground. Risk of ice forming on wet surfaces overnight into Wednesday following showers as skies clear.
Wednesday looking cold but mostly dry and bright as ridge of high pressure builds, though some wintry showers around northern and eastern coasts. Temperatures generally in low single figures.
Thursday and Friday – MILDER
Low pressure passing Iceland will drag in milder air from the west off the Atlantic, so less cold with temperatures perhaps recovering to 9-10C in the south. More in the way of cloud too on Thursday, bringing patchy rain or drizzle. England and Wales drier Friday, but rain returning from the northwest across Scotland, perhaps heavy in the northwest.
Weekend – TURNING COLDER
Mild start in the south on Saturday, but cold front with band of rain moving south out of Scotland Friday night will continue south Saturday morning, clearing south coast in the afternoon with colder polar air returning from the north and northwest for the rest of the weekend, with it wintry showers in the north and a risk of widespread frost where skies clear.
Next week – STAYING GENERALLY COLD
Staying on the cold side next week but unsettled, as further lows developing off southern Greenland drop southeast towards northern Europe, bringing predominantly a cold polar northwesterly flow feeding cold air off a cold Greenland ice sheet, albeit moderated over the Atlantic warmer waters. So bands of rain and hill snow moving southeast, with wintry showers in between, a continued risk of snow in places, mainly over hills, but to lower levels at times too, snow settling mainly over higher ground, but perhaps lower levels to at night time. Day time temperatures probably a little too high in the south for any overnight snow to stick around. Some snow could possibly be disruptive in the north, more especially over higher routes.
Futher ahead into early February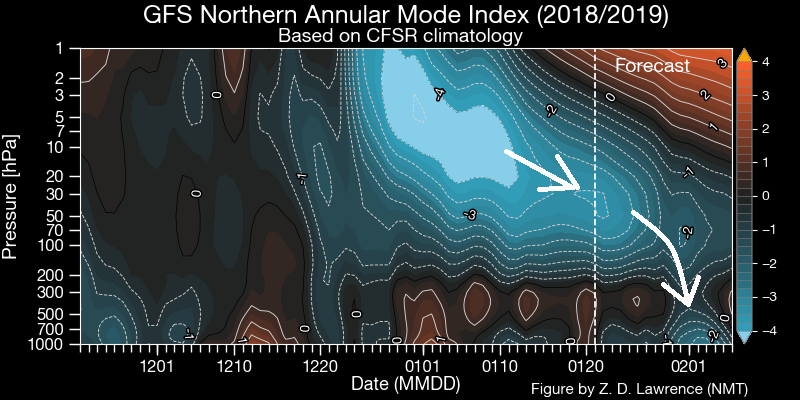 Looking further ahead, I've previously discussed the potential impacts of the wind reversal to easterlies working down through the stratosphere, following the Sudden Stratospheric Warming to start the month, and impacting the troposphere circulations at high latitudes, i.e. increased high latitude blocking. Well these easterlies have yet to do so, but there is an indication this may occur to end this month, so we could see a pattern change featuring high latitude blocking in February, increasing risk of much colder northerly or easterly flows.