Confidence growing for even colder airmass from NE Europe coming our way towards end of next week. Beast From The East?
Wednesday onwards uncertainty has manifested from model guidance over the last few days, with quite a few scenarios being presented – especially from GFS model. However, after some uncertainty with regards to the track of a winter storm over the eastern USA this weekend and how far out into the far north Atlantic it will track and interact or phase with low pressure ahead of it near Iceland diving southeast towards the North Sea Tuesday, it appears the models are starting to converge on the idea of low pressure over North Sea Tuesday dropping southeast across mainland / central Europe into Wednesday, while pressure / geopotential height rises build in to the north of the UK and over Scandinavia
The buckling of the jet over the far north Atlantic ahead of that winter storm passing Nova Scotia on Tuesday and jet stream downwind over the NE Atlantic turning southeast as a result, allows low pressure to dive southeast from Iceland towards the North Sea then into mainland EU and looks to be the main trigger for pressure to build to the north and northwest of the UK later next week. This buckling of the upper flow is an example of anticyclonic rossby wave breaking and tends to be a precursor for high latitude blocking.
However, there are also signs, from the ECMWF high resolution, of an arctic high forming over eastern Greenland, perhaps in response to easterly winds starting to propagate down through the troposphere from the lower stratosphere – following the Sudden Stratospheric Warming (SSW) to start the year.
EC, with its better vertical resolution, probably get a better handle on the downwelling and how it will affect tropospheric patterns and yesterday's EC stratosphere charts on the Berlin site showing easterly winds finally reaching down into the troposphere by the middle of next week.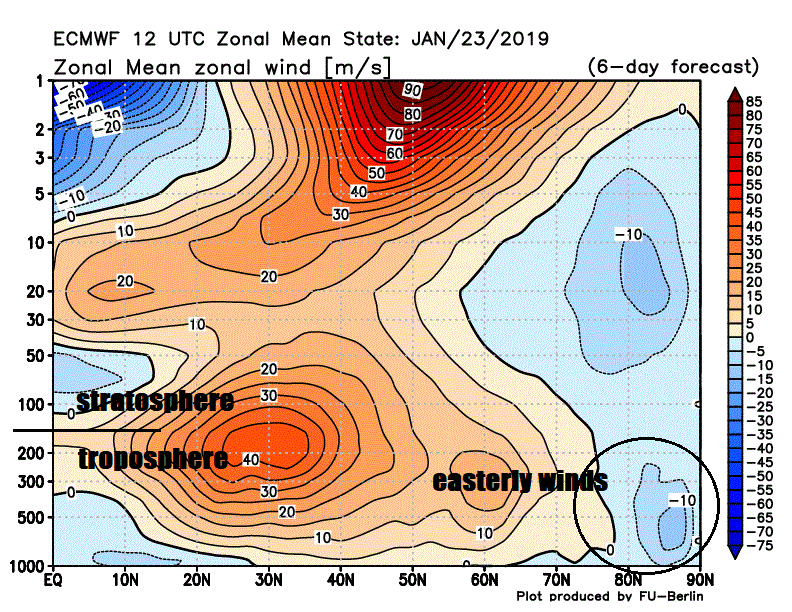 06z GFS also has the easterlies reaching down through the troposphere, perhaps a few days later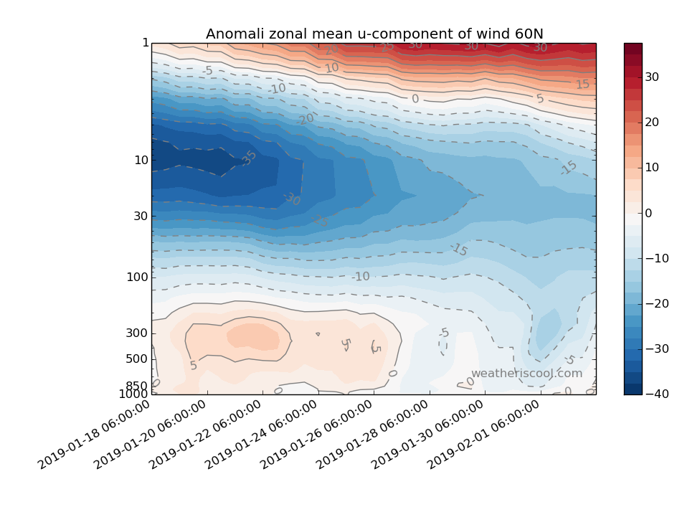 This arctic high has, on a few ECMWF runs now, been indicated to drop south to Scandinavia intensifying high pressure there, this and the sequence of events leading to the flow buckling northeast over the Atlantic portending to an easterly or northeasterly flow to develop towards the tail end of next week.
Such a flow from this direction would bring very cold air from Scandinavia and NW Russia, which would bring not only day time temperatures close to freezing, but also an increasing risk of snow showers or longer spells of snow – especially across eastern areas.
12z GFS this evening still showing potential for bitterly cold air to arrive from the northeast later next week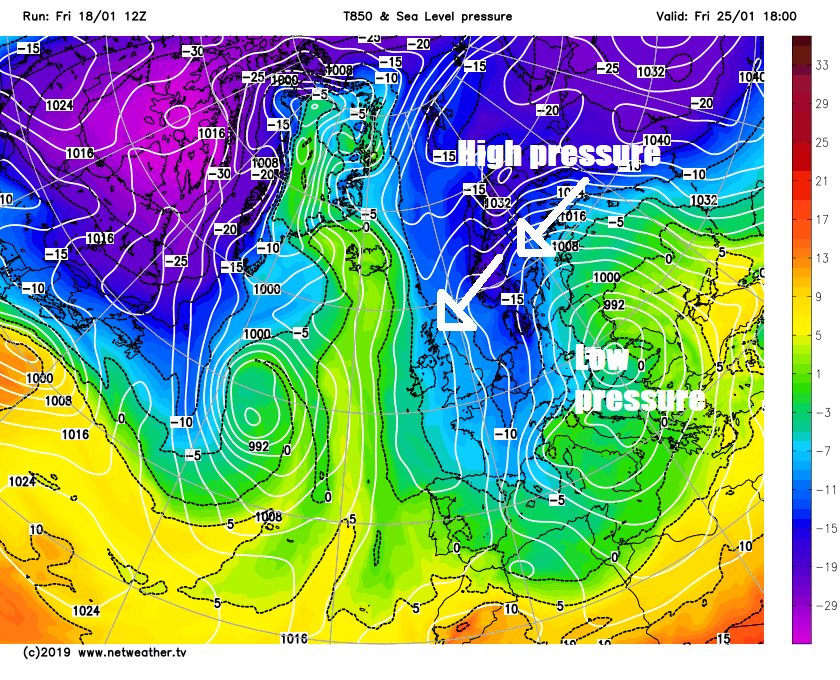 Still not 100% confidence in bitterly cold air from NE Europe coming for now
However, there is still a fair bit of uncertainty how the synoptic pattern will evolve in detail for now beyond Wednesday, suffice to say an increasing risk, say 70%, for very cold air and increasing snow risk to arrive from NE Europe by the end of next week or next weekend. This very cold pattern could be sustained into early February, thanks to the delayed downwelling of easterly winds in the stratosphere impacting circulation in the troposphere, i.e. high latitude blocking, for a few weeks at least.