There will be plenty of rain and the Met Office have a yellow wind warning for northern Britain and Northern Ireland. A lot of the heavy rain will be before dawn. The low pressure centre is forecast to run to the west of Northern Ireland and the Western Isles, with the weather fronts bowing across the UK. So, rain across Scotland out over eastern England and curling back over southern England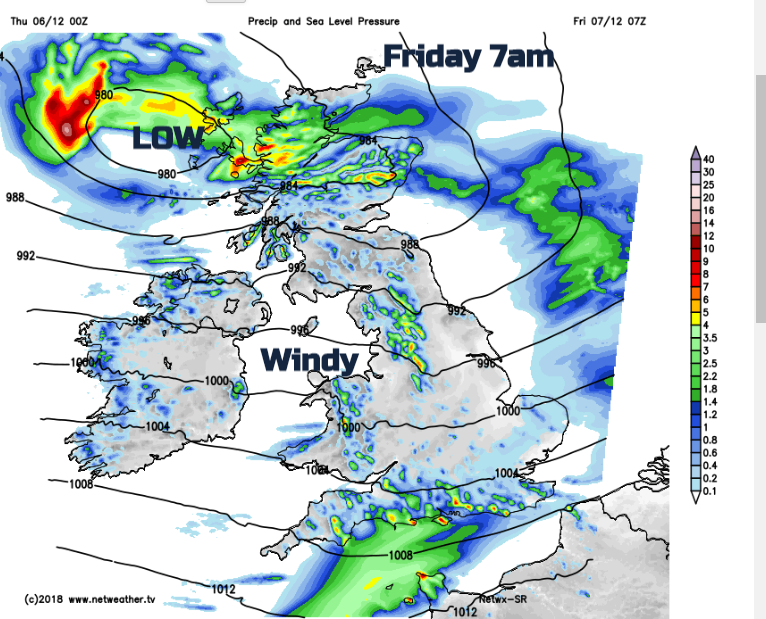 The rain bands push over SE England in the morning and northern Scotland, with hefty showers tucking in behind. In the colder air, there could be sleety bits over the hills of western Britain. As the low moves over northern Scotland, the occlusion moves even more rain into the west coast, so totals will be highest here. There will be sunny spells, but it will feel colder after lunch.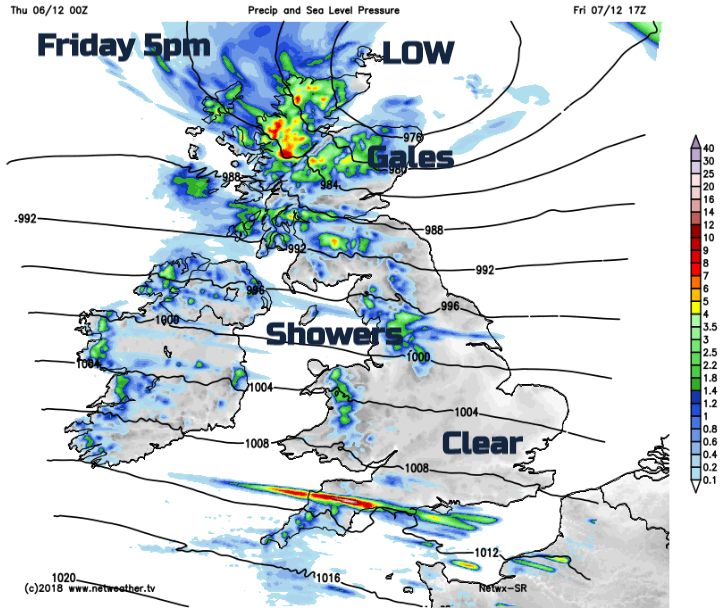 You'll notice on the wind warning that the matrix shows the possibility of high impacts but that is still considered not to be the most likely forecast solution. This will be updated this morning by the Met Office. This low will bring strong to gale force winds with severe gales for Scotland. The exact location and timings still needs fine tuning.
Friday am rush hour: Fresh to strong SW winds with coastal gust over 50mph for southern England. SW to W gales Irish Sea and North Channel with gusts over 60mph and severe gales for west coast Scotland. Concerns for the Hebrides Friday morning with gusts over 70mph. By late morning windy everywhere in a westerly. Highest gusts still over central/northern Scotland by lunchtime. By Friday pm rush hour strongest winds look to be over eastern Scotland with a wild spell of weather spreading over more of the UK during Friday evening.
Disruption to travel seems likely on Friday, possible interruptions to ferry and rail services and power supplies. Conditions on the roads will be tricky with frequent high gusts and ongoing strong winds.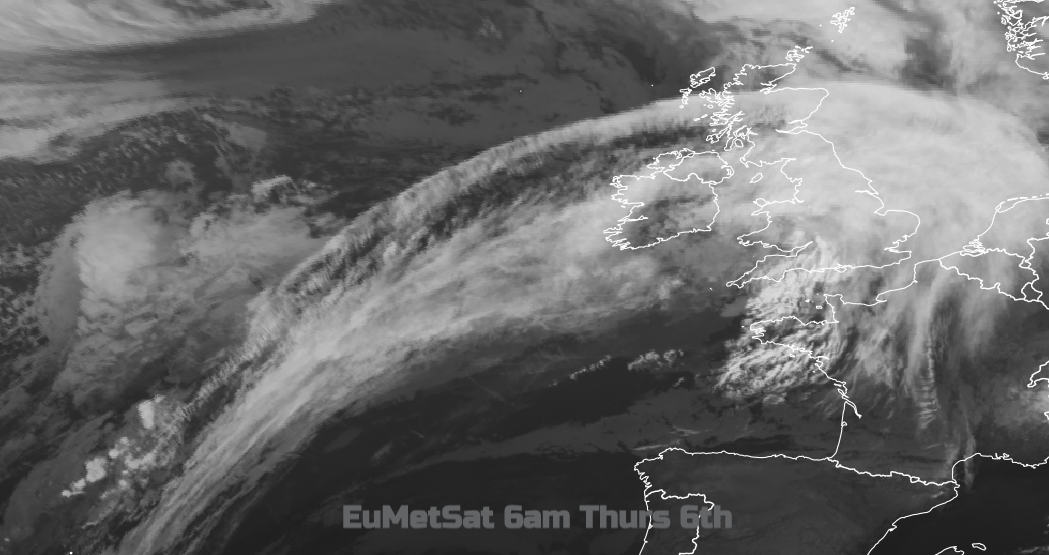 It stays blustery overnight except for Scotland where it turns colder. There will be brighter weather for a time on Saturday morning with the next low bringing rain over Ireland in the afternoon and across Britain Saturday evening. This could bring a bit of snow over northern hills as the rain band hits the colder air. The winds strengthen in the south during Saturday evening and night. Another wind warning may appear today for this.
The weather will calm down for next week, but for now keep an eye on the Flood alerts and warnings if you are in western Britain and watch out for the high winds tomorrow.