There will be a lot of rain about with high totals in the west and strong winds.
Environment Agency - Local flooding is possible from rivers and surface water over parts of south Wales and south-west England later Tuesday and more especially through Wednesday. There could be travel disruption. Large waves may affect parts of southern England and Wales coastlines from Tuesday pm through to Thursday.
The winds begin to pickup during Monday night over Ireland with coastal gales and gusts over 50mph for Northern Ireland and western Britain by Tuesday morning. It will then turn windy over the rest of Britain by the end of the day.
Wednesday looks windy everywhere with strong winds and gusts over 60mph as the SE winds veer to the SW. It will be windy all day with gales last into the evening for the Outer Hebrides. Even after that, further bouts of wet and very windy weather could appear from the south and the west. It will be a lively week with the last of the leaves blowing all over the place.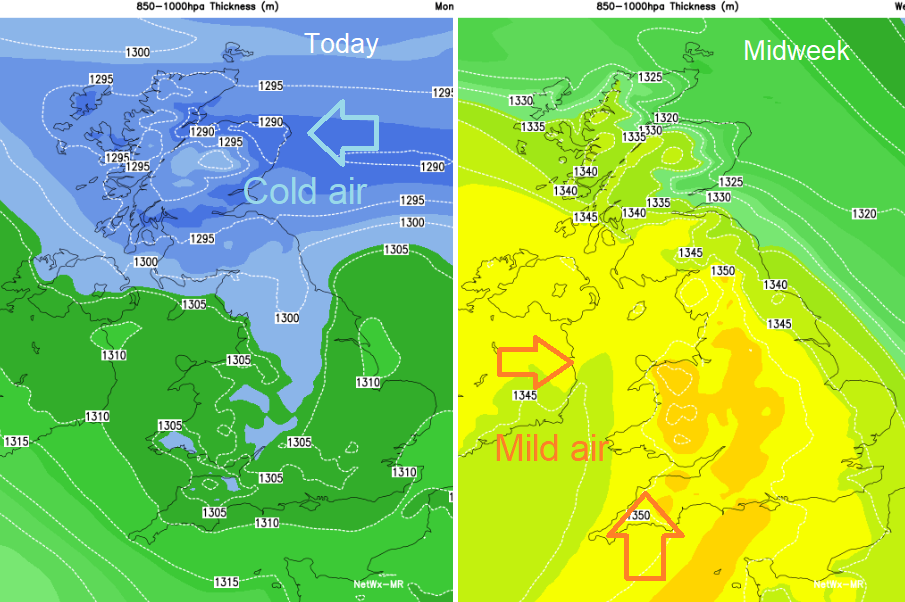 It won't be as cold, in fact, it will be mild for late November. Temperatures in England and Wales will reach into the mid-teens, maybe even up to 16 or 17C in sunnier spells. Although it looks to turn cooler by the weekend.