It's still cold out there, but there will be some improvement today for southern Britain after a bombardment of wet, slightly icy and generally miserable Monday weather with a nasty east wind. That is the picture this morning over Scotland and NE England with snow on the tops of the hills and rain across Northern Ireland. The cold east wind continues to blow across the northern half of the UK, so ignore the forecast air temperatures of +7C, in the wind it will feel more like +1C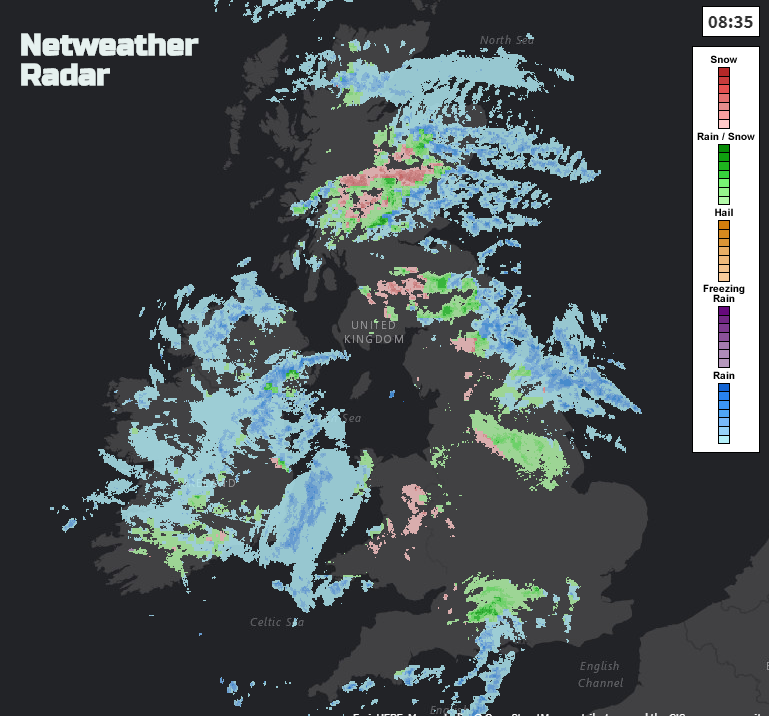 Down to -3C in Somerset and -2C in Cornwall overnight, southern England has seen the lowest temperatures with ice, frost and patches of fog about in the lighter winds. There was snow reported on Monday for inland Devon and Dorset on the hills. There are a few showers drifting up from the English Channel, associated with an area of low pressure forming to the SW. These are over central southern England heading north, a few reaching across to London, but the focus of these showers will be over Wales and the West Country this afternoon. Temperatures of 7 or 8 C in the south with a light to moderate SE wind making it feel cooler.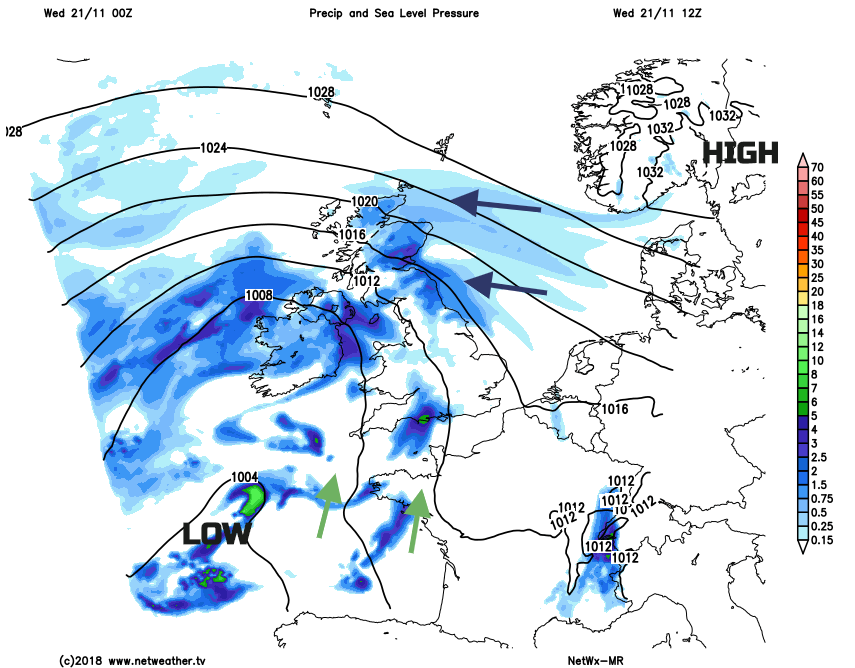 Across central Britain, the winds will be moderate to fresh, quite gusty at times as the showers rattle in. NE England up to the north Pennines, Yorkshire Dales and Cheviots will have horrible conditions, wet, cold, windy and wintry higher up. There will be some improvement through the day with the showers clearing and sunshine appearing but still a cold wind. The West Midlands could see a few rain showers from the low away to the SW.
For Northern Ireland, the brisk winds veer from the NE to SE and there is a grey wet picture this morning. Showery outbreaks of rain, sleet over the highest hills, continue to feed in from the east and it will feel cold.
It's not very pleasant this morning for Scotland with driving rain, surface water and spray. Gloomy skies and a cold, cold east wind with sleet and wet snow for higher routes. The band of heaviest showers moves northwestwards during the day so there is some improvement for southern Scotland and then the Central Belt, so the drive home won't be as horrible. The fresh to strong east winds only ease down this evening as skies clear and it turns colder and frosty.