That takes us into Monday, and for many, it's going to be a cloudy, damp, chilly day. There will be some sunshine about, but it'll be at much more of a premium than we've seen over the weekend, with western fringes, northern Scotland and perhaps southern England best placed to see it. There'll be some patchy rain and showers at times too, mainly affecting eastern parts.
Temperatures will reach 6-9c for the majority, but with the easterly wind, it'll feel more like 2-5c.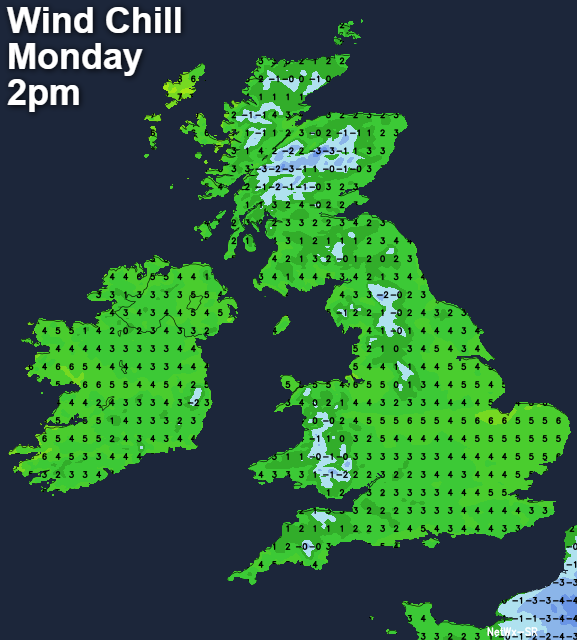 Overnight, the cloud remains, and the showers continue to run in from the east. They'll be starting to become more wintry by this point, with some snow likely up over the hills.
Tuesday will see the showers becoming more widespread, falling as rain, sleet and hill snow. The far west and especially northwest will be best placed to stay out of trouble, with some sunny spells here too. It'll feel cold everywhere.
Some ice is then possible overnight, ahead of another showery, wintry, cold and drab day on Wednesday. With more snow up over the high ground. More cold nights follow as we move toward the end of the week too, with icy stretches on roads and pavements possible. The atmosphere will be a touch warmer by this point. So although it'll stay cold and the showers will continue, particularly in the east, they'll mainly be of rain away from Scotland, where further sleet and snow is likely, especially on the high ground.
As we move through into next weekend, we keep the easterly flow, so don't expect too much change - it'll stay on the cold side, there'll still be wintry showers in places, and the best of any sunshine will be reserved for western regions.