You may have heard that after the unseasonably mild weather of this week, it will turn colder from the east through next week. You may even have heard the 'S' word being used on social media too.
Turning colder next week
Yes, it is likely to turn colder next week, as a blocking high pressure pattern develops initially over Scandinavia early next week, before the block looks to retrograde (migrate west) towards Iceland and Greenland through the week.
This will allow an easterly flow to develop across much of Europe and the UK, with cold air originating from northern Russia flooding west across much of continental Europe and the UK through the week. The chilly easterly wind could bring quite a wind chill by this time next week, feeling like 1-3C at best midday next Wednesday.
The easterly flow looks to develop this weekend, with temperatures slowly lowering as a result, generally 10-12C on Saturday, 8-10C on Sunday. Temperatures continuing to lower day-by-day next week, so by Monday most areas unlikely to hit double figures, then for the rest of the week temperatures struggling to get higher than 6-8C.
Will it snow next? Unlikely away from high ground.
Initially a dry to start next week, but a few troughs in the easterly flow and increased moisture may bring thicker cloud and some rain showers by Wednesday along eastern coastal areas, perhaps falling as a wintry mix over higher ground in the northeast. Perhaps some heavier showers developing off the North Sea towards the end of the week for the likes of SE England and East Anglia. But as southern North Sea surface temperatures are between 12-15C still, and the airmass will not be deeply cold, only cold at the surface which will be warmed on the sea crossing anyway, it looks unlikely that lower elevations will see any snow from these showers, as the North Sea is too warm.
Current North Sea surface temperatures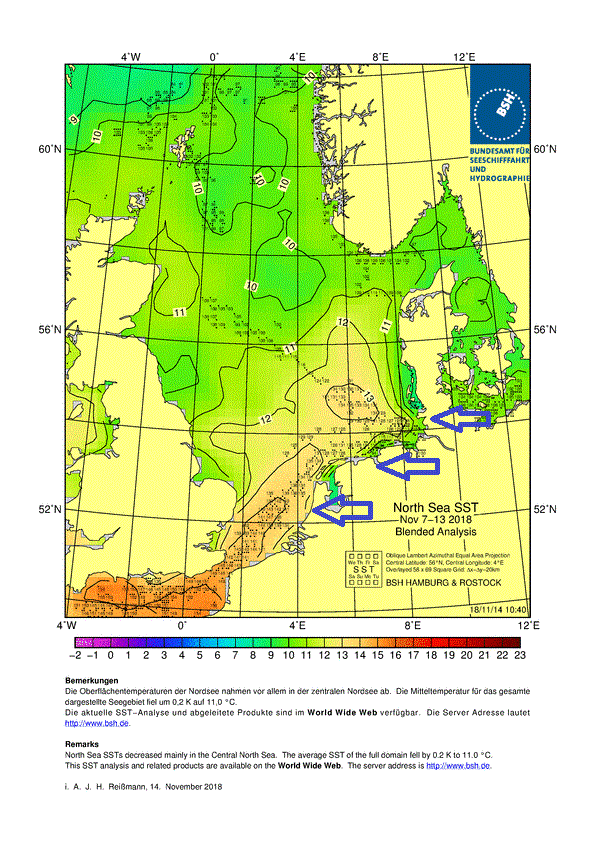 However, if the blocking high holds to the north, often these high latitude blocks are hard to shift when the tropospheric Polar Vortex, usually to our northwest this time of year, has retreated, then there is potential further down the line for deep cold from the arctic to move in across NE Europe on the eastern flank of the block before flooding southwest and west towards western Europe – including the UK. The 06z GFS painted this scenario towards the end of the month. This would bring a greater threat for snow at lower levels, particularly in the east from snow showers, depending on how close high pressure is to the north.
Often these high latitude blocking patterns that quickly develop are the result of a Sudden Stratospheric Warmings (SSW), like back in late February and early March. However, this time round it isn't a SSW responsible, in fact the stratosphere has been decoupled from the troposphere below so far this autumn, rather upstream cyclonic wave breaking in the troposphere across the North Atlantic are key players in building and reinforcing the block. A classic -NAO (negative North Atlantic Oscillation) pattern will ensue as the high latitude block retrogrades toward Iceland, as the jet stream and low pressure systems that follow it are forced to track further south across southern Europe – leading to higher pressure/heights over Iceland and lower pressure/heights over Portugal. The reverse in pressure pattern of these two areas leads to a +NAO.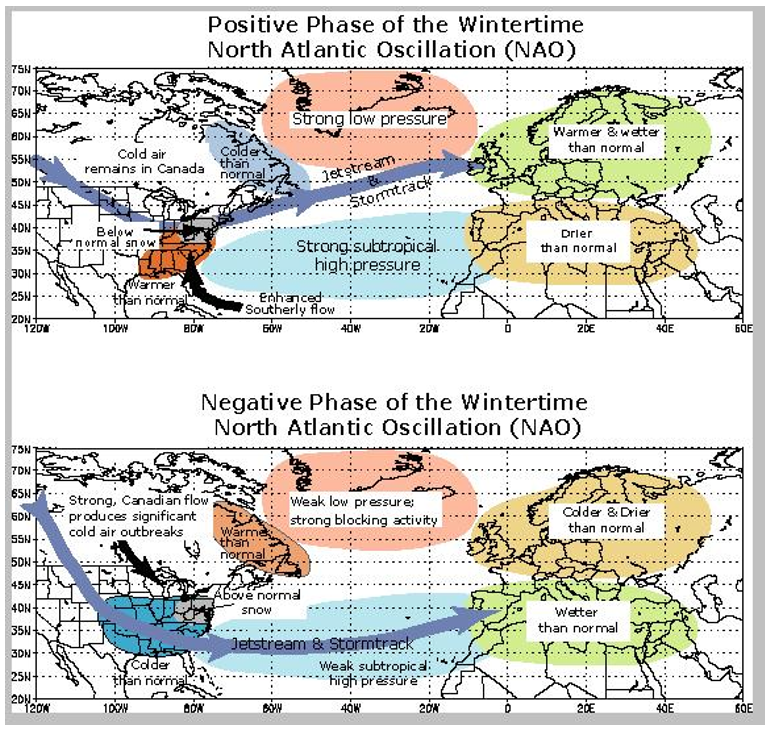 Although it is not certain whether there will be much in the way of snow for the UK as we head through the second half of this month, unless we see deeper cold move in, certainly there is an increased chance that blocking will maintain to the north and temperatures stay below average. Continental northern Europe could well see snow cover become rapidly extensive through next week.