High pressure is going to take charge of our UK weather by the end of this week. It's exerting some influence from central Europe at the moment, subduing yesterday's hefty showers and thunderstorms. Atlantic weather fronts still manage to move in on Wednesday, bringing rain and blustery winds to the NW half of the UK but after that, the weather comes more settled and drier. Thursday and Friday will bring milder air to southern Britain up to around 17C.
There were some super cumulonimbus clouds spotted on Monday with localised flooding in the hefty downpours. Lines of showers continued through the night moving NE, with a particularly active area just SE of London for Kent, Essex and Sussex. Other clusters headed into western Britain.
The day does improve and become fine and dry. This morning there is still some patchy rain, mainly in the west with showery outbreaks for the southwestern half of Scotland. These fade and the skies clear and brighten, joining the rest of Britain in sunshine. High cloud does stream in later today from the west, that's the next system showing itself. The winds back a little to a moderate SW wind and temperatures will be 10 to 14C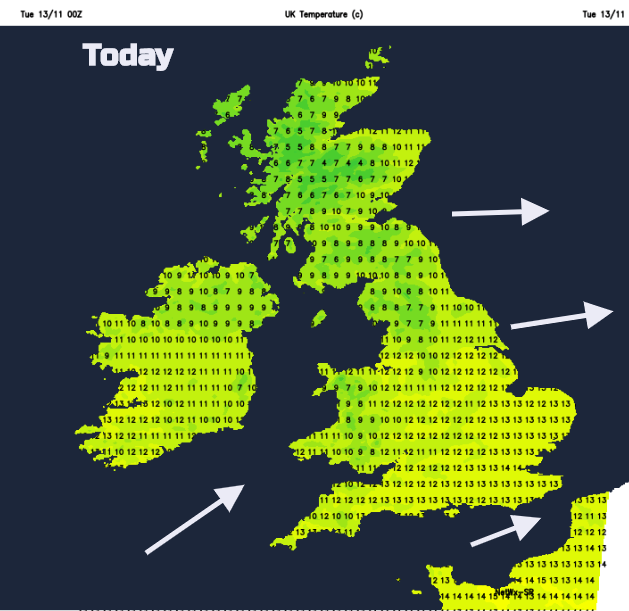 After a fine afternoon, the winds back to a southerly and freshen for Ireland and western Britain. The winds then strengthen overnight with gusts over 50mph for Irish Sea coasts as warm front rain heads in. This rain pushes over Wales, NW England and then Scotland.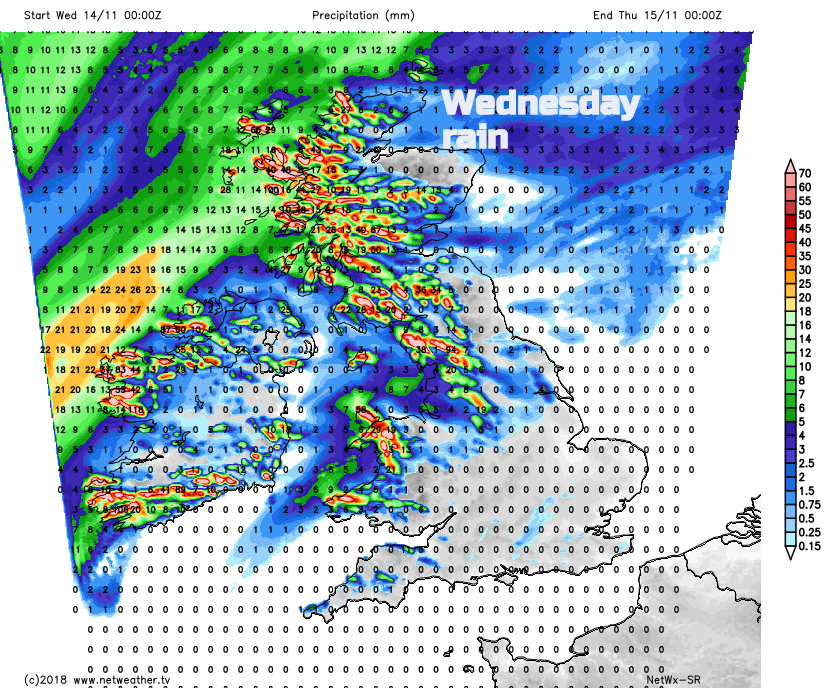 Wednesday
Tomorrow it will be a windy for Ireland, Isle of Man and central Britain to start the day. It will be wet for w2stern Scotland with patchy rain extending over much of northern Britain, Wales and Northern Ireland. Eastern areas will be more sheltered. Southern England and East Anglia will have a fair, dry start to the day and fine, sunny conditions spread over more of southern Britain in the morning. So, cheering up. By the afternoon much of England and Wales will be dry and sunny, although the rain may still be over Cumbria. Scotland and the Irish Sea stay blustery which could lead to 15 or 16C for Moray. Elsewhere temperatures around 12 to 14C
Wednesday night will be a bit cooler in the east with light winds and clear skies. Many parts of the UK will have a fine, dry day. There is still the threat of rain in the far NW from waving fronts, just reaching NW Scotland and western counties of Northern Ireland. Here it becomes wet and cloudy as Thursday progresses.