Friday will turn wet and windy, thanks to a deepening area of low pressure heading in from the Atlantic. Southern Ireland will be very wet with strong winds and high gusts by lunchtime, Northern Ireland and SW Britain, teatime and then the unsettled weather moves into more of Wales, NW England and SW Scotland during Friday evening.
We still have lingering rain this morning over Pembrokeshire, Devon, Cornwall and Scotland with flood warnings and alerts. Some are for coastal flooding due to high tides and strong winds with recent rain. It has been very wet this week for western Britain and this evening's rain will only add to the soggy ground.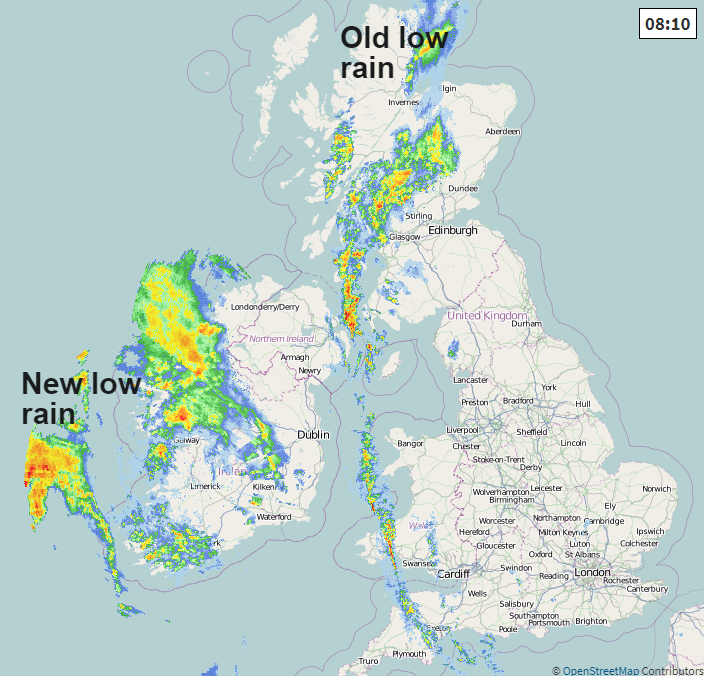 There have been clearer skies for eastern Britain overnight and temperatures have dipped to around 4 or 5C, +3.2C in Suffolk. The line of rain north-south is a frontal band from a low pressure which has been lurking since midweek. The one heading in from the Atlantic will overrun all this, stealing the show as it were.
The band of rain turns more showery and pivots with its cloud NW and slightly SE during the day. The winds freshen with temperatures up to 14 or 15C for eastern England yet it will be a fair day.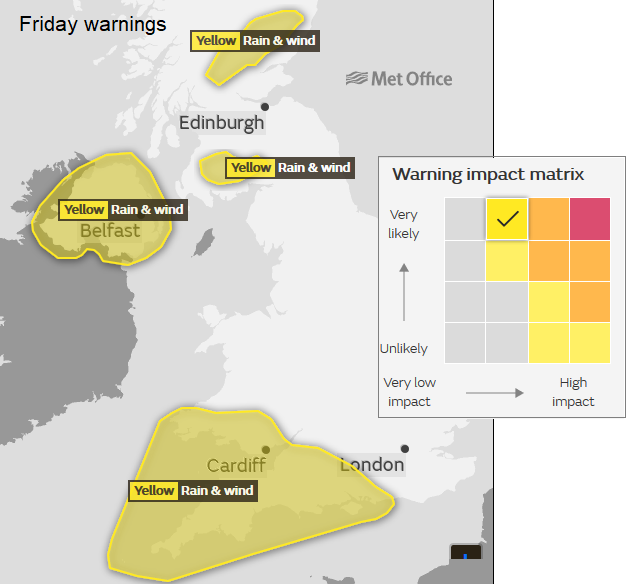 Met Eireann has yellow wind and rain warnings and it will turn very wet and windy from the SW this morning. You can already see the first echoes on the radar image. For Northern Ireland, Scotland and Wales temperatures will be around 10 to 12C. Through the afternoon it turns miserable over Northern Ireland, Wales and SW England. The UK Met Office also have warnings for wind and rain today. Fallen leaves are blocking the gutters and drains. There will be localised flooding, surface water and spray on the roads and gusty winds. With coastal gales and the high tides do take care along the shores and gusts of 50 to 60mph are forecast. The SE winds also strengthen for NE Scotland and the Northern Isles by Friday evening, as the lingering front moves northwards as a cold front.