Met Eireann have issued their Winter Ready campaign looking at weather, flooding, older people, schools and other areas such as health. Met Eireann (the Irish Met service) and the UK Met Office have worked closely over recent years in the Name our Storms project, to raise awareness of incoming severe weather across Great Britain and Ireland. Some Irish newspapers have had headlines, after the launch on Nov 7th 2018, of heavy snow for this winter. That's not what Evelyn Cusack, head of forecasting said but when did that stop certain media outlets. Then others whom you might have hoped would do better, just copying and pasting the incorrect story. Disappointing churnalism.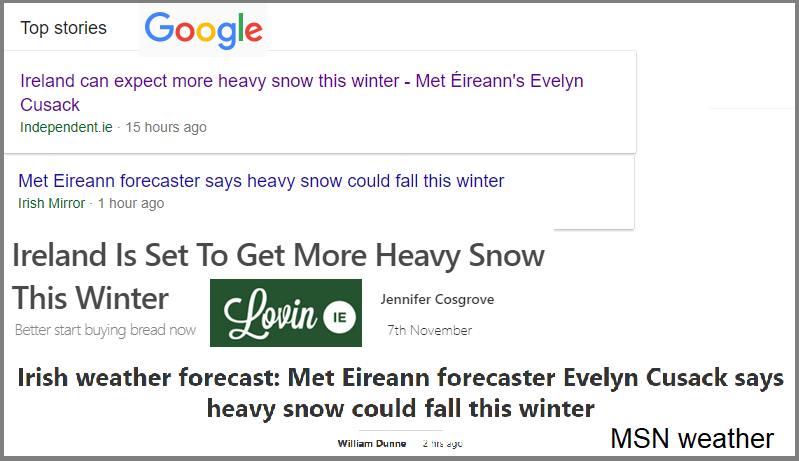 What she did say, as a forecaster:
"There is a chance of more snow even though the climate is warming up and that's because there's more moisture in the atmosphere. There's more evaporation because of the higher sea temperatures and then in winter, instead of rain, it turns to snow. So in fact, snow events could be heavier." Evelyn Cusack
For winter 2018/19 maybe it will snow lots, maybe it won't. Perhaps there will be a mix like our winter's often brings. Head of forecasting for Ireland is not saying you will get a load of snow at your house and a white Christmas. Not yet anyway. Our weather is set to see more severe and extreme events, heavy rain and flooding or potentially heavier snowfalls when they occur. The headlines may have brought some attention to the actual campaign but I would imagine there will be plenty of comments along the lines of " Oh, did you hear we are going to have a bad winter!" "Those weather people say we are going to get lots of snow this winter"