The Atlantic jet stream is fired up and aimed at the UK for the rest of this week, bringing a succession of low pressure systems across us. Some of these lows will be quite deep, fuelled not along by the jet stream but also the remnants of a few ex-tropical systems tracking north throwing up tropical air colliding along a frontal boundary with air from polar regions which are rapidly cooling now. Yesterday saw the remnants of ex-Hurricane Helene whizz past the north, bringing windy day for all with gusts of 60-70 mph across some exposed western coasts, a wet morning in the north and also dragging up warm and humid air with the temperatures climbing to 24.3C in Lincolnshire. Tomorrow will see another low moving northeast across England and Wales, deepening as it does so, bring heavy rain to the west and gales later across central, southern and eastern areas. Then at the weekend, the remnants of post tropical system Florence will be caught up in the jet and thrown towards the UK as another deepening depression threating very strong winds on Sunday.
#StormAli Today
Today it's the turn of an even stronger system, #StormAli, deepening under the developmental area of a strong jet streak racing in off the Atlantic and fuelled by a steep thermal gradient over the Atlantic between polar airmass to the north which is rapidly cooling with longer nights and very warm and humid tropical air being drawn north over the Atlantic. Gales or severe gales are already affecting Ireland, N. Ireland, Irish Sea, SW Scotland, NW England and Wales, with a gust of 91mph confirmed at Killowen in Northern Ireland.
The severe gales, with gusts of 65-75mph, perhaps up to 80 mph over exposed coasts and hills, will transfer northeast across N. Ireland then southern and central Scotland through the day – hence the Met Office issuing an Amber Warning for these areas. Scotland will also see some heavy rain – particularly over windward slopes.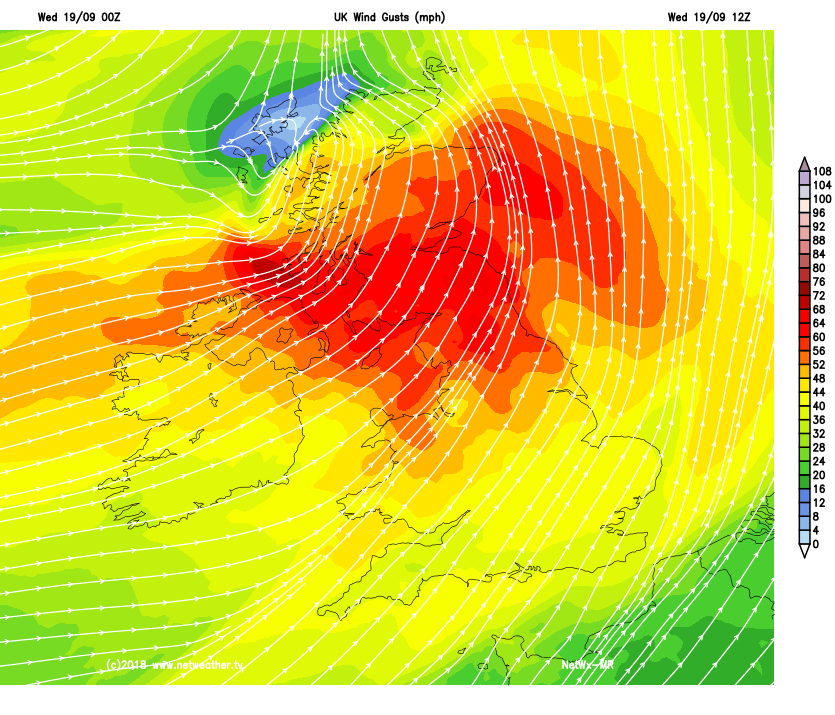 Thursday and early Friday
The next developing low pressure system in the queue, though not (as yet) named, will begin to form tonight out over the Atlantic SW of Ireland as a kink or wave develops along a frontal boundary stretching from southern England west to the NW Atlantic. The frontal wave and resultant developing low forms on the forward side of a shortwave trough in the strong jet stream moving east. This low will track northeast across Wales and England on Thursday, deepening as it does so in the developmental left exit of strong streak passing along the jet stream over the UK.
The Met Office have issued a Yellow Warning for heavy rain affecting Wales and NW England on Thursday (Thurs 6am-10pm)– where widely 40-60mm of rain may be expected, while higher parts of Wales and Cumbria could receive 80-100mm.
The Met Office have also issued a Yellow Warning for wind for parts of Wales, central, southern and eastern England later on Thursday and overnight into Friday morning (Thurs 6pm – Fri 9am), as the low tracking northeast across northern England later in the day continues to deepen before it moves out over the North Sea, with isobars tightening to bring a spell of strong winds – with gusts reaching 45-50mph inland, with small chance of higher gusts of 60-65mph overnight (particularly eastern England). May not sound much these wind strengths, but with trees in full leaf, there is greater risk of falling branches or trees and there could be some travel disruption.
Weekend
A respite on Saturday, as a brief ridge of high pressure build across the south, though still a blustery westerly wind across the north feeding in showers here. But trouble is brewing again by this time out over the Atlantic. The remnants of post tropical system that was Hurricane Florence, that brought devastation to North Carolina over the weekend, is off the NE Seaboard of the U.S.A. today and will be picked up by a shortwave trough digging southeast from NE Canada embedded in the strong westerly jet stream moving out across the far north Atlantic.