Don't rely on these; you'll need to keep watering the plants. Even if you weather App shows a thunderstorm symbol, remember that is just the potential for a storm, not that you will get one at that time interval. Once they start appearing, keep an eye on the Netweather Radar to see where they are and which way they are moving.
The winds stay very light until the western rain arrives on Thursday. Then a brisk southerly wind will pick up, strong around the North Channel by evening which will be quite a change.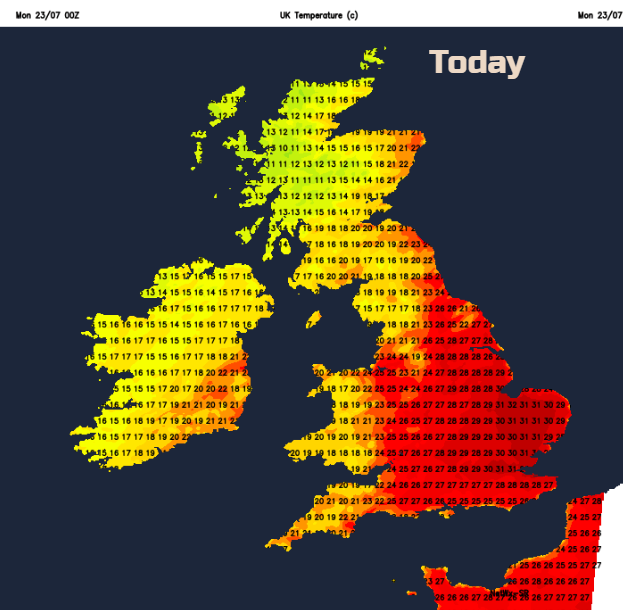 Top temperatures this week Scotland could see 25C, Northern Ireland 23C, Northern England 29C, Wales 25C southern England 32C, possibly 34 to 36C. The all-time UK record is 38.5C back in 2003. Temperatures MIGHT creep up near to that value later in the week. So far this year, the top temperature was 33C in NW Wales at the end of June. The highest July temperature was 36.7C in 2015 at Heathrow airport, that will be worth watching over the next week or so. Japan just recorded their highest temp at 41.1C, imagine that! In Japan's hottest city; they have dry mist at train stations, cool scarves for the elderly, snow cones and a real problem with heatstroke.
Here in the UK, the intense heat subsides for the weekend, still very warm in the SE but not as hot and then the heat returns next week. Oh la la, what a summer!