If you are hoping for some rain to quench your parched gardens or fields following weeks of no rain for many, then I'm afraid it's not looking too promising for those in the southern half of Britain, with little rain on the horizon indicated by the weather models, other than a few hit-and-miss showers on Friday. Not only will it stay mostly dry for the foreseeable, after a few days of more comfortable fresher conditions, the heat will return in the south and will continue through next week. However, northern areas will see a little rain later this week and again at times next week, not a heatwave up north either, though the rain will likely not be enough to stave off the hosepipe bans imminent in NW England or end the one in Northern Ireland.
Today
Already this morning there are some showers, locally heavy, affecting the Central Belt of Scotland and some mainly light ones scattered over other western areas, but elsewhere it's a fine start, chilly overnight in the north, with temperatures dipping into low single figures across parts of northern England under clear skies.
Much of the UK will remain dry with warm sunshine and light winds today. Though we will continue to see a few passing showers across SW England, Wales, NW England, N. Ireland and Scotland through the day, mainly light away from Scotland – where they could be locally heavy. But away from these areas, it's a bright or sunny start and we should see more in the way of sunshine today than yesterday.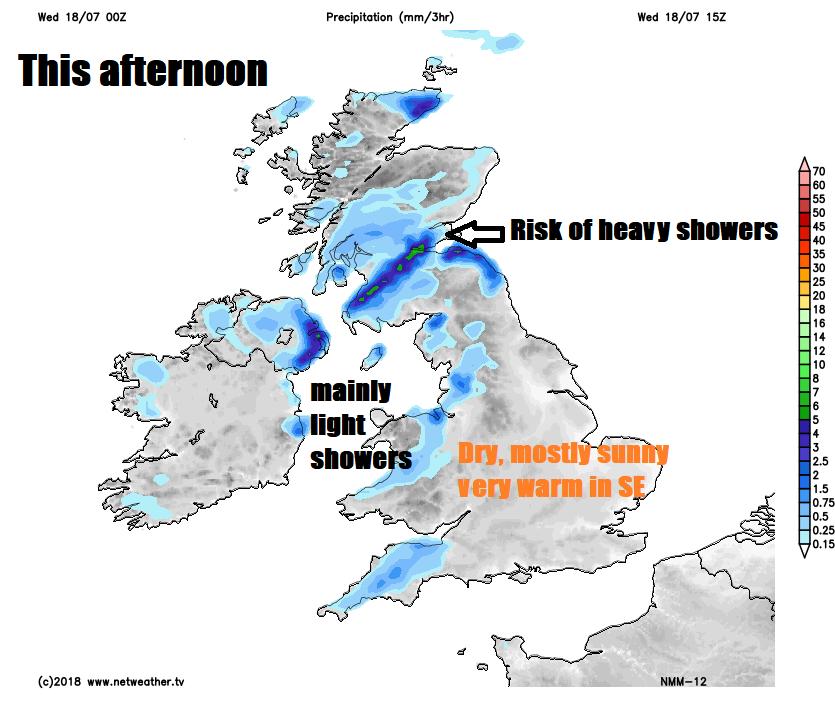 Temperatures will reach 19C in Belfast, 21C in Edinburgh and Newcastle, 23C in Cardiff and Plymouth, 24C in Birmingham and 26C in London, so a little warmer than yesterday.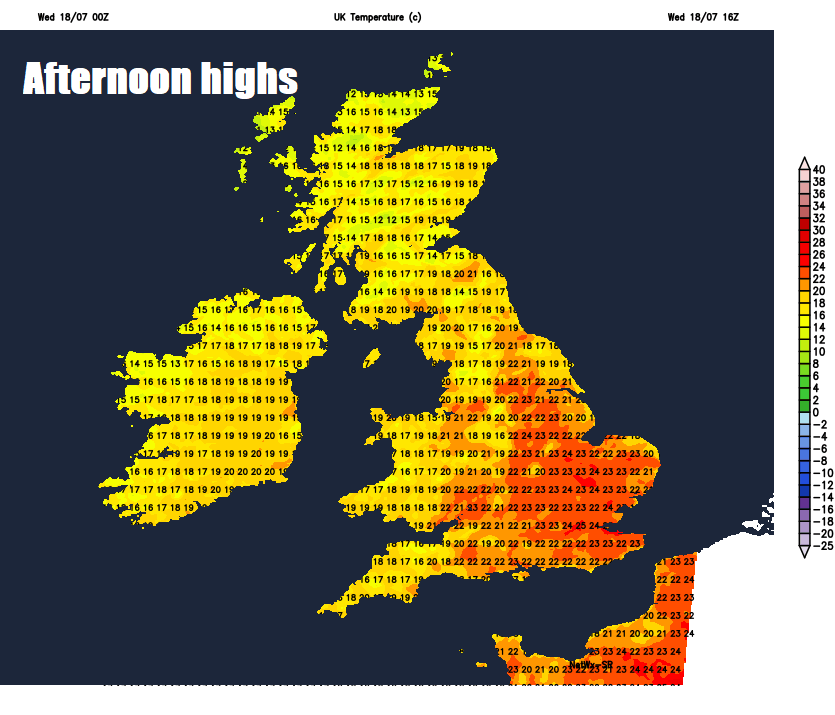 Tonight
Showers across northern and western areas will tend to fade by late evening, to leave most areas with a dry night and clear spells, with light winds too, there may be some mist patches forming in places in the north. Lows of 8-11C in the north, a warmer 12-16C in the south.
Thursday
There will again be a lot of sunshine around on Thursday and staying dry for most, this will allow the heat to build across England and Wales. Cooler across Scotland and N. Ireland – where there will be a brisk westerly breeze which will eventually bring thicker cloud and some rain to NW Scotland later in the day. Temperatures reaching 22-25C widely across England and Wales, perhaps 29C in the London area. A cooler 16-21C for Scotland and Northern Ireland.