It's quite rare for hot and dry weather to last over the whole summer across the British Isles, but the summer of 1976 did just that, in fact it started in May and continued throughout much of the summer months, with little or no rain to speak of, before gently fading away.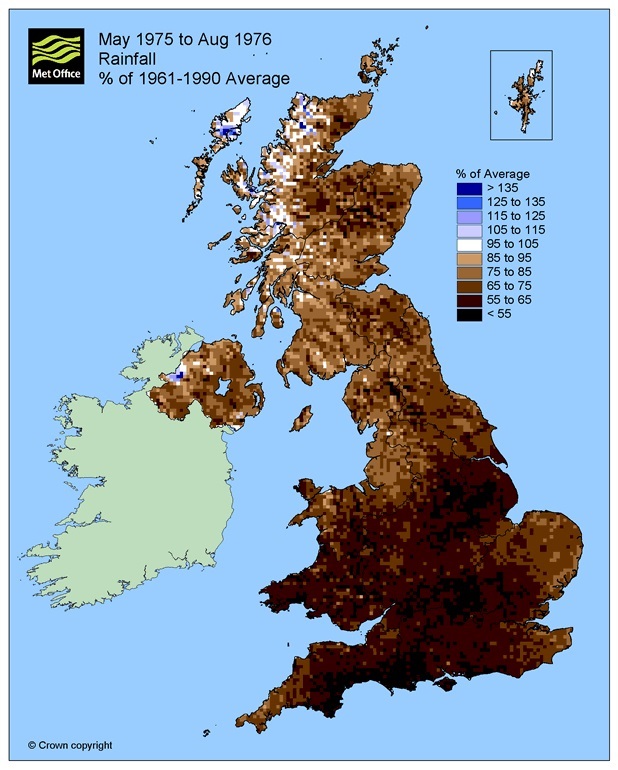 Comparing now to the summer of 1976
The very dry summer of 1976, which followed a very dry winter and previous hot and dry summer, caused some serious problems with water shortages. A drought bill was rushed through Parliament to restrict water consumption as reservoirs dried out, with the countryside turning brown and large areas of heath and woodland in southern England devastated by fires. In that summer, an exceptional heatwave lasted from 22 June to 16 July in which temperatures reached the 80s Fahrenheit daily. Between the 23rd June and 7th July, a period of 15 consecutive days saw the temperature exceed 32C somewhere in the UK, within that period there were five separate days where the temperature exceeded 35C (95F).
The difference so far this summer it that although June was in the top driest Junes on record for England and Wales, drier than June 1976 and also sunnier, rainfall on the whole has been close to average across England and Wales over past 12 months, whilst in before the summer of '76 it was very dry. So water levels in the reservoirs and ground are nowhere near as low as '76. However, we could see the longest spell of hot and dry weather since 1976 if the weather continues the same throughout July too.
One thing to be grateful of now compared to 1976, for those who work inside, drive cars and use trains, is only a minority of work places back in '76 benefited from air conditioning and certainly no transport did. Cities, such as London, saw little relief overnight, as the concrete and bricks absorbing the heat of the day cooled little overnight compared to the countryside, so work places and homes in the morning would be still warm and stuffy. There were large numbers of passengers using public transport back then suffering from heat exhaustion too, though the London Underground to this day can be stifling, with not all tube trains using air-con and certainly not any on offer on the platforms.
Will the hot and dry weather continue?
However, looking at current and recent model output there seems little appetite for any meaningful and widespread rainfall over the coming 10 days. We will see some showers today across the southern England and perhaps Wales, where pressure has fallen compared to recent days. But the nature of showers will be not everywhere where they are most likely to occur will see them.
This risk of showers, with more in the way of cloud and lower temperatures these last few days along with cooler and fresher conditions moving in across Scotland behind a weak cold front today is a brief blip though – with high pressure rebuilding on Friday and through the weekend.
High pressure re-building from tomorrow and through the weekend, so no more showers