Warming up over the next few days for SE Britain with temperatures into the mid-twenties Celsius. There is a low pressure way to the north of the UK and a large area of high pressure extending our way from the Azores in the mid-Atlantic. In between the cool, moist Atlantic air from the NW and warmer drier air in the south is a ribbon of weather fronts. These weave across the UK pulsing areas of rain, bringing a good deal of cloud and swaying mainly over Northern Ireland and a central portion of Britain through until midweek. Then the high pressure builds in.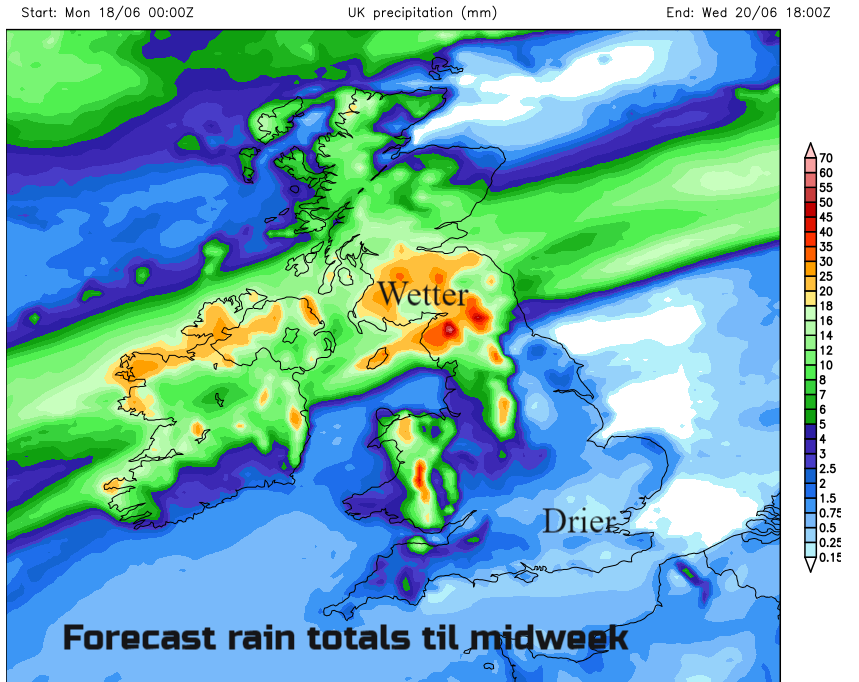 This morning, visible satellite pictures show the distinctive ripple effects of a brisk westerly wind over high ground, resulting in undulations and lines of cloud. There are lee breaks with sunny spells for eastern Britain and the Midlands behind the Welsh mountains.
More cloud lurks to the SW as a new development will head in today bringing damp weather to western parts, some patchy rain and dull skies. There will be moderate to fresh W or SW winds today, making it feel quite fresh at times. As old frontal cloud clears from SE Britain, we could see temperatures up to 24C in London with more sunshine and 18 to 21C for much of central, southern and eastern England. Under the grey skies further west and for Wales and Northern Ireland temperatures will stay at 16C. Scotland will be blustery with strong SW winds in the far north. By this evening, there will be gales in the far north with gusts over 55mph for the Northern Isles. Daytime temperatures in Volograd have been in the low 30s, high 20s Celsius so looking fine but warm this evening for England's first group stage World Cup match.
It will be cool overnight for Northern Ireland, Scotland and the far north of England. Much of England and Wales stay mild around 14C the other side of the frontal band of patchy rain. The frontal band sways north and south bringing low cloud and rain to western shores and hills. To the north, there will be brighter skies with showers from the west and further south a good deal of cloud but with a more humid feel as the warmer air remains. Winds will be lighter and if the cloud breaks then temperatures will leap up so bear that in mind if your weather app shows say 19C and cloudy, it could be warmer. Northern Ireland and SW Scotland maybe Cumbria look wet by Tuesday evening as another area of heavier rain moves over southern Scotland Tuesday night.
This more defined frontal band then sinks southwards during Wednesday. The warmest day of the week in SE Britain with 27 or 28C possible. There will be light winds and sunshine. Cooler fresher conditions take hold elsewhere, north of a line Humber to Bristol Channel looking likely to be out of the warm air. These boundaries have uncertainty this week along with the position of the rain as the front can wave less or develop a bit more.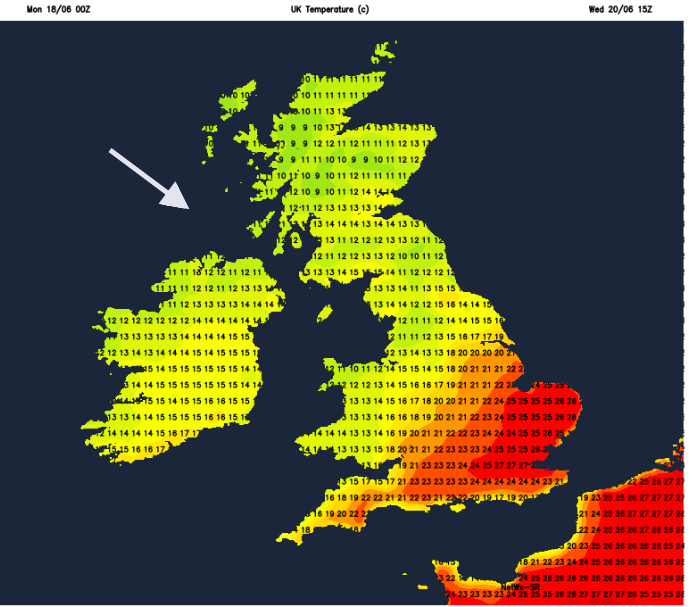 That's it though. The high pressure moves over the UK but we pick up a brisk NW flow, this topples cooler air over the UK. It looks dry for most through Thursday and Friday, just the odd shower creeping round in the flow and cooler at night. By the weekend it will feel a bit warmer everywhere. There will be damp weather in the far NW after the very dry spell of May into early June, but SE Britain continues with more dry weather this week. No significant rain to affect the going at Royal Ascot this week.