I've heard the summer weather is going to be great?
If a trend forecast, from say the Met Office, offers a weighting towards warmer and drier weather over the summer months (June, July, August) then the newspapers are always going to leap on it. It's a great headline, one people want to hear. It gives hope. But reading further and considering the statistics and percentages it also needs a good deal of understanding, which is why it is issued to contingency planners and not as a general public forecast.
The likelihood of above - average temperatures is greater than usual. However the data also demonstrates that - average temperatures, although less likely, remain a realistic possibility. Met Office
Most likely is a warmer, drier set of summer months and the UK being in the coldest sector of the forecast is very unlikely, but there are several possibilities. Also, its UK wide. As we've seen recently one side of the UK usually suffers when the majority get some heat, that's island life.
I keep seeing 33C quoted in local articles as a summer temperature, no source, but linked to the Met Office summer forecast in a vague way. It's not helpful for the media to do that. Then you hear people "but we're going to have a great summer, yes 33C that's hot!" Looking at Scotland's highest ever temperature which is 32.9C, so I can guess where the 33C is coming from now. Wales reached 35.2C in 1990, England 38.5 (101.3F) in 2003 and Northern Ireland has seen 30.8C. Those might be the figures to beat (if you are after a hot, hot summer but not to quote randomly.
For June-July-August as a whole, below- average precipitation is more likely than above -average precipitation. Met Office.
More likely, but not a certainty. This longer-range forecasting deals with trends and probabilities. Above average, below average. The mid-week return to the westerlies will bolster the rainfall totals for Northern Ireland, western Scotland and maybe Wales and NW England but if we do see a return to high pressure having more influence later in June, maybe into July, that's when the drier and warmer weather may take hold properly.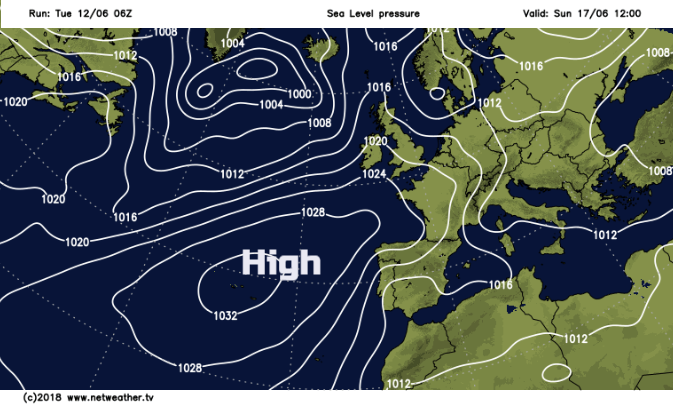 The Netweather summer forecast is now out. These longer range forecasts aren't specific for certain dates, so we can't tell you if your August wedding, a week-long camping or trip to a summer concert will be in glorious sunshine. They feature trends and themes for geographical areas over the next few months. Ed Sheeran this weekend looks fine at Wembley. We can do detail for 1 to 7 days ahead.
There is hope for this summer but not a certainty. We live in warming times, climate change seems to bring a warmer earth year on year. Globally temperatures are rising, the issues around that should be of concern. The return to westerly pattern will continue to be researched and monitored for the UK and Europe as a June phenomenon, with a shakeup for this week from the Atlantic. A scorcher of a summer? Be wary of those who shout that loudly, study the fine print carefully.
Netweather monthly forecast update
Summer forecast will be published 13/06/18