Thursday brought another warm day, Portmadog saw the highest UK temperature of 27.5C and the warmest day in Wales of the year so far, though sunshine was in short supply in the south where we also saw some showers. These cloudier skies with showers will edge north a little today across England and Wales, allowing more in the way of sunshine across southern areas than we saw yesterday, there will be further showers developing in the far northwest too. The weekend is looking generally dry, warm and sunny but humid for many, though thundery showers will affect more western areas and perhaps the far south in the afternoons.
Early next week continuing in a similar vein, with warm sunny spells and some afternoon showers. Later in the week it looks like turning cooler, cloudier and windier from the west across northern areas - as the jet stream revs up and brings Atlantic low pressure systems brushing the north, with a chance of rain or showers. However, high pressure looks to hold on across the south, bringing mostly dry and warmer weather.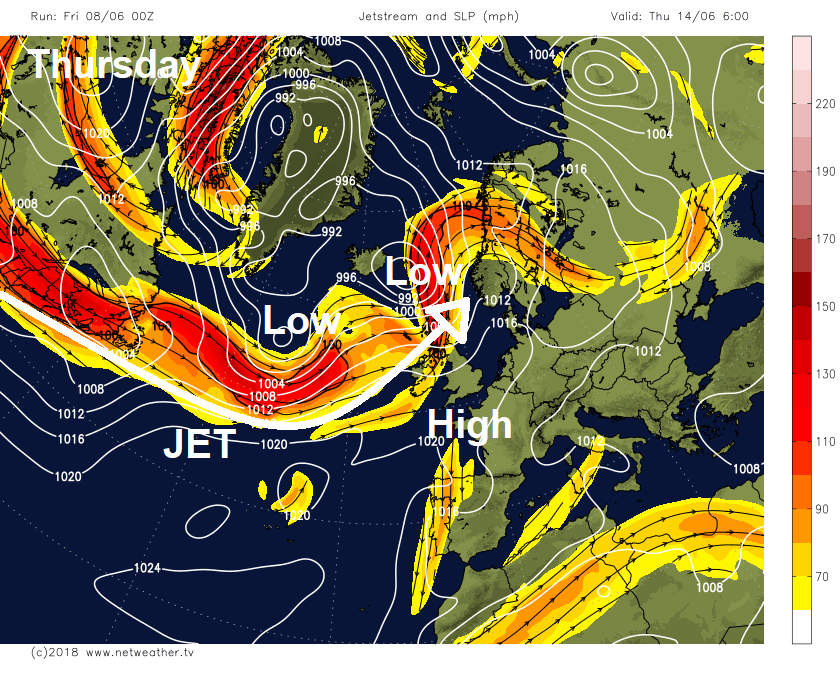 Today
For now, it's been a dry night for many though humid in the south. There is more in the way of cloud across central areas with a band of showery rain across Wales, central and northern England, while low cloud or haar rolled back in from the North Sea across eastern Scotland and NE England overnight. Otherwise for many it's a bright or sunny start.