Not that you'd know it if you're in Northern England or Scotland, but it's been a stormy 24 hours. The thunderstorms have brought over 13,000 lightning strikes across southern Britain and the Channel, with more to come through the remainder of the long weekend and into next week.
Today, we have the remnants of the storms which rolled through overnight still bugging parts of Wales and the southwest. They'll be joined by further downpours and thunder during the day, affecting the Midlands and other parts of Southern England. If you catch one (and not all will), then expect torrential rain, frequent lightning, gusting winds and hail.
Away from the storms, it's warm again. In southern England and Wales, there's a fair amount of cloud, but there will be plenty of breaks for many during the day, bringing some good sunny spells and allowing temperatures to rise into the mid-twenties. Further north, away from all that messiness, it's virtually wall-to-wall sunshine, although with some low cloud at times near to eastern coasts. With the easterly breeze, west is mostly best for the warmest temperatures of 24-26c today, although southern England will buck that trend with the southeast seeing similar levels. Elsewhere, 19-23c is more likely.
This evening and overnight, some of the thunderstorms in the south will rumble on for a while, slowly drifting north, but many will die out. There'll be a fair bit of cloud across the southern half of Britain, and low cloud will creep back in towards eastern regions elsewhere but should start to burn off quite quickly into Monday morning.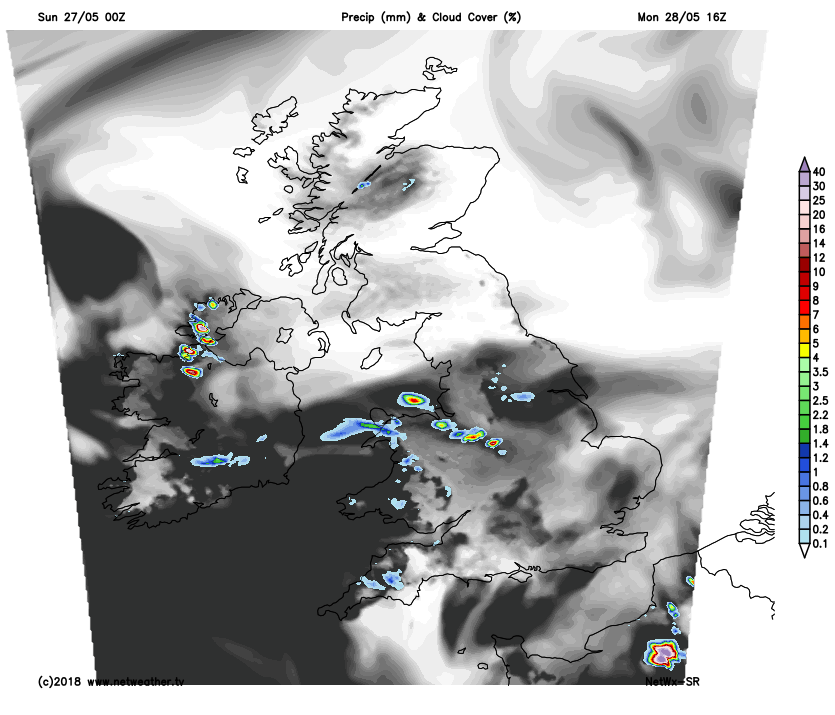 The rest of Monday will follow a similar pattern to today, with lots more sunshine across a good part of the country. The risk of showers and thunderstorms will still be there across the southern half of the UK, but they should be less widespread then they've been today. Temperatures on Monday will be on a par with today for most, but nudging up a touch in the south with 26-28c in southeastern England.