Ok, it's not quite Summer yet, but the sun's out, temperatures are on the rise and by early next week, some thundery showers look likely to kick off - British summer in a nutshell.
For today, it's been a chilly start again but temperatures will make their way up toward the high teens for many of us by this afternoon. From tomorrow onwards, the daily highs will be heading initially into the low twenties, then the mid-twenties by Monday and that extra bit of heat is what is going to help to increase the risk of some sharp showers and storms, with the risk increasing into Monday and Tuesday.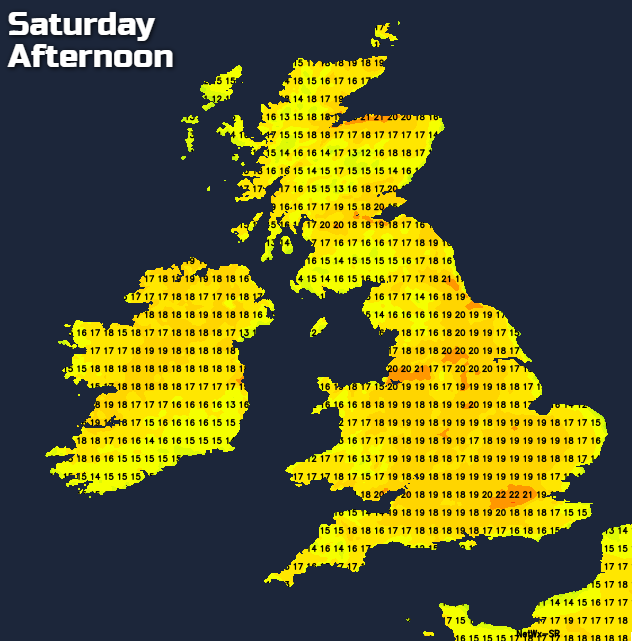 Another tradition, when it comes to summery weather in the UK, is that not everywhere gets to see it, and this time is no different with the northwest of Scotland and Northern Ireland getting to enjoy more cloud and even some rain at times, especially into Sunday. As winds start to turn more into the east later on this weekend, it may also be that some eastern coastal regions end up with cloudier skies and cooler temperatures as a result.
Along with the settled, sunny weather through much of this week, the cold starts have been a feature, and there's one more of those to come tonight, with perhaps a touch of frost here and there. But then, they'll just become a little milder later into the weekend and into next week - still dropping into single figures in many parts to allow for a comfortable nights sleep, but potentially becoming quite warm and sticky in the south by Monday night.
It is, of course, a Royal Wedding weekend, and Jo's has headed out to Markle to bring us a special weekend forecast with a royal flavour.
The other big event this weekend is the FA cup final, and that's going to be bang on tradition as well with lots of warm sunshine on Saturday evening - cue cramps in the 80th minute and extra time at walking pace if it makes it that far.