There is a nip in the air this morning and there was last night. A real difference out of the sun. It will be similar today; the actual air still has a tint of coolness to it but the sunshine warms and gives the impression of summer. It is still only mid-May and although Glasgow managed nearly 18C on Wednesday temperatures are still only around the mid-teens for many parts of the UK.
By the weekend, the air will be warmer; you will feel the difference then.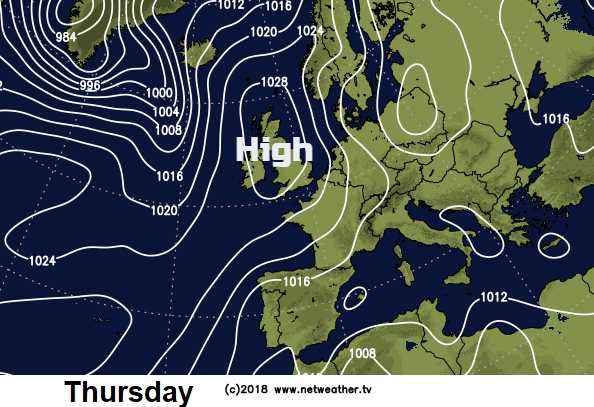 Still its fine, bright, dry and sunny. There are a few areas with a bit more cloud but overall it is quite lovely. High pressure is right over the UK ambling eastwards by the weekend. It means there will be light winds, even calm conditions for most. However, along the east coast of England and around the Kent coast there will be a brisk cool NE wind. This will be noticeable for the coast of Norfolk bringing quite a chill. Temperatures in eastern Britain will stay at 11 or 12C. Inland western parts of Britain could see 17 or 18C, Northern Ireland 15 to 17C.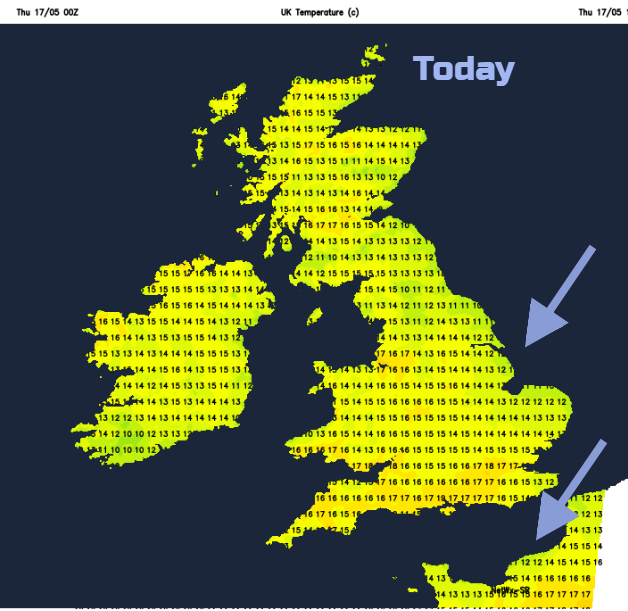 Tonight, will be cool, clear and calm. Again, a touch of frost for inland rural areas, watch your tender plants.
The High pressure will hold on for Friday and Saturday, but changes will edge in from the west, as Atlantic weather fronts pile up. By Friday there will be more cloud, some dampness for the Western Isles the first signs of a change. High cloud will stream ahead of this front will move over the Highlands and Islands on Friday bringing more cloud and a spell of patchy rain. Not much rain is expected to reach eastern Scotland, there might be the odd showery bit on Friday evening. A similar story for Northern Ireland with more cloud but the rest of Britain will have a fine bright day with temperatures up a degree.