Sunshine for Scotland and Northern Ireland and this afternoon for northern England. The frontal cloud will break and lift further south especially for eastern areas. Wales looks to keep more cloud as will parts of the West Country.
Tonight
It will be clear, calm and chilly.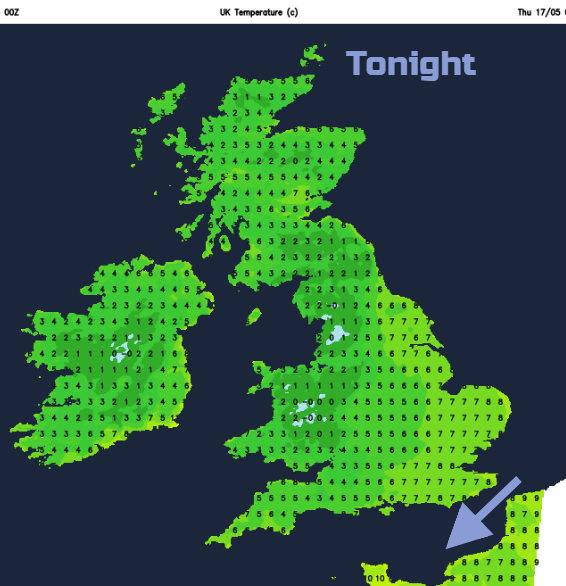 Thursday and Friday are mostly calm, fine, with blue skies and sunshine. Still not that warm but the sun is strong and UV levels will be moderate. We are in the transition stage with pollen from tree pollen season to grass pollen. So moderate oak pollen levels and the first signs of grass pollen in the south.
Temperatures remain in the mid-teens for many, high teens for some but still a brisk NE wind catching SE Britain on Thursday.
As the high drifts eastwards on Friday, there will be lighter winds for London and the Home counties and cloudy, damp conditions reaching the Western Isles, the first hints of incoming unsettled weather.
Weekend
Saturday looks lovely. Plenty of sunshine, light winds for much of Britain and also warmer. Temperatures will be widely in the high teens with some spots into the low twenties Celsius. A brisk southerly wind will pickup for Northern Ireland and much of Scotland so becoming blustery.
The models diverge for Sunday; will the fronts to the NW stall even retrograde back into the Atlantic, leaving Sunday fine for most, or will the fronts make progress over the NW half of the UK but fade against the high.
For much of England and Wales it looks like another fine, sunny day which could be even warmer, into the mid-twenties with a light SE wind. Northern Ireland and western Scotland do look at risk of more cloud and outbreaks of rain, so lower temperatures but not as windy. For the rest of Scotland and northern England there is a good chance of it staying fine.
Next week, the warmth looks to linger over Britain, with still a good deal of fine weather but the threat of scattered hefty downpours.