Friday will see a bit of a north-south split across the UK, the north will be cool and bright but with showers, the south cloudy, wet and windy for much of the day. Saturday will stay cloudy, damp and cool across southern and eastern England, brighter elsewhere – with sunny spells and a few showers. Bright, with the odd shower on Sunday, before wet and increasingly windy weather moves in across SE England later in the day. Rain, locally heavy, persisting through Monday across SE England and E Anglia, feeling cold here in a strong northeasterly wind, drier and brighter elsewhere.
Today
For now, a chilly start across Scotland, N. Ireland and northern England – clear skies overnight have allowed the temperature to fall below freezing across Northern Ireland. Although for many here it's a sunny start, there are some heavy showers affecting northern Scotland. Further south, a different story, with cloud and outbreaks of rain affecting Wales, the Midlands, southern England across to East Anglia – the rain locally heavy and persistent across southern counties – which will bring some tricky conditions on the roads for the morning commute.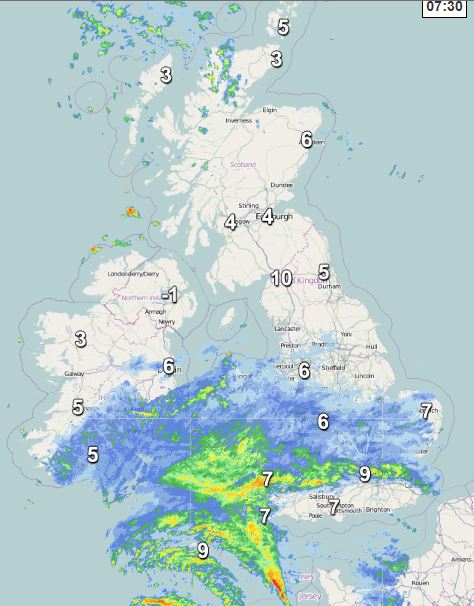 The rain will become more extensive across England and Wales through the day, heavy in places, spreading north across northern England too. Perhaps some drier and brighter conditions moving in across southern England and later across Wales, which will lift the temperatures to around 14-15C, but with it, a risk of heavy showers developing across southern counties. Under the cloud and rain, reaching 8-10C at best.
Across Scotland and Northern Ireland, staying bright or sunny, but with some heavy showers affecting northern Scotland and the northern side of Northern Ireland, in the sunshine reaching 12-13C, but feeling cooler under any showers.
Tonight
Outbreaks of rain, locally heavy, lingering for this evening's commute across southern, central and eastern England, but clearing western areas. The rain persisting across parts of southern England and East Anglia overnight too. Elsewhere, showers dying away in the far north, to leave most to a dry night with clear spells and mist patches forming, turning chilly too, with a patchy ground frost developing in the north and west.