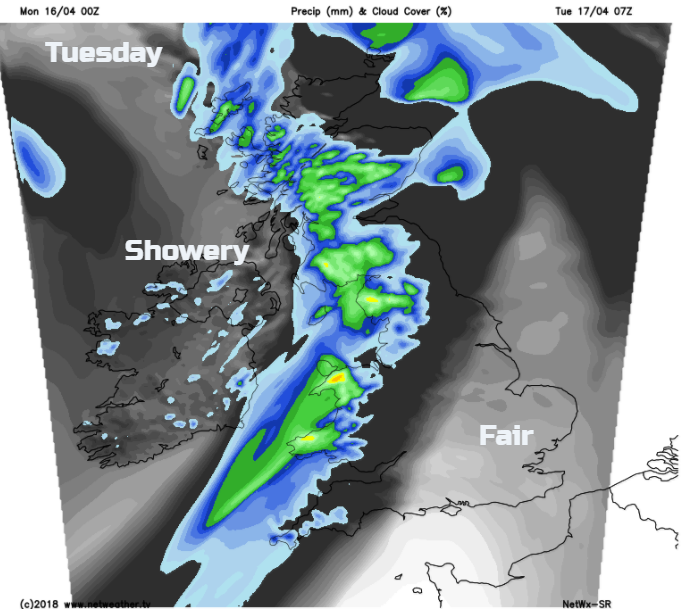 Tuesday starts off mild, blustery with a frontal band of rain from Scotland over the Isle of Man down into the Celtic Sea. SE Britain will have a fine morning with central and NE England seeing more cloud but still fair and bright. Temperatures in the mid-teens, up to 18C. The rain band struggles to edge SE but there will be more rain for Wales, SW England and NW England into the Peak District. Behind the front, there will be brighter skies for Scotland and Northern Ireland with lots of showers breaking out.
Bands of cloud remain but the rain fades during Tuesday night as the high's influence extends.
By Wednesday, low pressure is forecast to skirt around the European high and bring a spell of wet and windy weather to Ireland then western and northern Scotland. The rest of Britain will be under fine, sunny conditions with a south to SE breeze. It will feel warmer, with temperatures in the high teens and low to mid-twenties Celsius.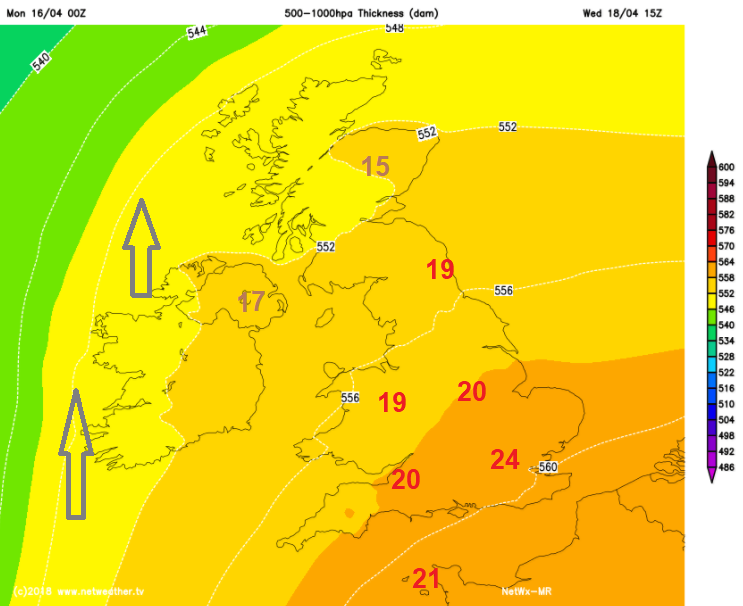 Thursday looks lovely for much of the UK, fine, bright with warm sunshine. Temperatures in SE Britain up a touch 25C possible and much of England up to 21C (70F). Inland Wales also around 20C and parts of Scotland (away from NW) could reach 19C. The winds will be lighter adding to the pleasant day with just pockets of cloud and light rain around western Scotland and the Northern Isles.
For now there looks to be a lot of fine, bright weather about with light winds, sunshine and warmth (warmest for SE Britain, cooler for northern Scotland and a bit of a breeze off the North Sea could return by the weekend) Cloud and light rain could trouble NW Scotland a fair bit and maybe a few showery bits could be sparked off around the West Country and over Wales from an old frontal weakness. However, overall it is looking more promising, at last.