The jet stream has been tracking quite a way south over recent days, into Iberia and even NW Africa. This has kept low pressure to the south and southwest over France and Spain, bringing disruptive weather across southern and central Europe, while keeping the UK under an easterly flow between the low pressure and high pressure over Scandinavia.
Although the source of the easterly flow has not been cold, from eastern Europe which has been warming up into the 20s centigrade thanks to southerly flow here ahead of low pressure over western Europe, the easterly flow cooled considerably over the North Sea before it reached the UK, thanks to two cold snaps in March cooling the sea to 5-6C.
North Sea cold from the March cold snaps, the easterly wind this past week passing over it bringing cold and grey conditions.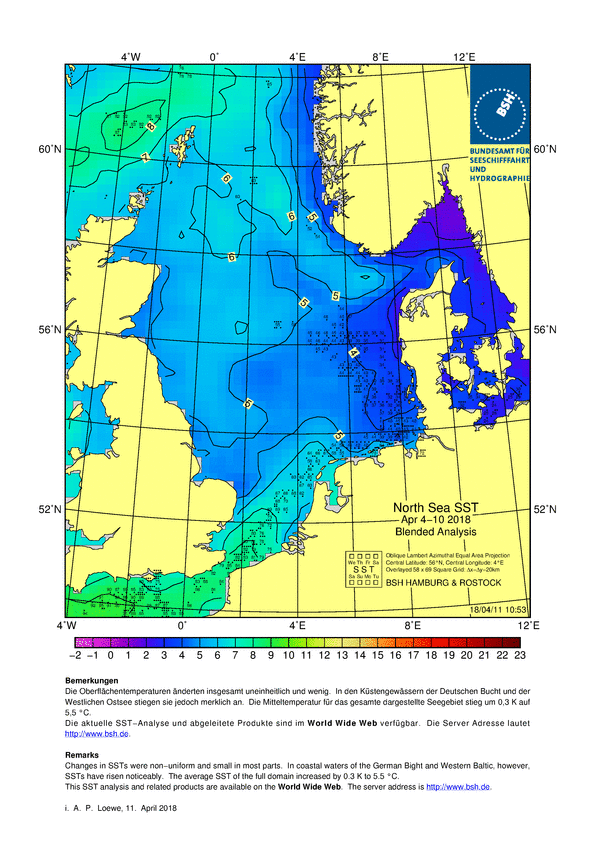 So not only has the flow been cold, the cooling of the originally warm airmass over the cold sea has condensed the moistening air into water vapour, bringing extensive grey skies, coastal and hill fog to eastern and central areas during the past week, with temperatures struggling to 6-7C in places and some central and eastern areas not seeing any sunshine since last Saturday until today.
The stubborn area of high pressure which has been resident over Scandinavia this past week, feeding easterly winds across much of the UK, slips southeast across Eastern Europe this weekend, while low pressure over the Atlantic nudges in across the far west. This has cut-off the cold grey easterly flow and instead much of the UK will pick up a warmer and clearer southerly flow, which allow temperatures to reach the high teens across the south today, top temperature of 19.5C at Norholt in NW London this afternoon. Not quite so warm or dry on Sunday, as that Atlantic low pressure system nudging into the far west today makes a little more progress east with its frontal system pushing a band of increasingly showery rain east across most parts.
The jet stream shifts north into next week from today's position, bringing more widespread warmth north.