It's an icy start for many this morning, with lying snow in many areas from the weekend's return of the Beast From The East. However, we will see a recovery in temperatures and thaw over the next few days, as we lose the bitter easterly winds and a westerly flow develops by mid-week, bringing in milder air from the Atlantic. It will be drier for many for much of this week, with high pressure in control, though rain will affect Scotland on Wednesday and turning more changeable for all on Friday, with showers or longer spells of rain moving through and windier too.
Today
For now, the southwest of England saw snow continue through the night after snowfall through much of Sunday, so here we are seeing the biggest disruption this morning. Deep snow is affecting many parts of SW England and parts of south Wales this morning, particularly Devon, with vehicles becoming stranded overnight on the A30 near Okehampton, with stretches of the road closed as a result. Elsewhere, there is a lot of lying snow around many areas from the weekend's snowfall, so there is a risk of ice on roads and pavements that haven't been kept clear, as temperatures fell close to or below freezing overnight.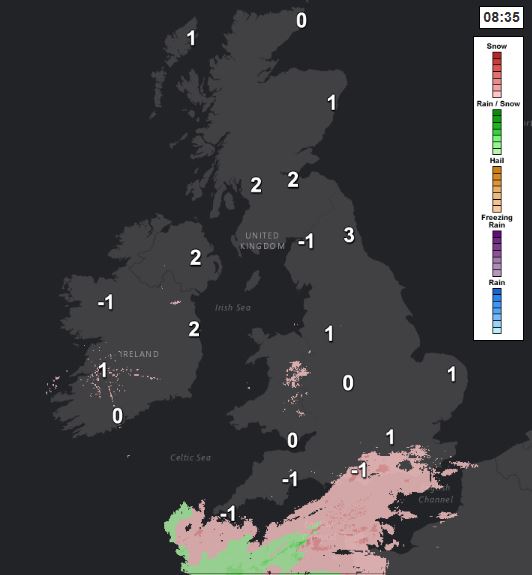 For many it's a dry and bright but cold start, overnight snow has cleared SW England apart from southern Cornwall, where it will clear soon, though there is some thicker cloud across southern counties of England and Wales– which will bring some light snow flurries for a time this morning. For many, though, it will be a generally fine day with cloudier skies and flurries this morning across the southern England and Wales clearing and sunnier skies spreading in across the north and east this morning spreading to most areas through the afternoon.
Still a nagging cold northeasterly wind today across England and Wales, but the subtle change in direction from the easterly we had over the weekend will mean it will be slightly less cold today – leading to a thaw, though temperatures still below average for late March, reaching 5-6C in the north, 3-5C in the south.
Tonight
Not too much change as we head through the evening and overnight, with some broken cloud and lengthy clear spells across northern, western and southern areas leading to a frost developing in many areas, The exception will be across parts of eastern England, where a band of thicker cloud coming down the North Sea may bring some patchy light rain, sleet or snow – which could lead to some icy stretches. Still a brisk northeasterly wind across the southeast.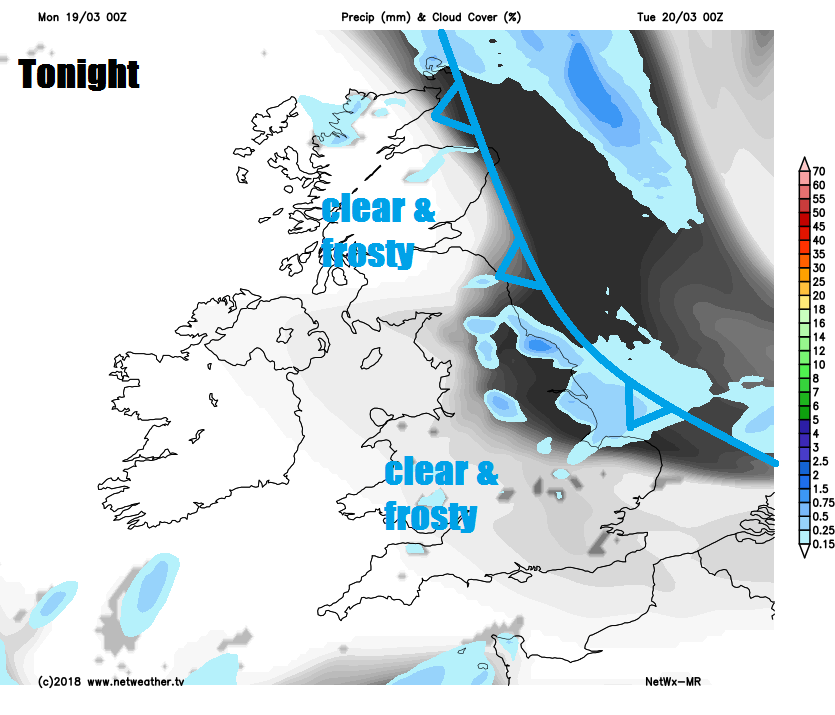 Tuesday
High pressure centred over Ireland tomorrow will bring mostly dry conditions with sunny spells, the best of the sunshine in the west, with a weak cold front moving in across eastern England bringing cloudier skies with some sleet or rain showers across Lincolnshire, East Anglia and parts of SE England. Temperatures recovering after a cold start, so feeling milder by the afternoon, reaching 6-9C generally.`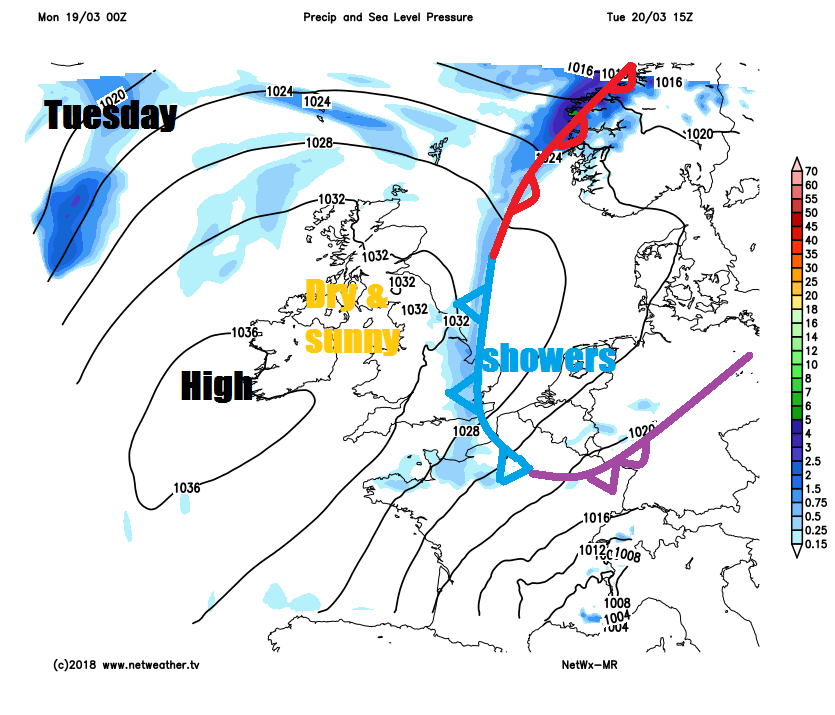 Wednesday
Then by the middle of the week, high pressure will sink south to allow weather fronts to move in off the Atlantic across the north, bringing cloud and patchy rain across Scotland, N. Ireland and northern England. Drier further south and bright in the morning, before turning cloudy in the afternoon. With a westerly breeze, it will be milder, with temperatures reaching 8-10C generally.