We have a wet and wintry mix over a central swathe of Britain. A little area of low pressure is running across Wales and England and is bringing some heavy rain and snowfall. The main areas for snow are the Welsh mountains, the Malverns, Peak District, the Dales, southern Pennies and North York Moors. There is a Yellow Be Aware warning from the Met Office for snow until 11 am.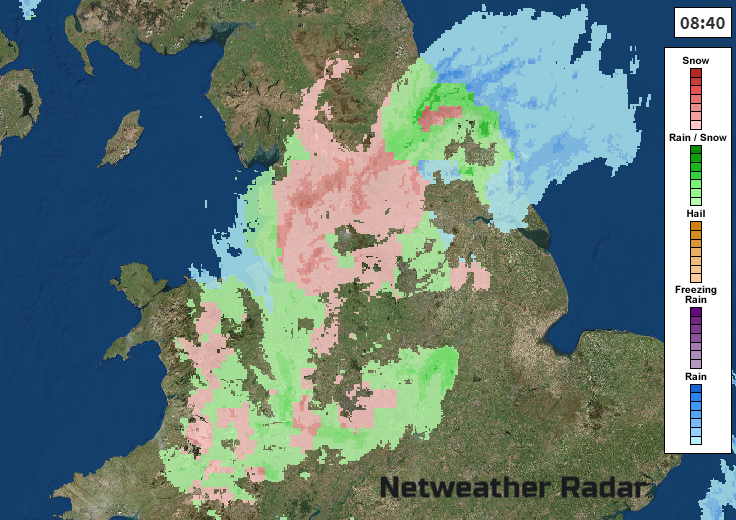 This weather will move on out into the North Sea, just unfortunate timing that it coincided with the morning rush. Children with a snow day will be pleased, working parents less so (unless you still haven't made a world book day costume and have another escape card.) Wakefield, Huddersfield, Bradford areas have tricky conditions to start the day.
Met Office warning- "Much of the lower ground will see little if any snow accumulating, but a patchy 1-3 cm is likely in some places, with 5 cm above 200 metres and possibly 10 cm on roads above 300 metres."
There are other flurries and sleet, or snow showers dotted about, a line for western Scotland, clipping Co. Antrim and a few showers for the West Country, inland. The cold front rain is clearing East Anglia and the Thames estuary.
This leaves brighter skies and a few western showers as we wait for the occlusion to clear. This will take until late afternoon to fully clear the east coast of England, so quite a slow lifting of the cloud and rain. The Snow warning is only until 11 am and everything will be quite patchy by lunchtime and less intense.
Wales will see a cluster of heavy showers at lunchtime with a bit more snow over the mountains with a freshening westerly wind. The wind will be noticeable across southern Britain with a strong SW to W wind for East Anglia and around the eastern Channel. Temperatures will reach 7 to 9C but worth staying out of the wind.
To the north of the little low, there is fine, bright weather but it has been colder and there is the risk of ice.