Upper level charts over the last few days have shown anticyclonic wave breaking propagating poleward across NE Europe, probably induced the MJO wave propagation into the western Pacific (phase 6-7-8), this is warming the upper levels of the troposphere and creating blocking in the area.
There are other atmospheric drivers that can affect upper patterns, either working in tandem the MJO, which is a major driver of northern hemisphere patterns in winter, or against them - which can cause a lot more uncertainty. Atmospheric Angular Momentum (AAM) and ENSO (currently La Nina) can work with or against MJO, AAM is a measure of how fast the atmosphere is spinning relative to the Earth's rotation, and is a complex variable that can have particular effects od flow configurations within the atmosphere. Low AAM is often linked to a La Nina driven pattern, like currently, and such a combined pattern often drives a zonal or mobile westerly pattern that is not conducive to blocking. However, given the MJO wave through phase 6 has been at record amplitude and likely will be through 7, the effects on upper patterns are likely to be overridding over these other drivers. We are also heading towards a solar minimum over the next few years and also the Quasi-Biennial Oscillation (QBO) is in easterly phase (often associated with a weaker polar vortex) which both will aid current MJO signal towards a blocked and colder pattern.
Furthermore, on the stratospheric level, both the American GFS and ECMWF have been indicating a wave number 2 warming over NE Europe in the next 5-6 days coupled with ongoing wave 1 warming over the Pacific side of the arctic which eventually leads to a split in the stratospheric polar vortex (SPV) over the next 10 days or so. We have seen the SPV displaced by poleward warming over the North Pacific / Alaska to northern Russia from its usual home centred near the north pole this winter so far, this doesn't tend to bring drastic changes to weather patterns, however, a sudden stratospheric warming (SSW) and split of the polar vortex into two daughter vortices can, though not always, have profound effects on upper patterns, bringing high latitude blocking and extremes of cold to N America and Europe. If the SSW happens mid-late month, we could see further cold and wintry weather continue or return into late month and even into early March.
Possible SSW / polar vortex split mid-month may lead to extension or return of cold and wintry weather
What's in store snow-wise next week?
So next week is looking below average temperature-wise across the UK and much of mainland Europe (away from the SE), as high pressure blocking builds over northern Europe to start the week and draws bitterly cold air over Russia westwards and southwestwards. The upper-level ridging in the troposphere does look to weaken and retreat east over northern Europe as the week progresses, however, dense cold air pooling at lower levels and some weak upper level ridging will prevent Atlantic frontal systems trying to push in from the west getting very far east. Probably not getting much further east than eastern Britain and western France before stalling against the cold block next week. An Atlantic frontal system is modelled to move in across the UK on Tuesday, likely readily turning to snow as it bumps into cold ahead of it that has moved in from the east but also equally cold air following the front from the northwest. Quite an usual set-up having equally cold air, at least aloft, both sides of and Atlantic frontal system progressing east. Uncertainty between models how far east the front gets though, GFS further east than ECMWF, reaching eastern England, with clearer polar airmass with sleet/snow showers following in the west. Before Tuesday, which will have a more widespread risk of snow (albeit uncertainties over eastern extent) – there is a chance of sleet and snow showers moving in across eastern parts of England, later on Sunday and through Monday. Beyond Tuesday, there are no definite signs of a breakdown of the cold from the Atlantic. We could see another Atlantic frontal system move in from the west, perhaps on Thursday, which would likely bring mostly snow, followed by snow showers across the west, but again, uncertainty over how far east the front will get. Recent models runs are trending to perhaps introduce less cold air from the west by the end of the week though, more particularly across the north and west, though no certainty on this.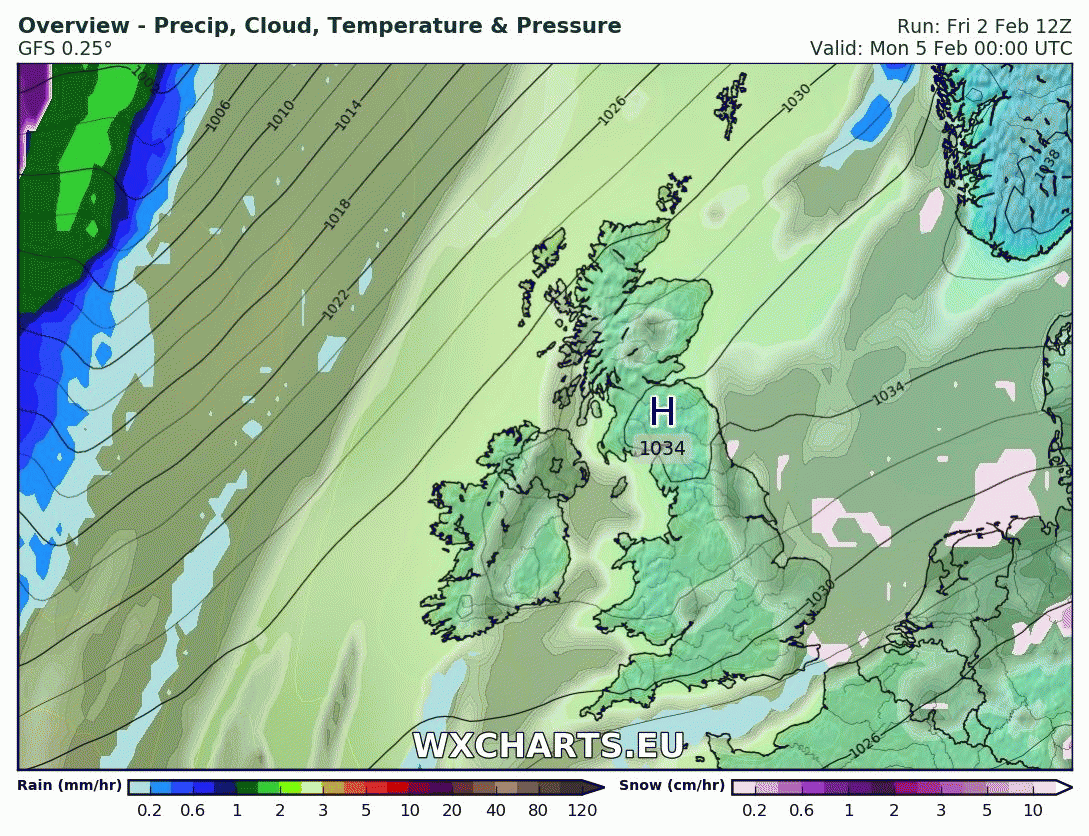 So February may end up below average temperature-wise, with potential for snow to affect many areas next week, though not likely any significant amounts, but perhaps causing some local travel disruption, though detail over where and how much cannot be forecast this far off yet, so we'll keep you updated.