If you do venture inland it is much colder higher up, especially if you walk up Mount Teide.
Currently, daytime temperatures are from 14 to 19C and overnight it dips to 11C, so cool. You will need your sunscreen and the breeze can still be cooling on the islands, often coming in from the NE. February won't be as settled as the summer months and although there can be fine sunshine there are also showery, blustery unsettled spells too. The average temperature is around 21C (70F) and 6 hours of sunshine on average.
The Algarve
In the far south of Portugal, this region does feel the effects of the Atlantic with wet and windy spells but is milder than the UK. Average Feb temperatures are 17C but the weather is quite unsettled in February. The Portuguese Met service gives forecasts and warnings, the IPMA. There have been problems with drought across Iberia, and at other times of the year problems with wildfires in Portugal, particularly in the north. You can keep an eye on any rain showers at the IPMA radar. @ipma_pt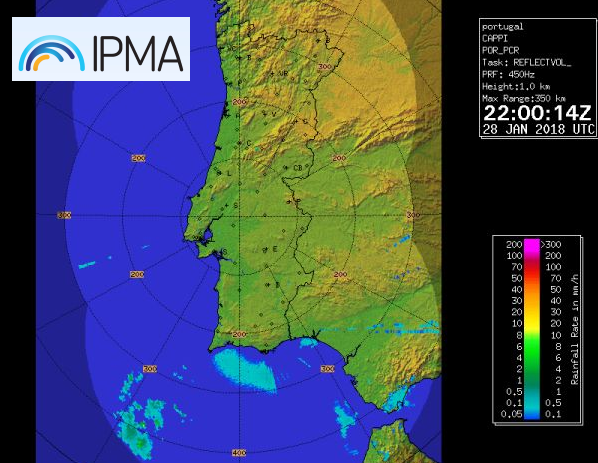 The average temperatures are still 17C, that is pleasant enough with about 6 hours of sunshine. It can still be blustery with spells of showers moving through but overall cheerier than here.
Abu Dhabi
For guaranteed sunshine and heat, you will have to travel further afield at this time of year, over 7 hours to the United Arab Emirates. With a sub-tropical, arid climate, you can expect sunshine, blue skies and temperatures in the 20s Celsius. It is unlikely to rain, but it might and temperatures would be around 15C by night and 25C by day. It will be the air conditioning which could give you chill rather than the weather. Keep an eye on Aljazeera Weather, you may even spot a few familiar faces from UK TV broadcasts.
Jersey
The Channel Islands are hardly any distance from the mainland Britain and under an hours' flight from Northern Ireland. Known for their summer sunshine, the islands can be quite damp, grey and windy in winter. the same could be said for much of the UK.
Jersey Met gives daily forecasts, Channel Islands warnings and close up radar. @Jersey_Met
The average February temperature is only 8.4C with a risk of frost and gales and quite unsettled weather.
You can check forecasts for holiday resorts worldwide on our holiday weather pages. Just staying at home and dreaming of summer? Here's the forecast for your location across the UK.