By midday, the band of wet weather will have reached the Wash across to the Isle of Wight and then will move over SE England lunchtime into Kent mid-afternoon with strong gusty winds. Behind this band will be bright spells and blustery showers, mainly for western counties. Further north the low pressure centre moves over Shetland at lunchtime, with gales clipping the north of the mainland and wild conditions around the Moray Forth early afternoon. It will stay windy today, but the worst of the gusts and gales should be leaving eastern Britain by mid-afternoon.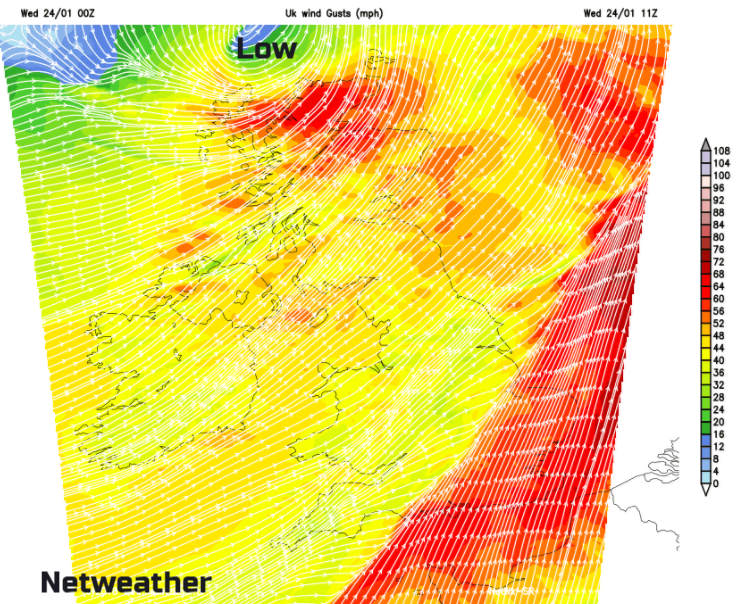 Colder air will creep in from the NW with the showers turning to snow over the Scottish mountains and wintry over high ground. It will feel cooler everywhere by later afternoon, a real difference after the brief mildness this week.
Blustery showers continue to blow in overnight on brisk SW winds before another area of low pressure brings a band of rain into Northern Ireland and western Scotland to start Thursday.
The winds become much lighter over Scotland and further bands of showers push over Britain, but it won't be as windy as today and there should be more brightness in between.
Friday will be colder with the wind in the north. There will be showers caught up in the flow for eastern England with wintry bits in the far north. The frost will return with light winds away from the east and south coasts but there should be some fine winter sunshine.
Wet and windy weather sweeps through on Saturday as it becomes milder again and Sunday looks brighter away from the far NW.