It's been a wild start to the day in southeast England and East Anglia with winds gusting up to 60-70mph. They will ease back during the first half of the morning as the low pressure which brought them heads out into the North Sea.
We're then left with a familiar picture, and that's with a keen west to northwest wind, packing in plenty of wintry showers to the north and west of the country, while elsewhere sees a mix of sunnier spells and scattered showers. The showery theme will last right through tomorrow as well, but change will be on the way this weekend.
As well as the strong winds overnight, we've also seen some persistent snow affecting northern England and southern Scotland, adding to the already quite sizeable accumulations which have occurred in places. Eskdalemuir in the south of Scotland tops the charts for that at the moment, with 35cm of lying snow currently being reported.
The animation below shows the wintry showers through the next 24 hours or so, and they'll keep on coming in from the west, only slowly dying out from the south late Friday and into the early hours of Saturday.
Temperatures have started off very mild in southern regions this morning, with highs nearing double figures in some spots, but they're going to be cooling off as the day wheres on, with 6-8c this afternoon. Elsewhere it's a chillier 3-5c, and regardless of what the thermometer shows, the wind will make it feel that much colder.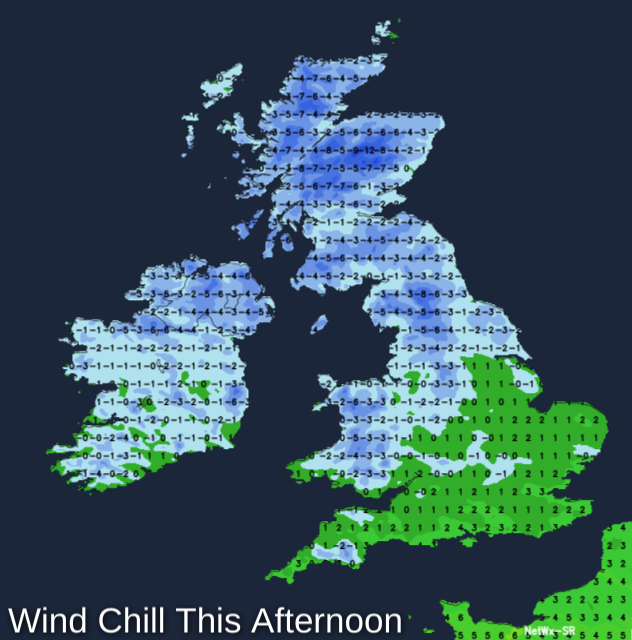 Tonight, the showers will continue in the north and west, clearer skies elsewhere will mean a touch of frost in places. Ice is likely, especially where there have been showers moving through.