There will be an early frost in the north before tonight's low pressure brings cloud and rain into Ireland. This low will bring a spell of windy weather overnight and for Thursday morning, heavy rain and so the risk of localised flooding and snowfall.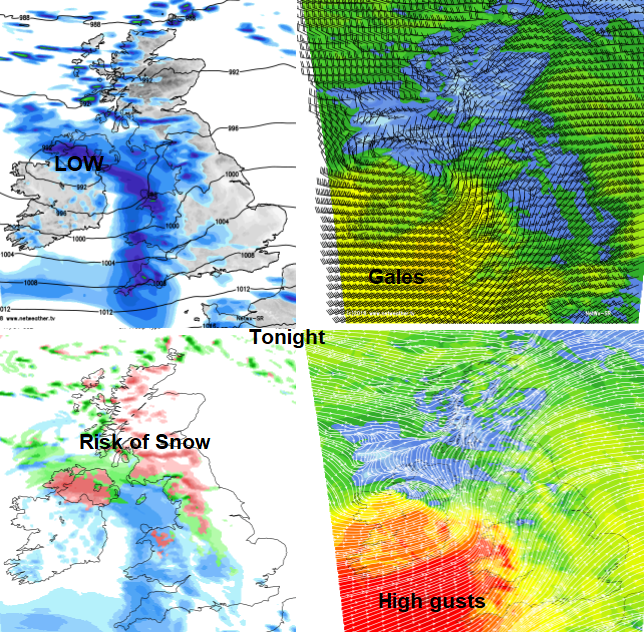 When looking at the charts there has to be some lee way with the areas of snow, to include the uncertainty of this low which has drifted southwards over each model run and become less ferocious looking. So, snowfall could reach a bit further north or be further south and be more of a mix with rain. It seems less likely that this low will rapidly deepen over the UK to a point where gusts will reach over 80mph. It will be a windy night with gales, even severe gales around the coasts of southern Britain, gusts of 60 to 70mph and also eastern England on Thursday morning as the low moves away and could then deepen further.
As the frontal band moves over N.Ireland before midnight there will be a spell of snow and sleet with several cms. This band then moves over northern England, extending into eastern England, maybe the far south of Scotland. The main accumulations look likely for the Pennines and North York Moors with other parts of northern England and N.Ireland seeing a covering overnight, maybe just into Norfolk. Some of this will turn to rain as the low heads east.
Before dawn on Thursday the strongest winds should be easing off, but it will still be windy for the south coast of England and eastern England. The worst of the frontal rain and snow will also be moving away into the North Sea and it's back to the wintry showers from the west and bright spells.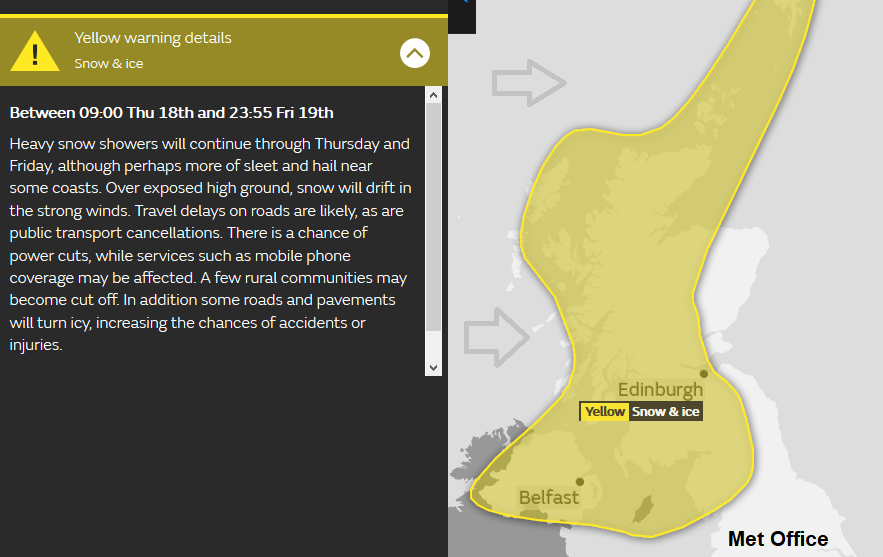 Weekend
Saturday looks fine but cold with a nippy wind and then Sunday could be interesting as another frontal system heads in from the Atlantic, up against the cold air and there are signs of more widespread snow on the leading edge of this band. We'll have to wait and see how that develops.