Next week looks colder across the UK with a nippy west wind bringing polar maritime air down from the north. It has a longer journey over the Atlantic than an Arctic air mass, which comes straight down from the north, quickly over cold seas and gives us bitter winter conditions. However, this blast of colder air will bring wintry showers, hail and thunder and snow, mainly over the hills.
Before you grab your sledge or expect a snow day, here are the areas where lying snow is expected next week, the parts with forecast snow accumulations.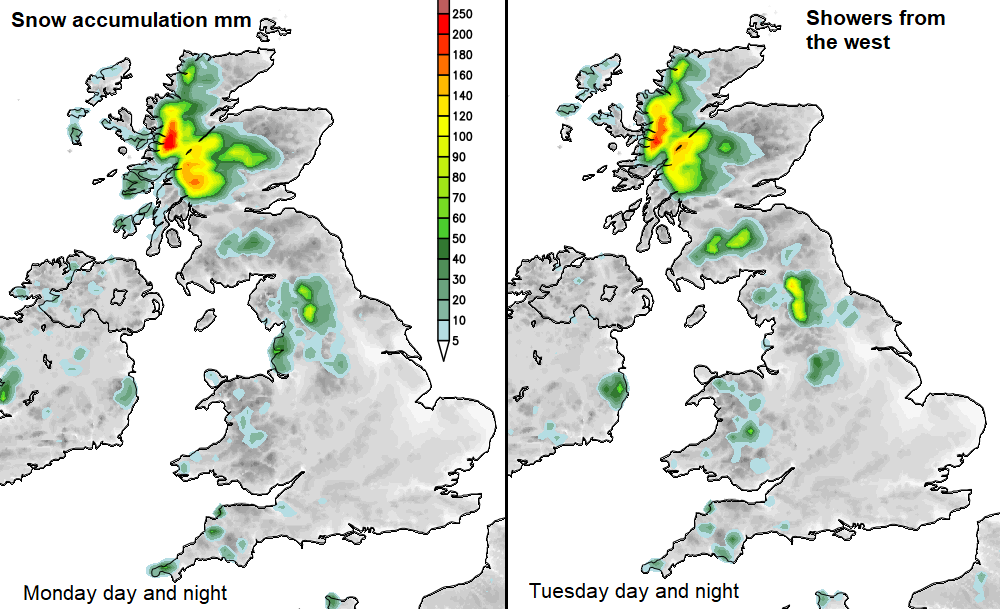 However other areas should see snow, it just may not settle. Most prone parts will be in the north and west as the winds will be coming in from the Atlantic and as usual more likely over the hills and mountains. In heavier showers, there could be a dusting to lower levels or even a light covering. Ice will also be a problem, so back to a more wintry picture.
The thickness chart shows the change in air mass, from milder air being drawn up from the central Atlantic to colder air with origins near Greenland. The 528hPa thickness line is seen as a very basic rule of thumb for snow forecasting. So if that thickness (column of air) is on the charts then snow is possible. The UK is into 520 thickness air, so snow is in the forecast for the start of next week, for a good few days.
Much of eastern Britain will stay dry, or just see sleety flurries. The brisk westerly winds will bring showers of hail, sleet and snow for the Welsh mountains, and western Scotland, the Cumbrian Fells, up into the Pennines, Dales and Peaks and the Moors of the SW. Other western and northern parts including Northern Ireland will have rain and sleet showers with snow over the hills. It's only mid January so we should expect more cold wintry weather. Watch out for the ice too and brisk winds making it feel even colder.