Scotland - No. Scotland doesn't look much at risk from this, Snow showers continue to feed into the far north and it will stay bitterly cold with a frost and ice risk but at the moment any rain and snow looks to stay south of the border, just. Heavy snow showers and blizzard conditions may reach NW Scotland by Sunday night/early Monday in a cold north wind.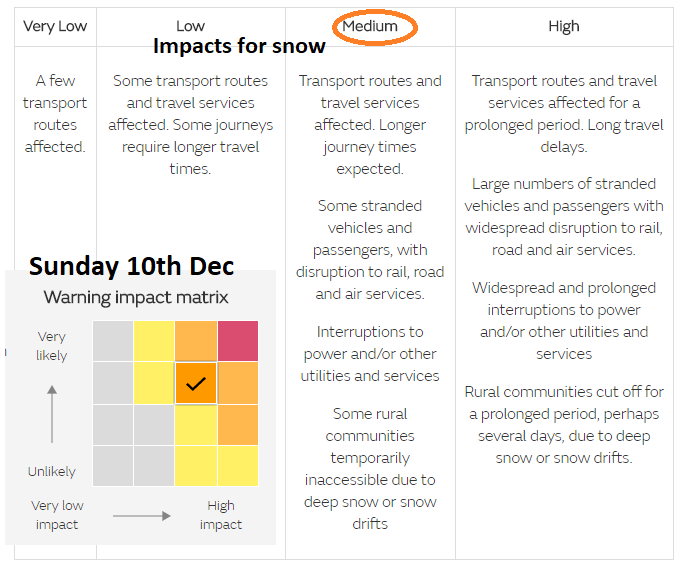 Northern Ireland - Maybe. Currently, it looks like the most northerly edge of the frontal band may reach Northern Ireland on Sunday morning. Amounts will vary from 1-5cm southern parts and barely anything further north. This is approaching from the SW, heading away to the east.
Wales - YES. Wales and central England could see the most snow from this episode. With 20-30cms forecast over the mountains in the north, Snowdonia will be totally white. Starting before dawn on Sunday, the snow, then rain will move in from the SW, and it could snow over northern Wales for most of Sunday right into the night. If it does then clear SE during Sunday night there will be a tuck of much colder air behind. It will be very windy in the far south with W'ly gusts over 60mph through the Bristol Channel.
England - Yes and No. Currently, southern England doesn't look like it will get snow on Sunday, although there maybe wet snow as the front moves in from the SW just for a time early on Sunday and a risk of snow on Monday as everything pulls to the SE behind the low over France (* remember). For the rest of England, there is a risk, with heavy and persistent snow being forecast for central Britain, especially the Peak District, Dales and southern Pennines. Low levels areas could also see several cms, with complete coverings as the leading edge of this frontal band hits the cold air. However, there is still some uncertainty around the forecast and further south in this band there will sleet/wet snow then just miserable rain.
All of this wintry weather will begin to pull SE wards later on Sunday into Monday as the deeper low * begins to interact with our weather from the continent. That leads to more uncertainty but could draw down cold air from the north once more and cut under the clearing fronts. That will be another part of the forecast to keep an eye on. Monday wintry conditions cause more impacts than Sunday. If you do have to travel this weekend, be prepared. Take extra clothing, provisions, charge your phone. Some routes could suffer from disruption, there could be problems for rail and air travel.
Join the Netweather Community forum for more chat about the models, cold and snow
Michael Fish's weekly look at the weather outlook