After a chilly but sunny Sunday for many, it will turn cloudier and milder to start the new week. The weather will become increasingly unsettled through the week, with spells of rain and strong winds at times for all parts, gales likely in the north and west later in the week. It'll be mild across the south at much of the week, but colder air spreading in across the far north will bring a threat of snow to Scottish mountains, before this colder air tries to spread south across all parts to end the week.
Sunday
For now, it's a cold start to Sunday, with widespread frost across central and northern Britain, temperatures fell as low as -4 to -5C across northern England and southern Scotland. But it's also sunny across many areas, with a ridge of high pressure bringing a fine, dry and sunny morning for most. However, it will turn increasingly cloudy across Ireland, Northern Ireland, west Wales and SW England through the morning, with a little patchy light rain or drizzle. The cloudier skies in the west will edge a little further northeast across western Scotland through the afternoon too, where we will see some patchy rain arrive, turning to snow over the mountains. But for the rest of Scotland, England and Wales it will be a mostly dry and sunny day throughout, though skies turning hazy from the west.
A chilly day with light winds generally, especially towards the north and east, where temperatures will reach 6-9C at best, milder air arriving across SW Britain will lift temperatures to around 10-12C across south Wales and SW England.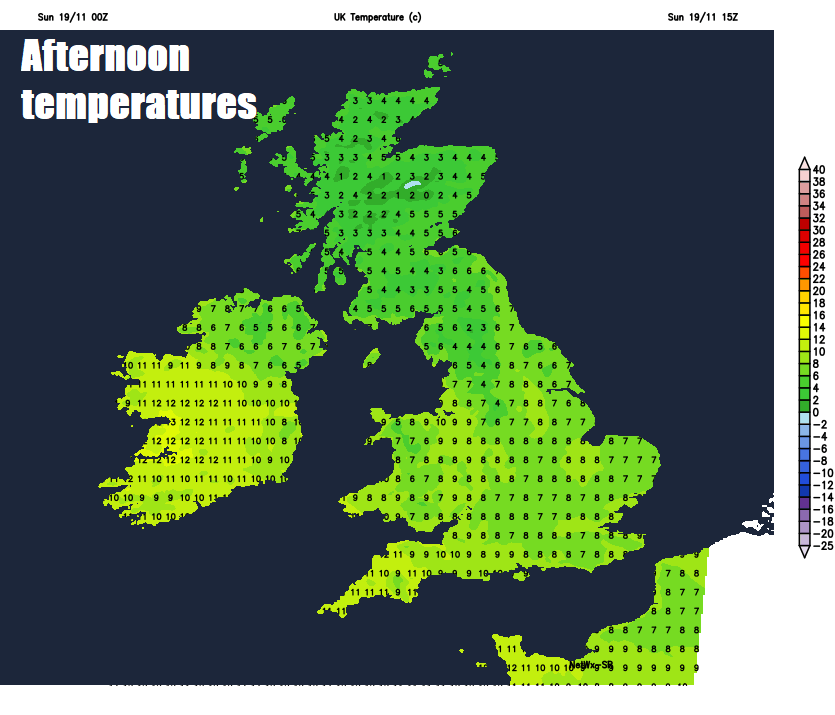 Tonight
Low pressure over the Atlantic will move in towards Scotland tonight, bringing increasingly wet and windy conditions across northern areas overnight, with snow falling above 200m in Scotland initially, before the snow level rises through the night, as milder air moves in from the southwest. Persistent rain across the north, but more patchy or showery rain moving through across the south. Turning milder through the night, but not before a spell of snow across the Scottish mountains which may bring some disruption.
Monday
So, a milder but cloudier and breezy day on Monday, with some rain at times in the morning, heavy across the north at first. Rain turning patchy and becoming increasingly confined northern and western areas through the day, some brightness or occasional sunny spells may develop towards southern and eastern areas. Temperatures reaching 11-13C across England, Wales and N. Ireland, colder air hanging on across Scotland though, where there'll be highs of 6-9C at best.