A cold front moved south overnight, sweeping away the mild, damp and murky conditions of the last few days and replacing it with colder and clearer conditions across all parts to start Friday. It will stay fine but on the chilly side today, Saturday will be cloudier with a little rain across the south, but on Sunday northern and eastern areas will be back to cold, dry and sunny conditions, while western areas turn milder, cloudy and damp. It will turn milder, cloudier and more unsettled from Monday across all parts, with spells of rain, especially in the north and west. Though cold air trying to push down across Scotland could turn the rain to snow over the mountains.
Today
For now, many across England and Wales have woken up to a widespread frost this morning. The lowest temperatures at dawn across east Wales, western and central southern England, The Midlands and across to East Anglia – where temperatures have fallen as low as -4C in places. Across Scotland temperatures are above freezing, thanks to a brisk westerly wind, touching gale force in the northwest and bringing in showers across the west, falling as snow over high ground.
For the rest of the day, we will continue to see frequent showers across western Scotland, falling as sleet and snow over higher ground and perhaps lower levels across the Northern Isles later, a few showers getting across to the east too. A strong westerly wind continuing, with gales in the far north. But for much of England, Wales and Northern Ireland it will be a dry day with sunshine throughout. A chilly day though, with temperatures reaching 7-9C generally, perhaps 10C across southern England. Winds generally light away from the far north.
Tonight
Temperatures quickly falling under clear skies with light winds this evening and overnight, leading to a widespread frost developing. Breezy across Scotland with further blustery showers, especially in the west, which will prevent a frost in the west. Thicker cloud and some patchy rain moving across Ireland perhaps reaching west Wales by dawn.
Saturday
After an early frost, cloud and patchy rain spreading across south Wales and southern England during Saturday, probably not clearing southern counties of England until after dark. North Midlands and north Wales northwards bright or sunny, mostly dry too, though a few showers still across northern Scotland. Temperatures reaching a chilly 6-9C where we see the brighter skies, a milder 10-12C under the cloud and rain in the south.
Sunday
A sunnier day for the north and east on Sunday thanks to a ridge of high pressure between two low pressure systems to the east and west. However, it will cloud over across western areas, as an Atlantic system spreads rain in across Ireland and N. Ireland and eventually western areas of mainland UK during the afternoon and evening. Temperatures reaching 6-9C across northern, central and eastern areas in the afternoon, so on the chilly side, but turning milder towards the west, where temperatures will reach 9-12C.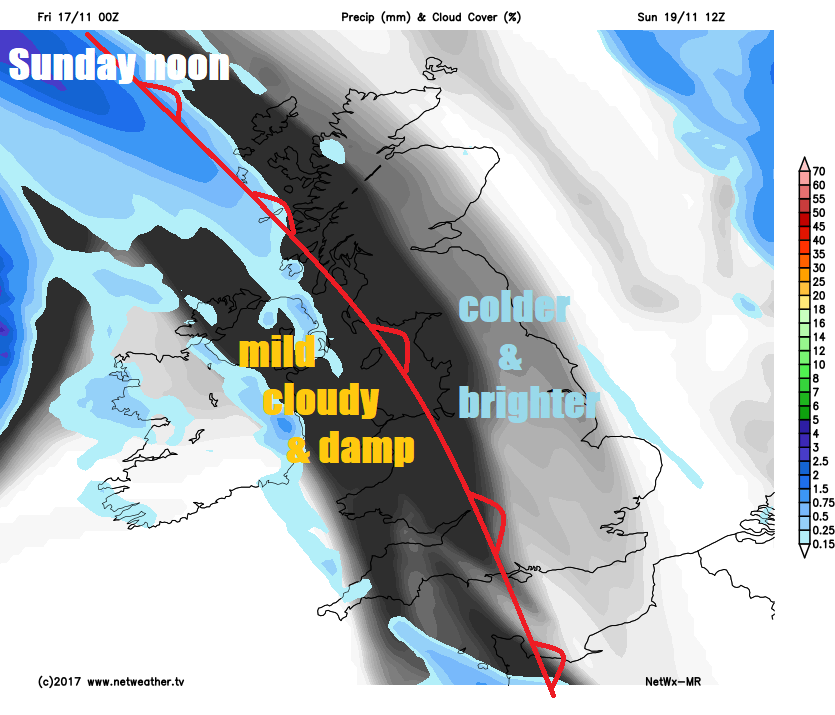 Next week
Milder air, cloud and rain will spread east across most parts Sunday night and through Monday morning, though northern Scotland may stay dry. Brighter and colder conditions may return across the north, but cloud and rain perhaps not clearing the south until after dark.