Pretty wet start this morning across Yorkshire and northern England. Low pressure away to the NW will do two things for the middle of the week. It will continue to draw up mild air, lifting temperatures into the mid/high teens. It will also bring frontal bands of rain with some western parts seeing several bouts of wet weather.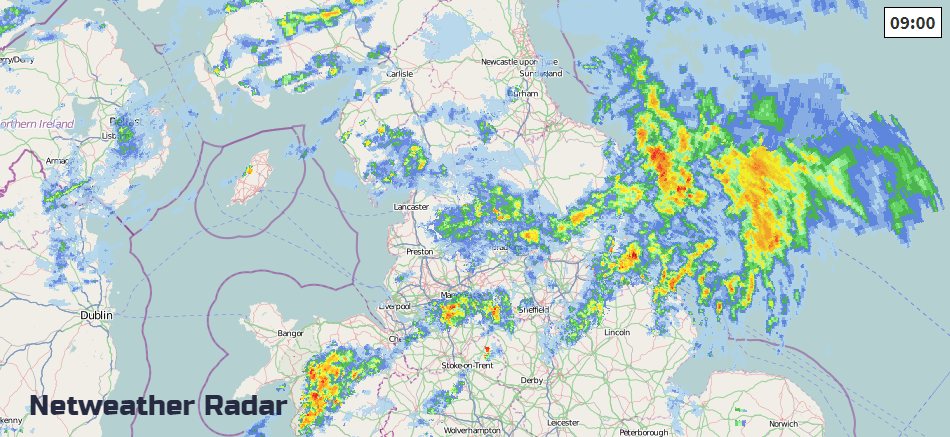 The rain band which will cut the UK in two parts will keep mild air to the south and fresher conditions to the north. There will be a lot of cloud about but where the sun does appear over southern Britain temperatures could pop up to 19 or 20C, and it will feel pleasantly warm.
It will be a blustery day with a freshening SW wind. Under the cloud and showery rain in the far NW, it will feel cool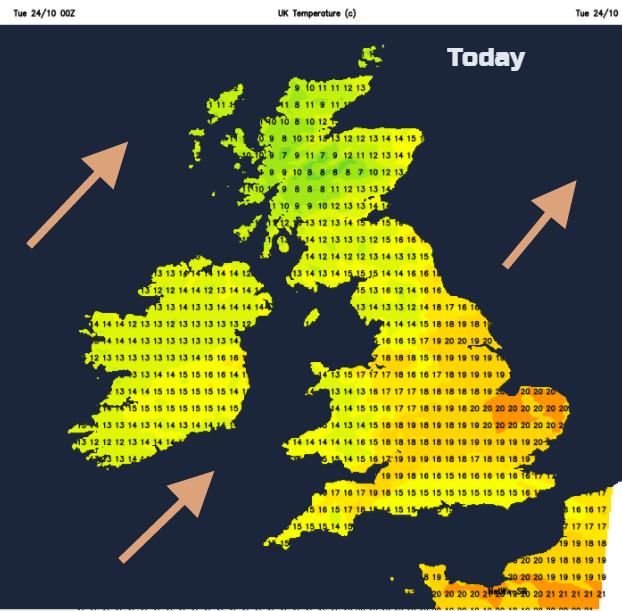 The occluded part of the front will move away into the North Sea, so Northern Ireland will have a good deal of fine, bright weather and reach 14 or 15C. NE Scotland will also see sunshine and reach 16C with the wet conditions further west easing off. It's likely to stay quite grey and damp but without such heavy rain. The triple point of the frontal system has been moving across northern England and then will continue to wave in from Wales. A good deal of cloud will remain over a central swathe of Britain with dampness in the west. Breaks and brightness, and then warmth, are mostly likely for southern England, East Anglia and eastern England.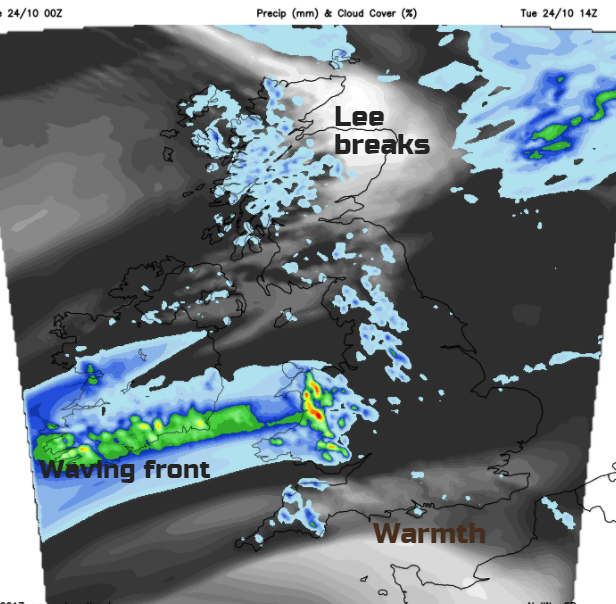 It looks like north and west Wales, maybe NW England and much of Northern Ireland, especially Co Down will turn wet again for the evening rush hour. This distinct boundary will mark a cooler evening in the north and a mild evening for much of England and Wales. It looks like the front will edge southwards overnight, so northern England, north Wales and the Peak District have a fresher end to the night.
By Wednesday morning the frontal band is mostly just cloud with a bit of coastal dampness for southern England. And yet you cannot discount that front; it will return. Much of the UK will have clear skies and sunshine. A brisk wind remains for Scotland, Northern Ireland and the Isle of Man and it will feel cool in that breeze. Blustery showers continue to blow into Western Scotland, with rainfall totals totting up. With lighter winds for southern Britain, Wednesday will feel better as the temperatures rise again Later in the day the low pressure will be just to the north of Scotland and high pressure building to the south. That front, the one we had to remember, begins to wave back in from the SW as a warm front. It will struggle within the high but could bring low cloud, murk and light rain into SW Britain for the start of Thursday.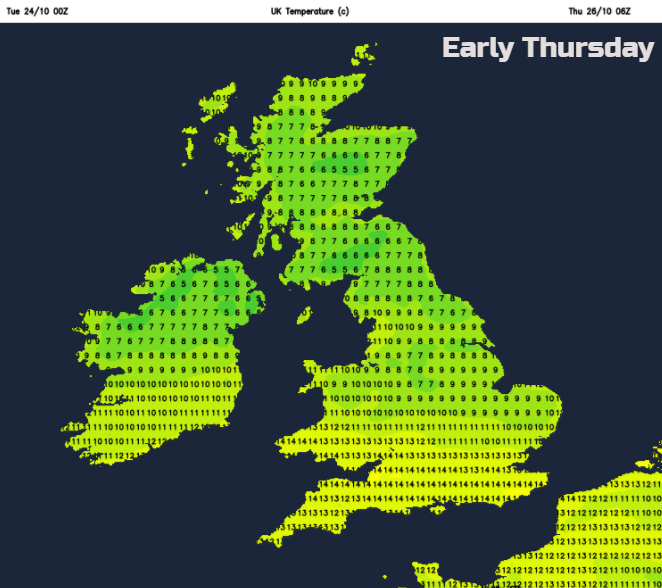 With hardly any breeze for England and Wales, there could be fog about on Thursday morning. Further north it will be windy for northern Scotland and colder. We'll have to see where the frontal boundary sits by then, but again it is a tale of clearer fresher blustery conditions in the north and milder, cloudy but calm weather for the south. And the rain band in the middle.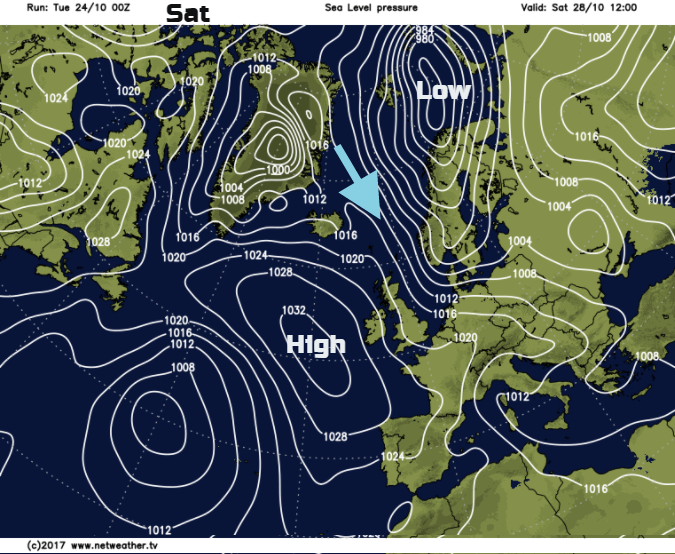 It looks like the frontal band pushes south for the start of Friday, after a cold night for northern Britain. Cooler NW winds begin to flow around the top of the high pressure. These winds then pickup, most noticeably on Saturday for eastern Britain, it will feel like winter. From the 20C of today in East Anglia to 11C and a brisk north wind at the end of the week.
Keep your coat and scarf to hand!