Friday
We start Friday morning on a cloudy and damp note, with rain in places and it will be windy across the southeast corner for a time. However, for many, it will be an improving picture through the day, with the winds easing, any rain dying out and the cloud breaking to bring some sunny spells.Temperatures reaching 12-15C in the north, 14-16C in the south.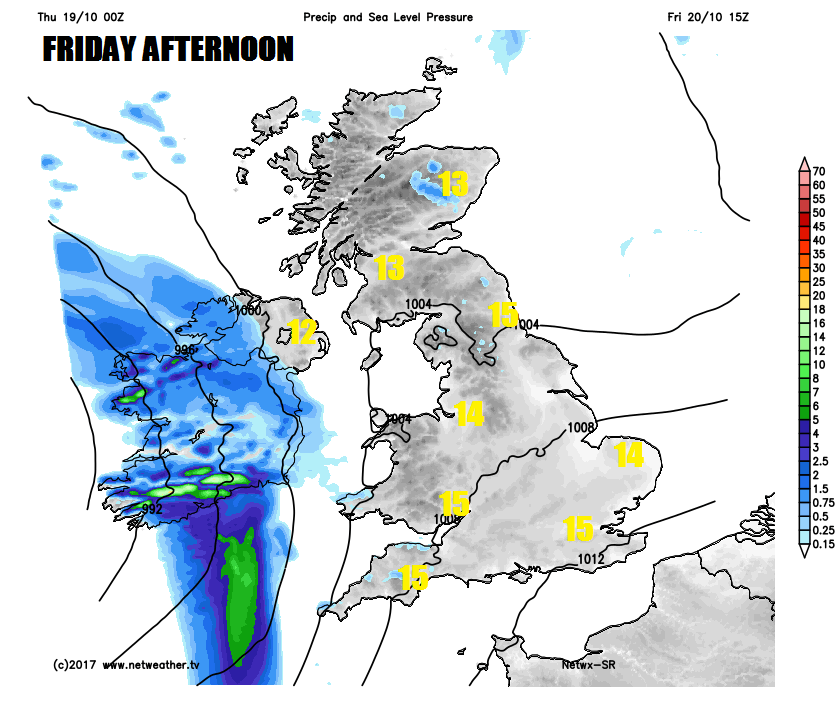 Turning stormy Friday night into Saturday
Then it's all downhill as we head into Friday night, as deep depression arrives from the Atlantic, spreading a band of heavy rain and strengthening winds across many parts initially overnight before clearing the east first thing on Saturday, followed blustery showers and gales or severe gales across southern Ireland and southern Britain, as the deep low crosses west to east over Ireland and central Britain. Winds gusting to 50-60mph are currently indicated across southern and western hills and coasts, perhaps up to 70mph across exposed sites in the southwest, with 40-50mph gusts inland. The storm has not been officially named as Brian yet, the next on the Met Office list of storm names, but there is a possibility be it today or tomorrow. Though the depression will be at its most intense phase out over the Atlantic tomorrow before it slowly fills and weakens as it crosses Ireland then the UK, so it could be worse. But there is potential for damaging wind gusts which may bring travel disruption and some interruption to power supplies, so it's worth perhaps considering carefully any outdoor plans.
Sunday
The deep low eventually moves out into the North Sea Saturday night. Then Sunday will see a strong to gale force northwesterly wind in the morning, bringing a cooler day with showers or longer spells of rain, the wind and showers easing during the afternoon.