As you have probably heard already, there is potential for more stormy weather to come our way by the weekend. A disturbance that brought some very heavy rain to Bermuda on Wednesday drifts east over the Atlantic today and deepens into an intense depression later today, as it is picked up a strong jet stream. The deep low will continue east and threaten the UK and Ireland with severe gales and heavy rain on Saturday.
Today
Before Saturday's storm arrives, the will be a multitude of weather fronts vying to bring us cloud and rain over the next 24 hours. Many places are starting dry but cloudy and murky, with widespread mist and fog across central southern and southeast England, The Midlands and eastern England – which the Met Office have a yellow warning out for.
It's not dry everywhere, there is some bits of rain over central Scotland and also rain across central southern England, which will continue to push north into the Midlands and parts of eastern England through the morning and into the afternoon. To the east of this rain we may see some brightness develop across Kent and parts of East Anglia. And further west across east Wales, the West Country, NW England and eastern Scotland it should stay mostly dry and bright or sunny today.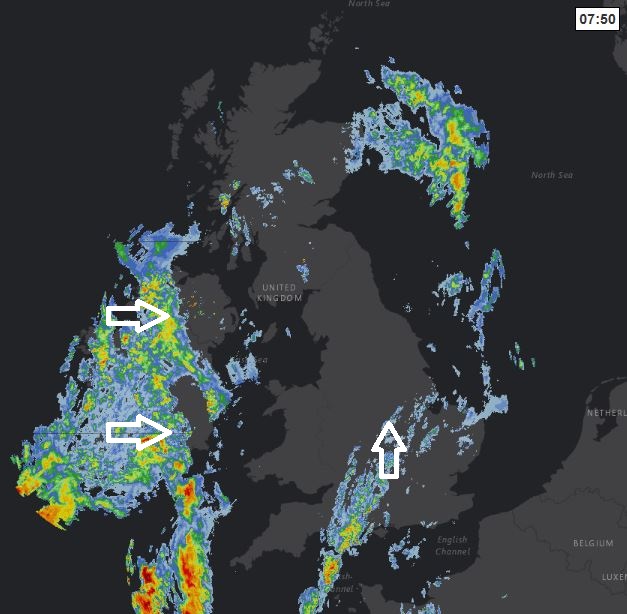 For the Republic of Ireland it's a cloudy and wet start and this rain will push east across N. Ireland through the morning too, with rain on and off across these areas for much of the day. This rain eventually edging east in across SW England, west Wales and western Scotland, after a mostly dry and bright start.
Quite warm across SE Britain, temperatures reaching 19C in London, 17C in Norwich. Elsewhere we are looking at temperatures reaching 13-16C. Wind generally light, though picking up across the south and west this evening.
Tonight
A fairly deep area of low pressure will move into the southwest approaches this evening, before moving northeast across Wales and central England overnight. So it will become windy across Wales and southern England, with gales across the far southwest and through the English Channel. There will also be outbreaks of rain spreading east across many areas tonight, heavy in places.
Friday
We start Friday morning on a cloudy and damp note, with rain in places and it will be windy across the southeast corner for a time. However, for many, it will be an improving picture through the day, with the winds easing, any rain dying out and the cloud breaking to bring some sunny spells.Temperatures reaching 12-15C in the north, 14-16C in the south.