Tuesday will have a grey start in places but will become a fair day with bright spells and a bit of sunshine. Southern and western areas will feel okay at 18 to 20C but the SE breeze will freshen over Northern Ireland in the afternoon. With more of a breeze off the North Sea, eastern Britain will feel cooler, especially if low cloud lingers. There may be one or two showers over eastern England but overall it will be a dry day, and much better for today's rainy areas.
So, very little synoptic movement in the first half of this week. For the second half, we will see fronts making progress across the UK and stronger winds.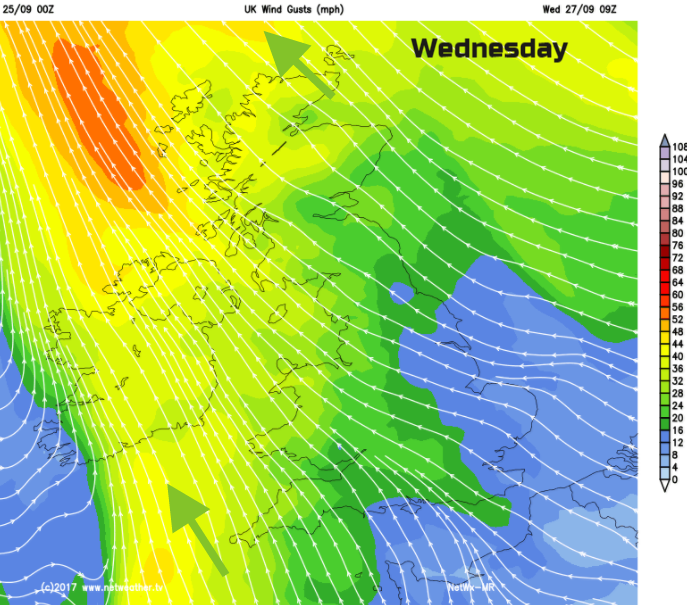 Wednesday
It will be a quiet start for much of Britain with mist and fog about, mainly in the SE. A weather will be heading in from the Atlantic, so there will be the chance of morning rain for Northern Ireland, particularly in the west. Here the winds will pick up from the SE with the risk of gales around western coasts of Britain too. It becomes more blustery everywhere and the rain band may push over SW Britain, and the rest of Northern Ireland during the afternoon. Cornwall and Devon look windy and will be cool at only 14C in the wind and the rain. Ahead of the rain band it will feel warm with temperatures of 17 to 20C and brighter skies. There could be a few showers about and a fair amount of cloud.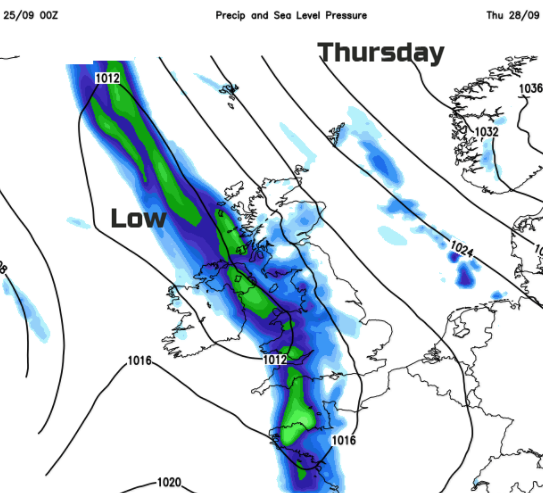 The rain band moves right over the UK during Wednesday night and will be across NE Britain by Thursday morning. The winds veer from SE to westerly and cooler air will reach into Co Fermanagh before dawn. The frontal rain will become patchy and fade and there will be a fine spell before the next frontal system lines up from the west. So, enjoy the drier, sunnier interlude with light winds. The wind picks up again for the Northern Ireland and more rain arrives, it's an unsettled picture.
The rain band slowly moves eastwards again across the UK with blustery winds. By Friday there will be cooler air for the west and still warmish air in the east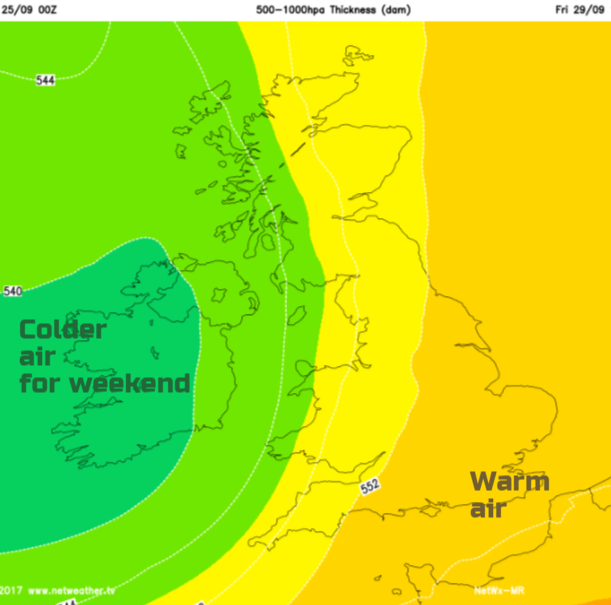 It looks cooler by the weekend as the winds turn more to the west, so more of a nip in the air by night too.
More about Fog and Mist