— Met Office (@metoffice)
September 24, 2017
It will tend to cloud over from the west through later this morning across eastern Scotland, northeast England, the Midlands and central southern England with some patchy rain arriving in the afternoon in the west of these areas. Rain continuing across the west, locally heavy over hillier parts. But for much of eastern England it will stay dry and sunny throughout the day. And we should see some drier and sunnier conditions arrive across N. Ireland later this afternoon, though with a risk of an odd shower.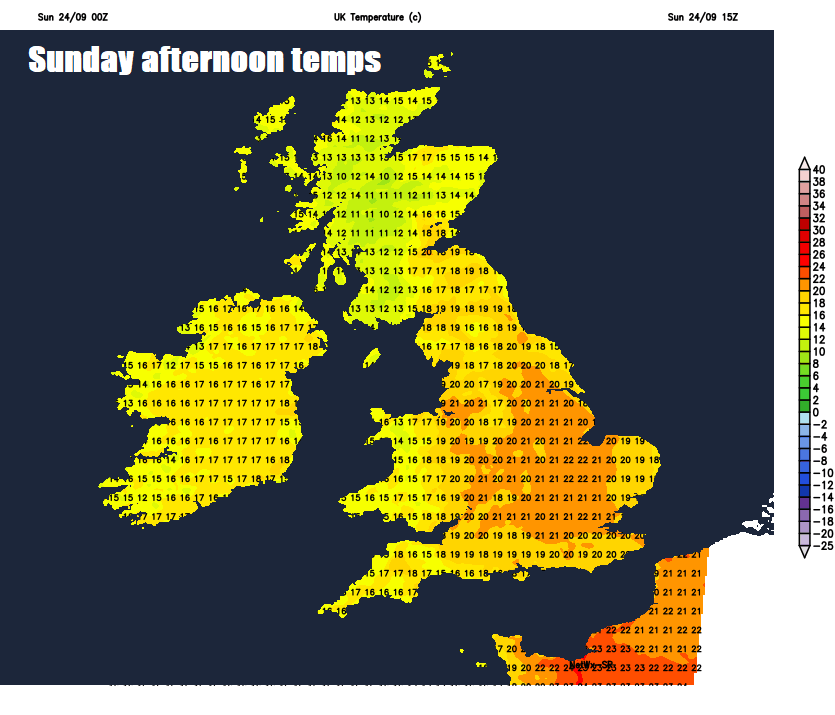 Quite a warm day across eastern counties of England with the sunshine and light southerly winds, temperatures reaching 17-20c widely, perhaps 22-23C across SE England. Under the cloud and rain in the west: 16-18C across SW England, Wales and NW England; 14-16C across western Scotland and N. Ireland.
Tonight
The rain turning heavier this evening and overnight as it edges slowly east across Scotland, northern England, The Midlands and central southern England, perhaps not reaching most of East Anglia and far SE of England until dawn. Drier, clearer but cooler conditions spreading in across the far west, turning chilly by dawn across N. Ireland – where we could also see some fog patches forming.
Monday
A grey and murky start for many on Monday morning, foggy across N. Ireland. Outbreaks of rain or drizzle across eastern Scotland, northern, central and eastern England during the morning tending to die out by early afternoon. Then turning drier with some warm sunshine across eastern areas, but remaining cloudier across parts of Scotland, NW England and Wales, with the odd patch of drizzle over the hills, N. Ireland seeing some sunshine after the foggy start. Temperatures reaching 14-17C in the north, 17-20C in the south, perhaps a degree or two higher in a few spots in the southeast.
Tuesday & Wednesday
The rest of the week is looking generally fairly quiet up until Thursday, with dry and bright conditions on Tuesday and Wednesday, warm in the sunshine in the south, temperatures will reach the low twenties towards the southeast. Tuesday staying mostly dry and sunny after perhaps a foggy start, though a few showers possible, though most will miss them. Wednesday again sunny for many to start, though tending to cloud over in the west, with outbreaks of rain arriving here in the evening.
Thursday
Outbreaks of rain spreading east across all parts Wednesday night, clearing eastern areas during the morning to leave a mostly dry and bright or sunny day, warm towards the southeast, probably clouding over in the west in the evening, as rain arrives across Ireland.
Friday & beyond
Friday, for now, is looking breezy or windy, with outbreaks of rain spreading east across all parts, followed by brighter but showery conditions. Thereafter into the following weekend it looks like we could enter a more unsettled phase, with Atlantic low pressure systems rolling in and dominating, bringing spells of wind and rain at times.