Storm Aileen has long gone from our shores but is moving over NE Europe today and will bring strong winds and heavy rain across Poland and other countries bordering the Baltic Sea today. Back home and Aileen has left a cool and showery northerly flow its wake, making it feel distinctly autumnal, with some chilly nights for all. Hard to think that this time last year we were in the midst of a record-breaking heatwave, with a year ago yesterday (13th September 2016) seeing the hottest day of 2016 with 34C in Kent, a year ago today it was 30C across SE England. The weekend should see the northerly breeze ease, so it should at least feel a little warmer with any sunshine, Saturday will see further heavy showers, but Sunday the showers becoming confined to the southeast, with more in the way of sunshine.
Remember the heatwave this time last year?
To this this year
Today
For now, after a chilly start, with temperatures widely falling into single figures, as low as 5-6C across Scotland and northern England, today will be another day of sunshine and showers. There is a zone of cloud and patchy rain moving down across East Anglia and SE England after a bright start earlier, but this will clear in the next few hours. Otherwise most places are mostly dry, bright or sunny, though there are scattered showers in the west, heavy and frequent across west Wales.
As the sun warms up the lower layers of the cool polar airmass, we will see showers develop widely across the UK and Ireland through the day, these becoming heavy with hail and thunder in places – especially across England and Wales. Thicker cloud and shower rain, perhaps turning persistent, will arrive across northern Scotland later.
Rather cool for the time of year today in the northerly breeze, temperatures reaching 13-15C across the north, 14-17C across the south. But under the showers, temperatures will drop. But at least there should be some good rainbows on display from the showers today!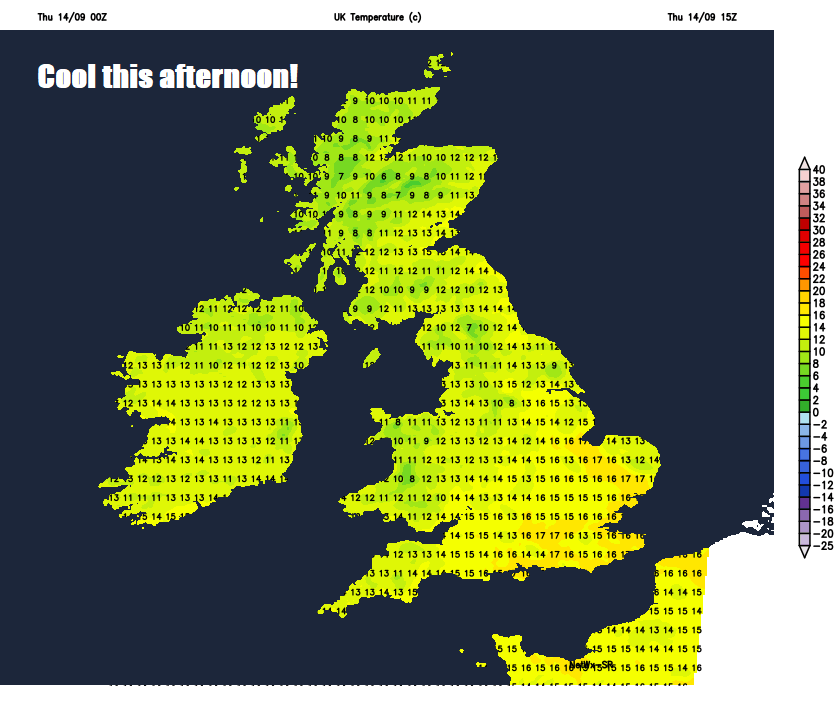 Tonight
Cloudier skies with outbreaks of showery rain spreading south from northern Scotland across southern Scotland, northern England, north Wales and the North Midlands overnight. Clearer skies but with a few showers following across Scotland, also clearing skies to the south across southern England and south Wales, once evening showers fade. Where skies clear, turning chilly, with a risk of frost in sheltered Scottish Glens.