Update 8pm - Yes 28.2C at Holbeach, beats 27.2C from 1984 late August Bank holiday Monday.
It's hot, it's sunny and it is a UK Bank Holiday. What is going on? There is some rain, heading into Northern Ireland later today but it's fine and warm ahead of that. Also, it will be wet for western Scotland but it's not a bank holiday here, still quite nice in the east though. Yet, for much of England and Wales temperatures are forecast to reach into the mid to high twenties and it's going to be dry and sunny- unbelievable, with the heat lasting for the SE until Tuesday.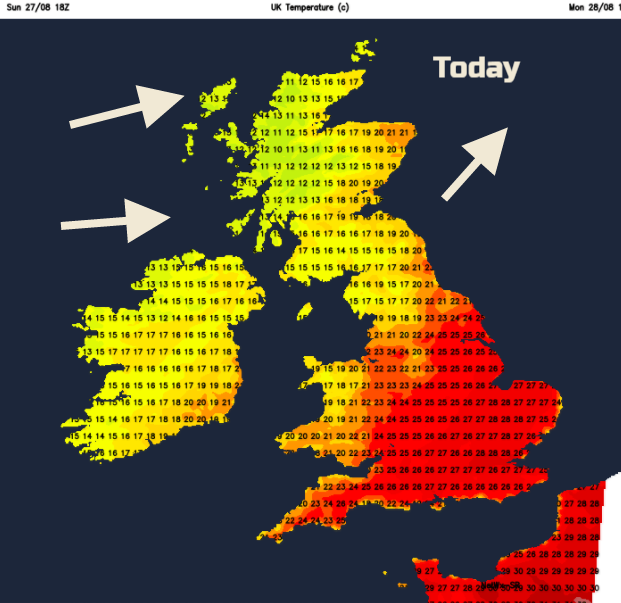 You've not got the wrong day, it is a Bank Holiday. Temperatures already this weekend reached 26.3C in Kent on Saturday and 27C in London on Sunday. 29 or 30C is possible today, 86F, which would make this the hottest late August Bank holiday on record.
It's not all sunshine and heat today. There is some low cloud and mist about first thing, but that will shift. We also have an occluding cold front heading into the far NW, bringing rain. With a brisk SW wind, western Scotland and later Tyrone, Londonderry and north Antrim will feel cooler, just in the mid to high teens. Cumbria and Gwynedd also just into the high teens with more cloud. However, eastern Scotland will be warm at 21C (70F)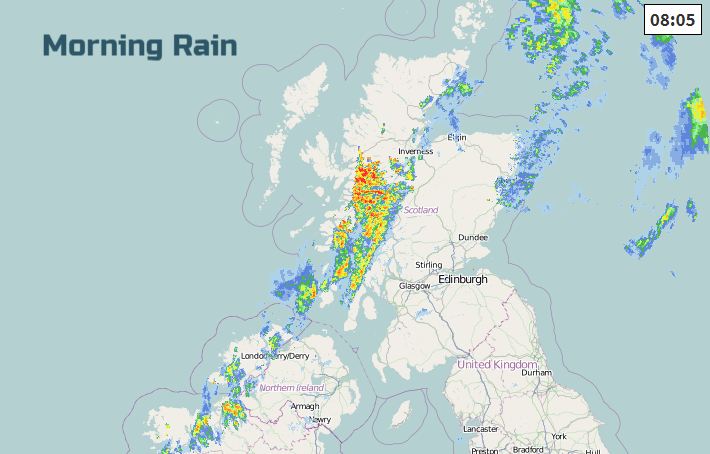 Whilst much of the UK will enjoy a fine day or at least a lovely morning, we do have this frontal band already over the NW Highlands and arriving at the western edge of Northern Ireland. There is more cloud here and showery outbreaks will edge over more of Northern Ireland during the day. By this afternoon the rain will have moved into Strathclyde and over SW Scotland, reaching Co Down too, but clearing in the far NW. Here the air will feel cooler and fresher and there will be clearer skies for the Outer Hebrides this afternoon.