As we move into the start of the weekend some residual showery conditions, associated with Friday's low pressure, are likely across the north of the British Isles. So, parts of Scotland, N Ireland and N England will have a rather cloudy start to the day with some scattered showers. Across more central and southern areas of England and Wales though it'll be mainly dry with some bright or sunny spells. As Saturday progresses many of the showers will fade away. And through the afternoon and evening a little ridge of high pressure will move into the British Isles, leading to a dry end to the day for many areas. As a result, an enjoyable late afternoon and evening period is expected for many regions. With some bright or sunny spells, and it will be pleasantly warm.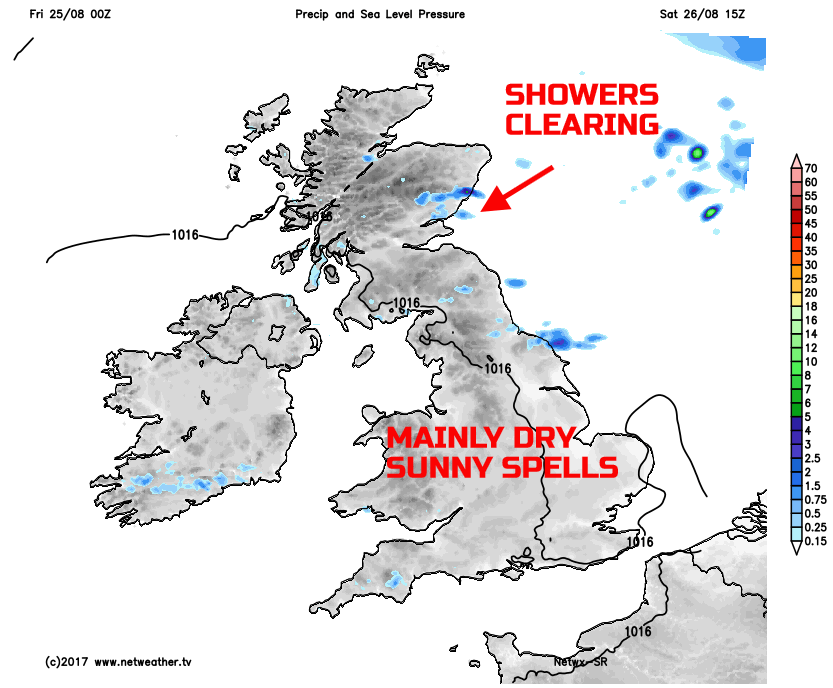 Temperatures through Saturday will be similar to that of Friday. The highest temperatures are likely across E Anglia and SE England through the afternoon, locally 23C or 24C. It'll be cooler further north and west, but it'll be pleasant in the afternoon and evening sunshine.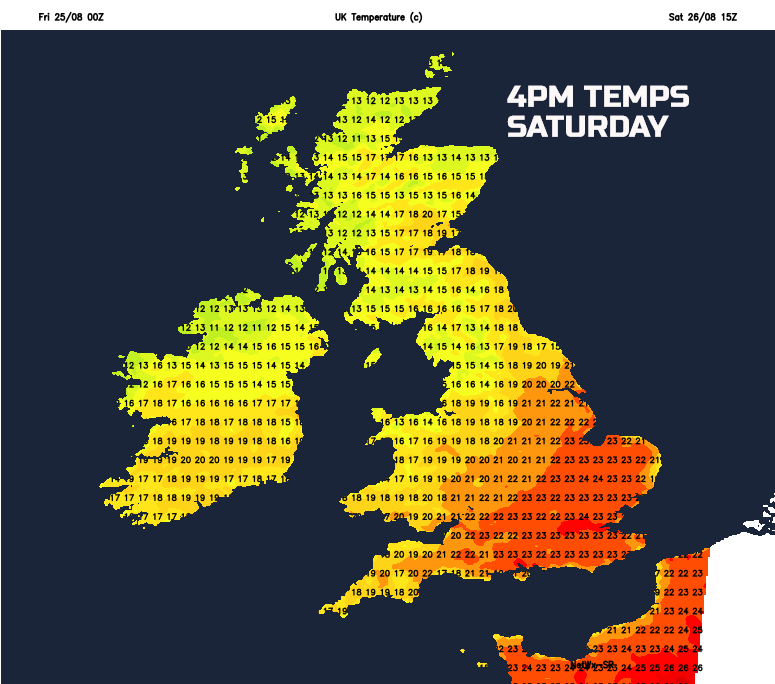 Sunday and Monday
Some slow changes arrive during the second half of the Bank Holiday weekend. But not before another dry day for many regions on Sunday thanks to our little ridge of high pressure. One exception will be the far north and west of Scotland, where some patchy rain and drizzle is likely. It'll be a locally chilly start to Sunday, perhaps even with some mist and fog patches, but these soon clearing. After that, much of the day will be dry with further bright or sunny spells, and again, in light winds, it will be warm again.
For Bank Holiday Monday, a more active region of weather will be moving down into Scotland, Ireland and N England. Outbreaks of rain and showers are likely, at least for a time, along with quite a fresh breeze. However, ahead of this wet weather, across many areas of England and Wales, away from N England, another dry day is predicted at the moment. With some bright or sunny spells, and it'll be warm if not locally hot.
Temperatures across southern and south-eastern areas of England may well rise to 25C or 26C, though it'll be cooler across Scotland and Ireland. So, for much of England and Wales, it could be a good day to bring out the BBQ!